/
Nordstrom Anniversary Sale 2020 Early Access + Shop By Category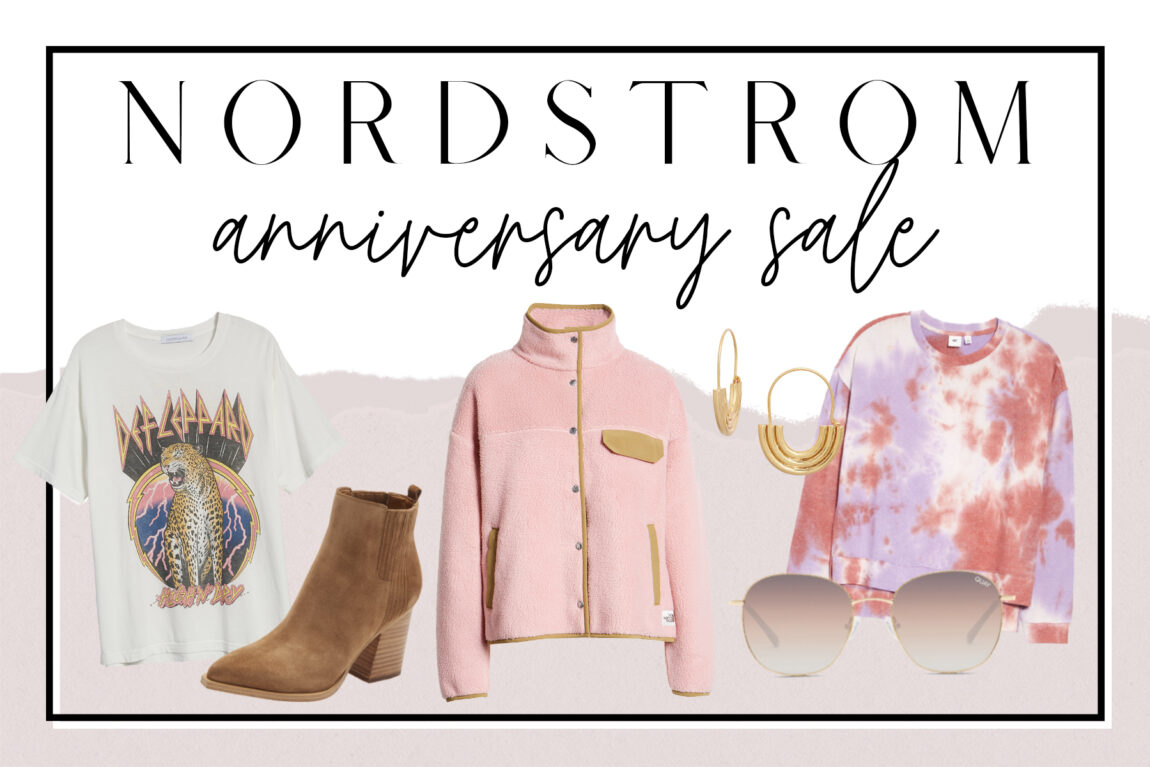 It's almost here!!! The Nordstrom Anniversary Sale is one of the biggest sales of the year and you can shop as early as August 4th depending on your Nordy Club level, and the it opens to the public on August 19th! In case you're not sure exactly what this sale is, here's all the deets:
What:
What is the Nordstrom Anniversary Sale, you ask? It is when they release a ton brand new fall arrivals (in all categories: women's, men's, kids, beauty, home decor, etc.) at amazingly marked down prices (click here to preview the sale)! So you basically get to shop the Fall trends at a discount before they're actually a thing #yesplease. Then on August 31st, prices go back up to normal.
Who:
Things are working a little differently this year. If you want to shop the sale early (Early Access starts this Thursday the 4th), you need to be a Nordstrom cardholder/Nordy Club member. Depending on your level (how much you spend in a calendar year), you get Early Access to shop the sale on different days. You could also wait until the sale goes public on August 19th, but a lot of items do sell out before then (like within the first couple days of early access)! So if you see something that you like, don't wait to buy it! Buy what you want (within reason) at the beginning and then you can always return stuff if it doesn't fit or you change your mind. I've missed out on quite a few pieces that I hesitated on!
When:
You can preview all the items online right now and save them to your wishlist when the sale starts! You can shop as early as August 4th depending on your Nordy Club level. Check your status by logging into your Nordstrom account!
? Early Access Dates:
Icons: Tuesday, August 4th
Ambassadors: Friday, August 7th
Influencers: Monday, August 10th
Insiders: August 13th
You can shop the sale in open stores during normal business hours. Online shopping begins at 9:30am ET/6:30am PT.
How:
Even if you're not a Nordstrom cardholder, you can preview the sale now and save items to your wishlist! That way when the sale goes live at the time you're able to shop, you can easily just add the items you want to your bag.
Have your Nordstrom Card ready! Nordstrom cardmembers can shop the sale before everyone else. Don't have a card? Want to shop early? Apply for a Nordstrom Credit Card!
Know your Nordy Club status. The higher your status, the earlier you can shop! Find out your status!
Mark your calendar! Don't forget to set a reminder so you're ready to shop as soon as you have access!
With the COVID-19 restrictions, Contactless Curbside Pickup is available at all stores to let shoppers keep their distance.
For more information on signing up to be a Nordstrom rewards member, click here. And for those of you who are already Nordstrom cardholders, I rounded up some of the best items by category below as a little preview! If you're not a member and don't want to join – stay tuned for the sale to open to the public on August 19th!