/
Introducing: The Laguna Adventure Dress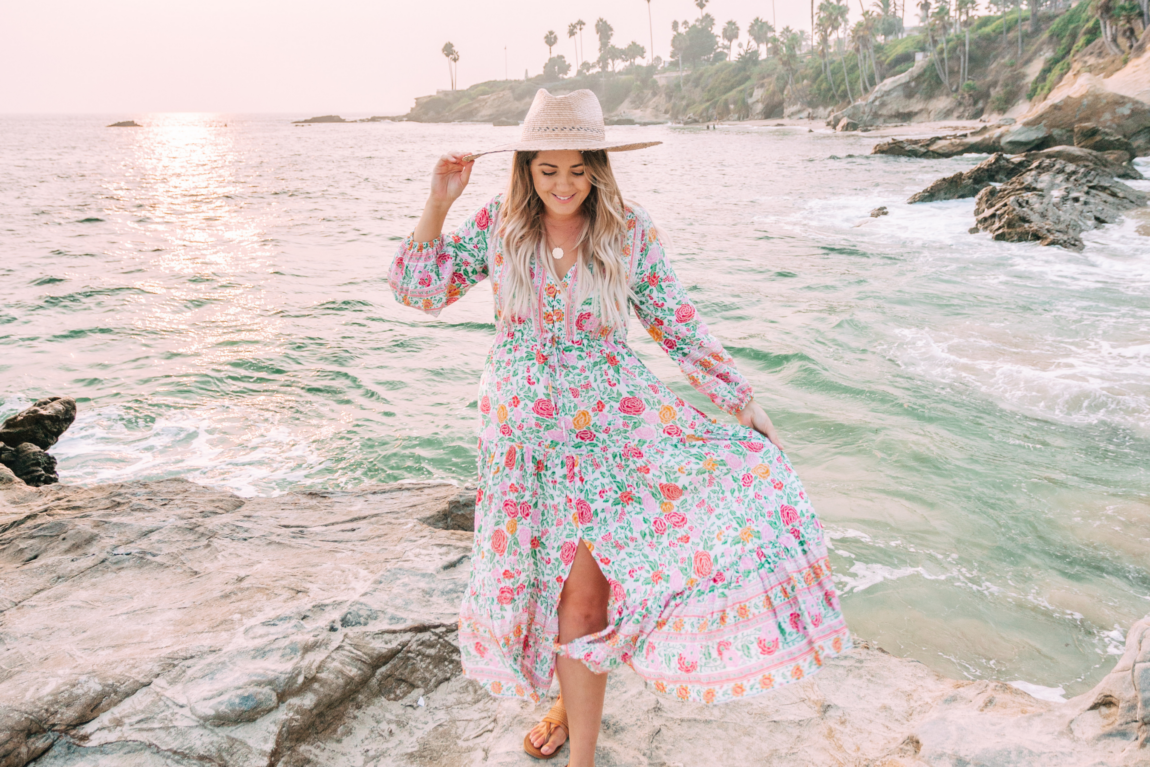 OMG YOU GUYS!!!! Today is such an exciting day because the dress I created with The Adventure Dress launches today!!! It turned out SO beautiful and is honestly one of my favorite dresses I've ever owned. The colors are gorgeous and the cinched waist makes it incredibly flattering!
What is The Adventure Dress?
The Adventure Dress was founded by Kylie, founder of Acanela Expeditions. She's a world traveler, and wanted to create a "practical and cute solution to a problem we all have – what to wear while on the road. This dress is meant to empower women across the globe. From the Design, to the Fabric, to the Stitching, to the women who wear it."
Not only does The Adventure Dress empower the women who wear it, but also the women who make it! Kylie collaborated talented women on the Island of Bali, Indonesia, and for every dress purchased, one female artisan is supported for an entire day with a sustainable, creative, and high quality job. Love that!
A few reasons why I love this dress:
This dress style has an adjustable and cinched waist which is super flattering.
The skirt part is open in the front to show a little bit of leg.
It's Wrinkle Free. After 24 hours , just pull it out and wear it.
It's super lightweight which prevents sweating and makes it easy to pack
It's versatile! Wear it to a wedding, to the beach, church, adventuring in a National Park, on a flight to the city, and more.
It makes for STUNNING photos!!
My Heart Behind It
"The most beautiful thing in the world is, of course, the world itself." -Wallace Stevens
The beauty of nature and God's creations is one of the things that fills me up the most. Over the last several years, my love for travel and adventure has grown so much, and I'm always wanting to plan another trip, even if I just got back from one! I love visiting National Parks, flying across the Pacific Ocean, or living it up in the city.
But something I hope I never take for granted is living in the beautiful state of California. There's an incredible amount of gorgeous places to visit–from the mountains and the desert, to the beaches and the city. Laguna Beach, just 20 minutes down the road, has always been one of my favorite places, and when I'm there I feel like I've transported to a tropical paradise!
I think this dress fits in perfectly with the Laguna vibe with the bright colors, and the easy breezy silhouette. This is something I know I'll be packing in my suitcase for every trip, or throwing on for a date night in my hometown!
---
This dress will only be available to purchase until September 30th, so if you want it, get it now! They gave me a discount code for y'all to use too! Just type in KATIE20 at checkout and you'll get 20% off!
I hope you guys love this dress as much as I do!