/
Instagrammable Places In Austin, TX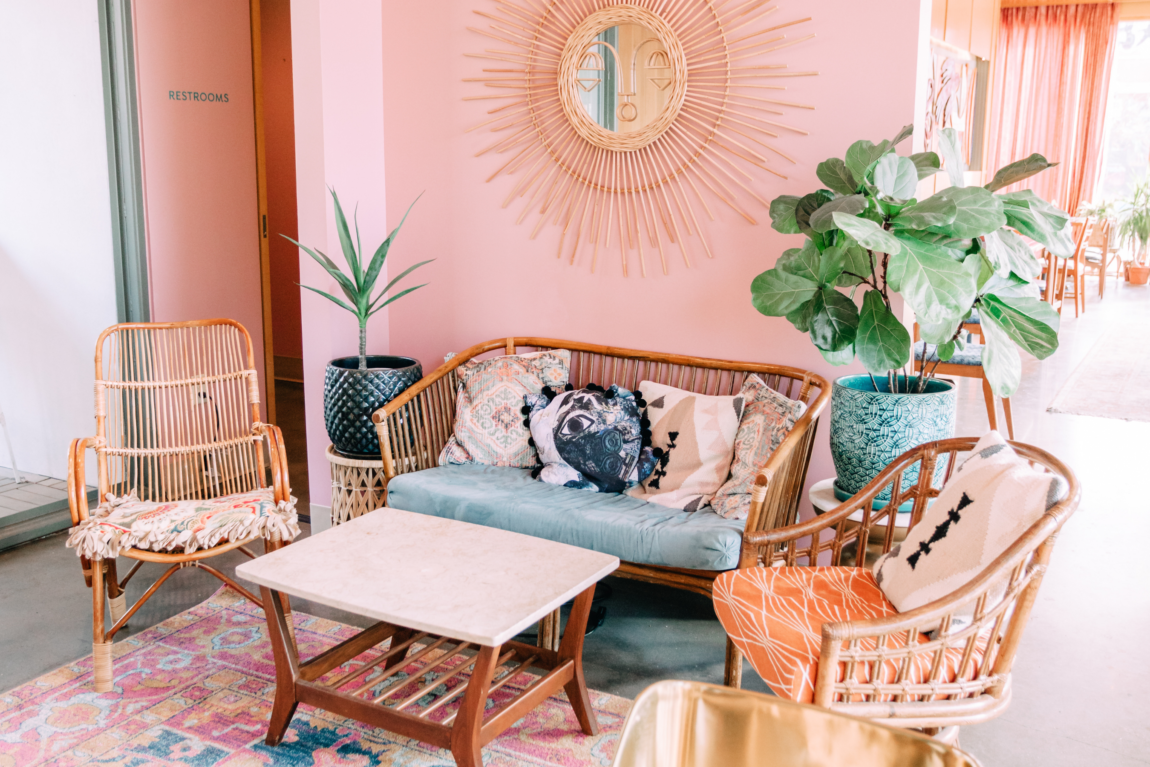 My husband and I drove down to Austin this past weekend as a little pre-birthday getaway! This was my first time actually visiting Austin, besides when my friend and I checked out South Congress for a few hours a few months ago. I love visiting new places, and have had some Instagrammable places in Austin saved on Instagram for quite a while now, so I was super excited to go!
Below are some of the spots we hit up, including the hotel we stayed at which was so cute! Since Austin is only about 3.5 hours away from us, I'm hoping to head down there every few months, so I will keep adding to this list.
East Austin Hotel
We stayed at East Austin Hotel, which is on Sixth Street in an area of Austin that is currently being renewed with some new and trendy places! Sixth Street is also where people go bar hopping, but that's mostly on the other side of I-35, so it's not very noisy right around the hotel. There are definitely lots of places you can walk to though! The first night, we walked over to Hopdoddy which has AMAZING burgers. There's also a small-format Target a couple blocks away, which is of course a necessity for me 😉 It was actually so convenient though because we were able to just walk over to get some snacks, Advil, water, etc.
So now onto the hotel itself… this place is so cute!! If you're looking for some Palm Springs vibes in Texas, this is it. I love the retro vibe with the pink and turquiose and mid-century furniture in our room.
The pool area also looked so nice, but it was freezing cold when we were there, so that definitely didn't happen 😂 I can only imagine how fun and vibe-y this place would be in the Spring & Summer though!!
We stayed in the King Poolside Suite, but on the other side of the hotel are super affordable cabin style rooms with shared bathrooms, which would be perfect if you're having an Austin bachelorette party or girls weekend! And P.S. the Waller Wing & Cabin rooms are the ones with the pink beds 😉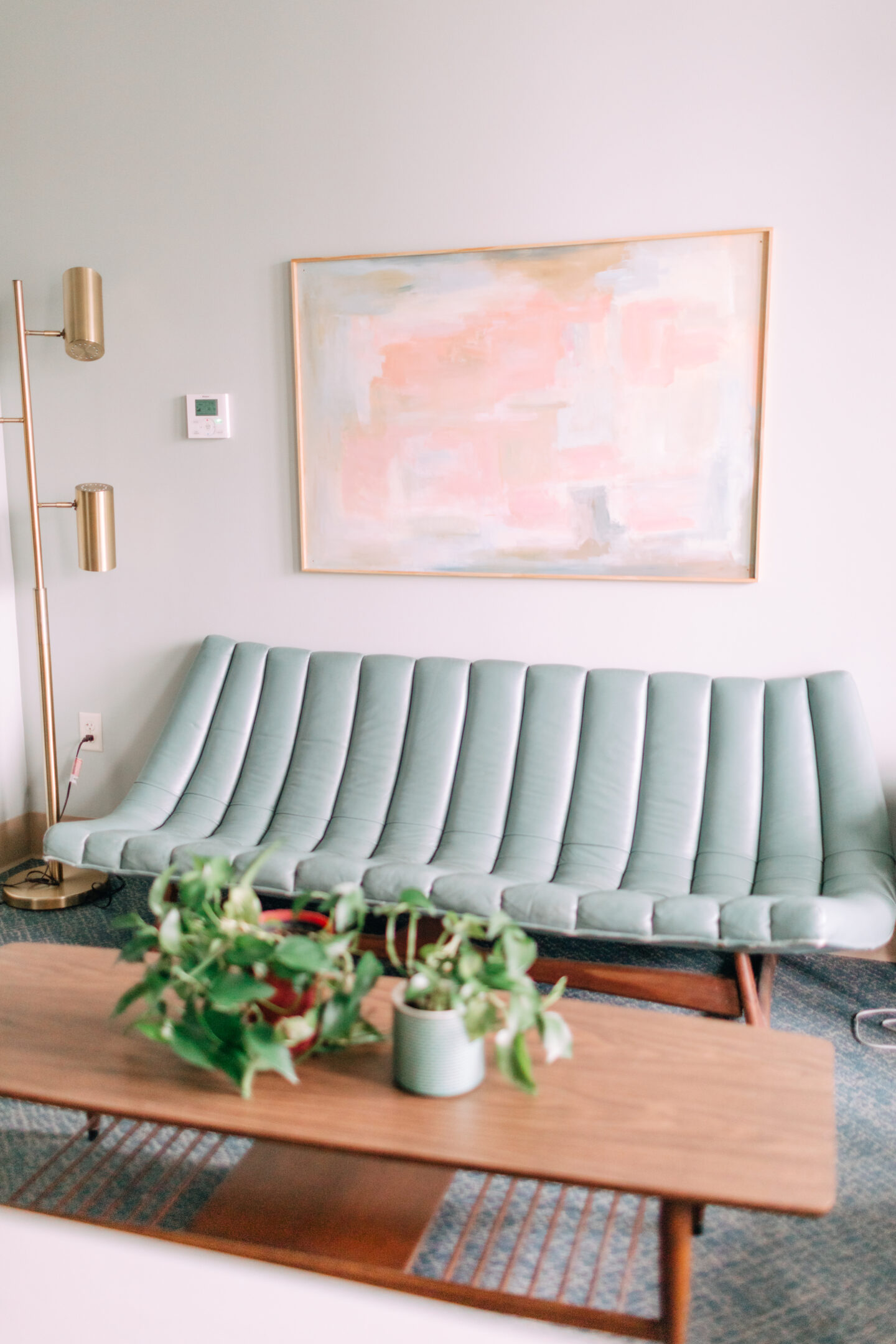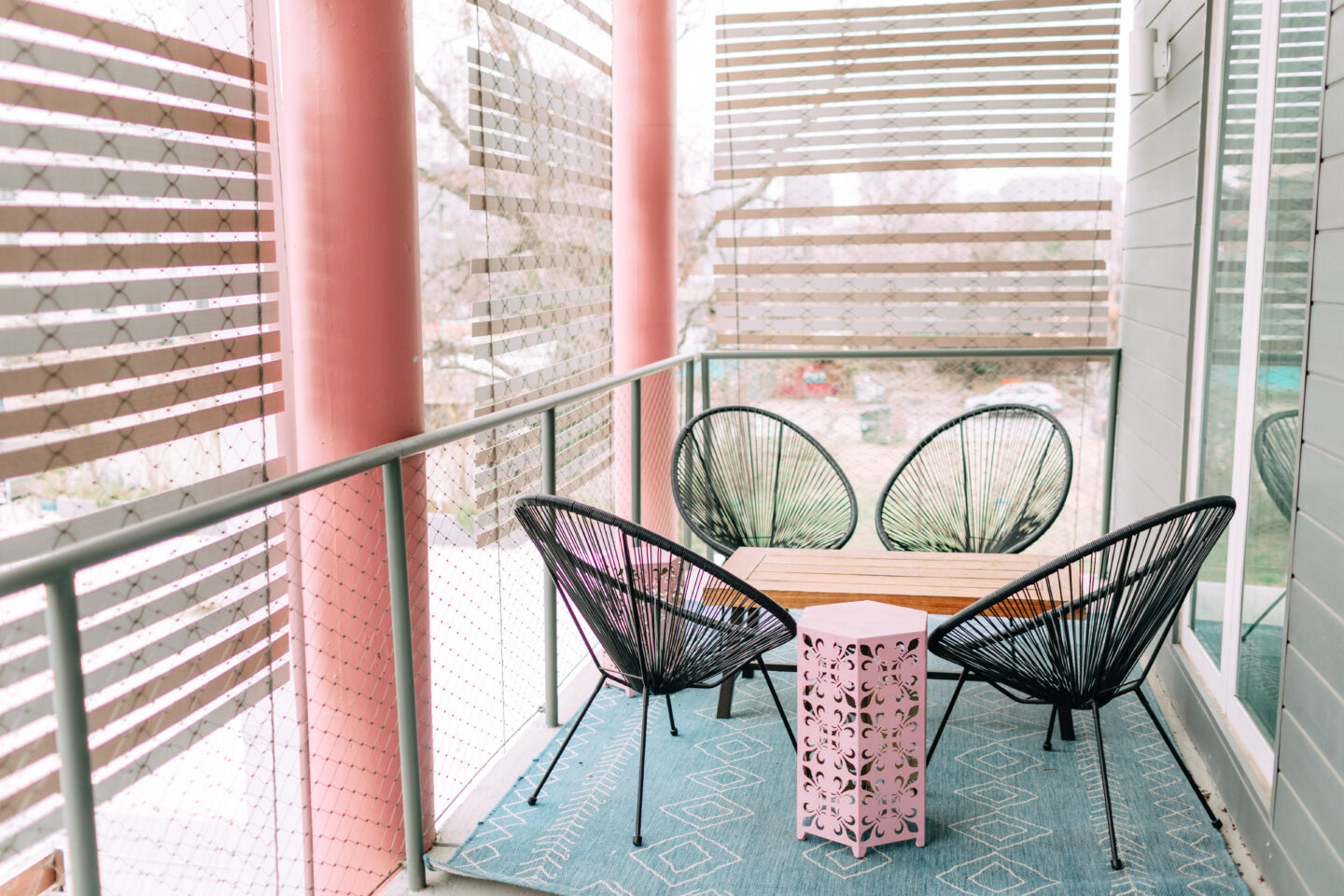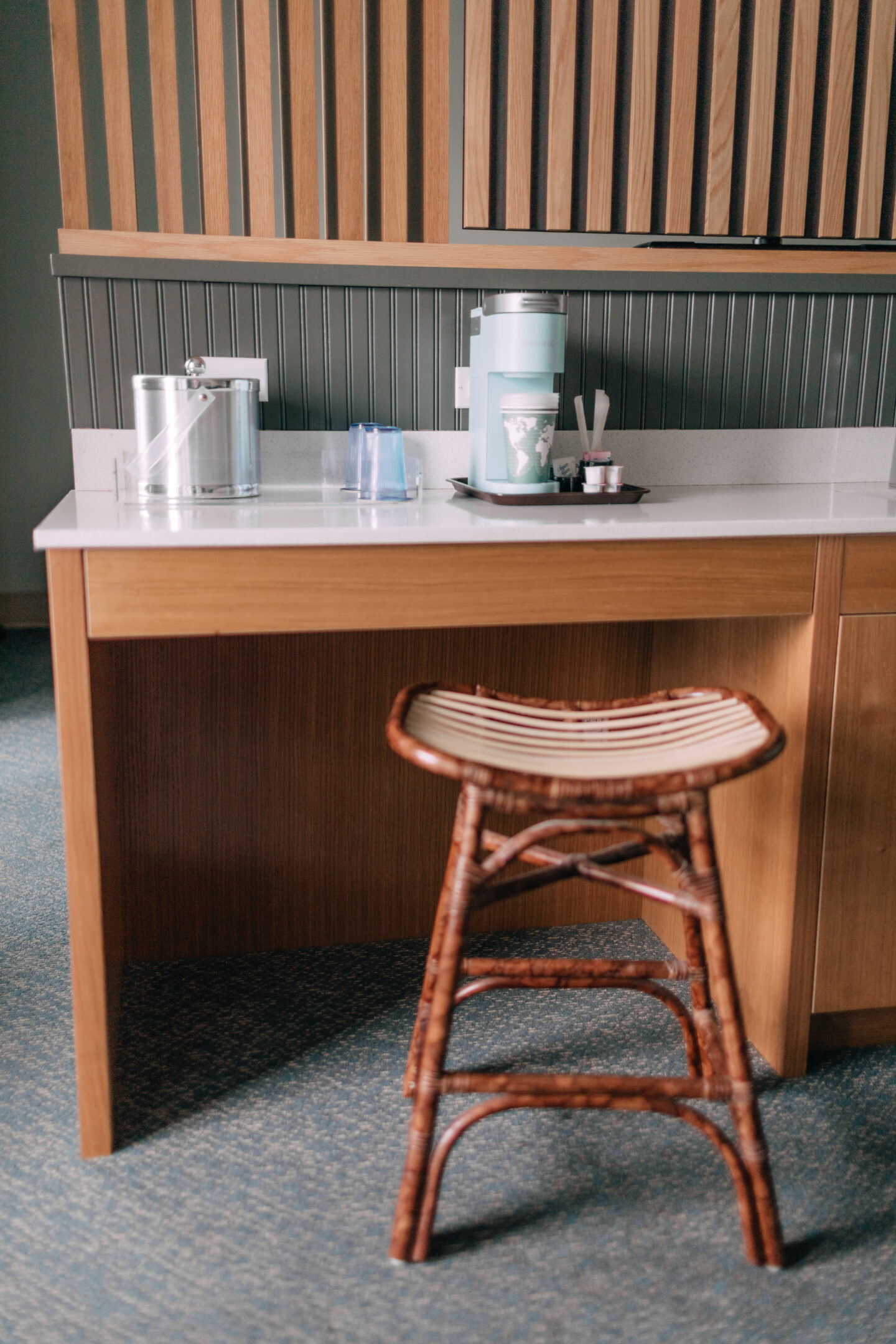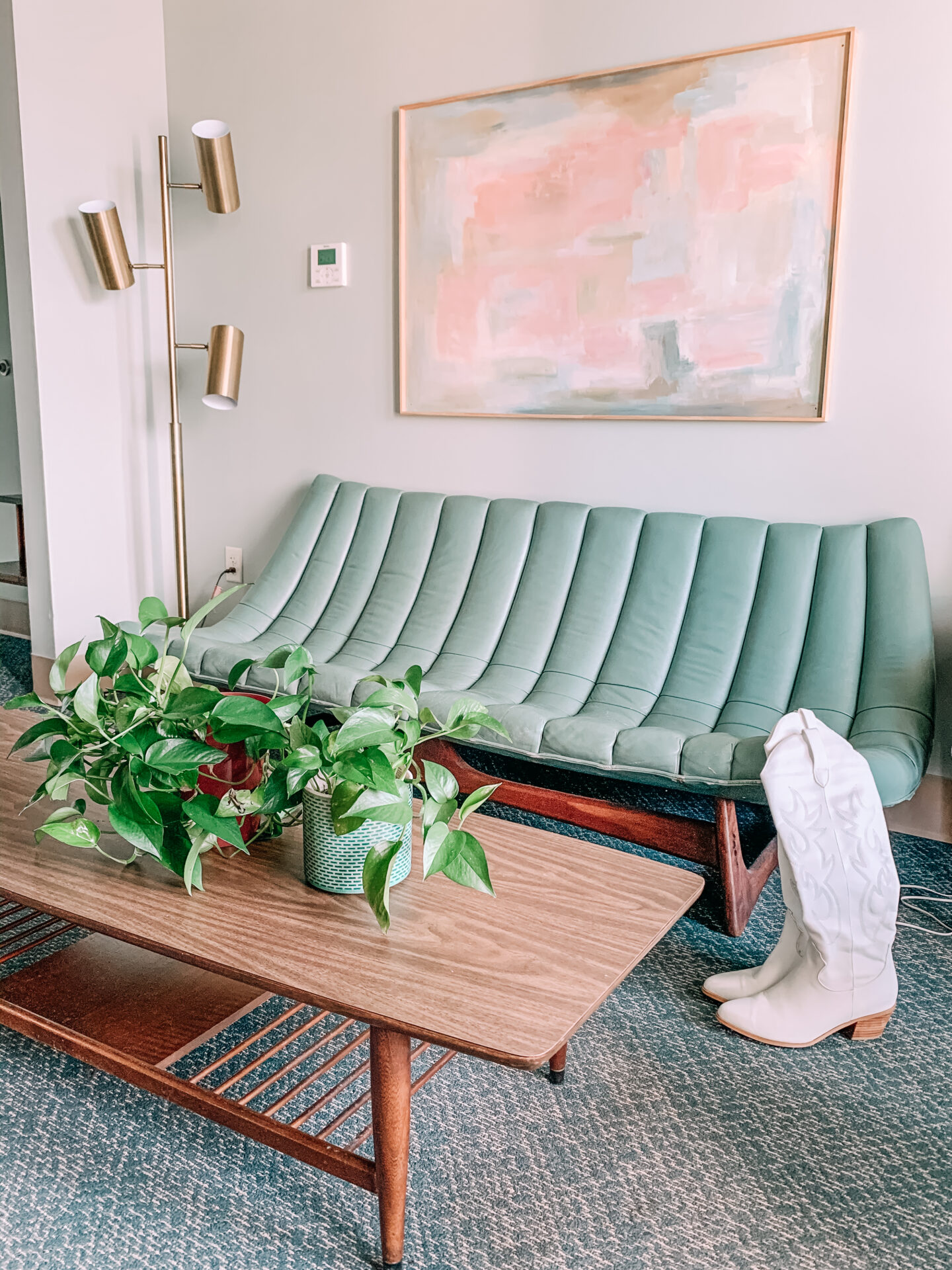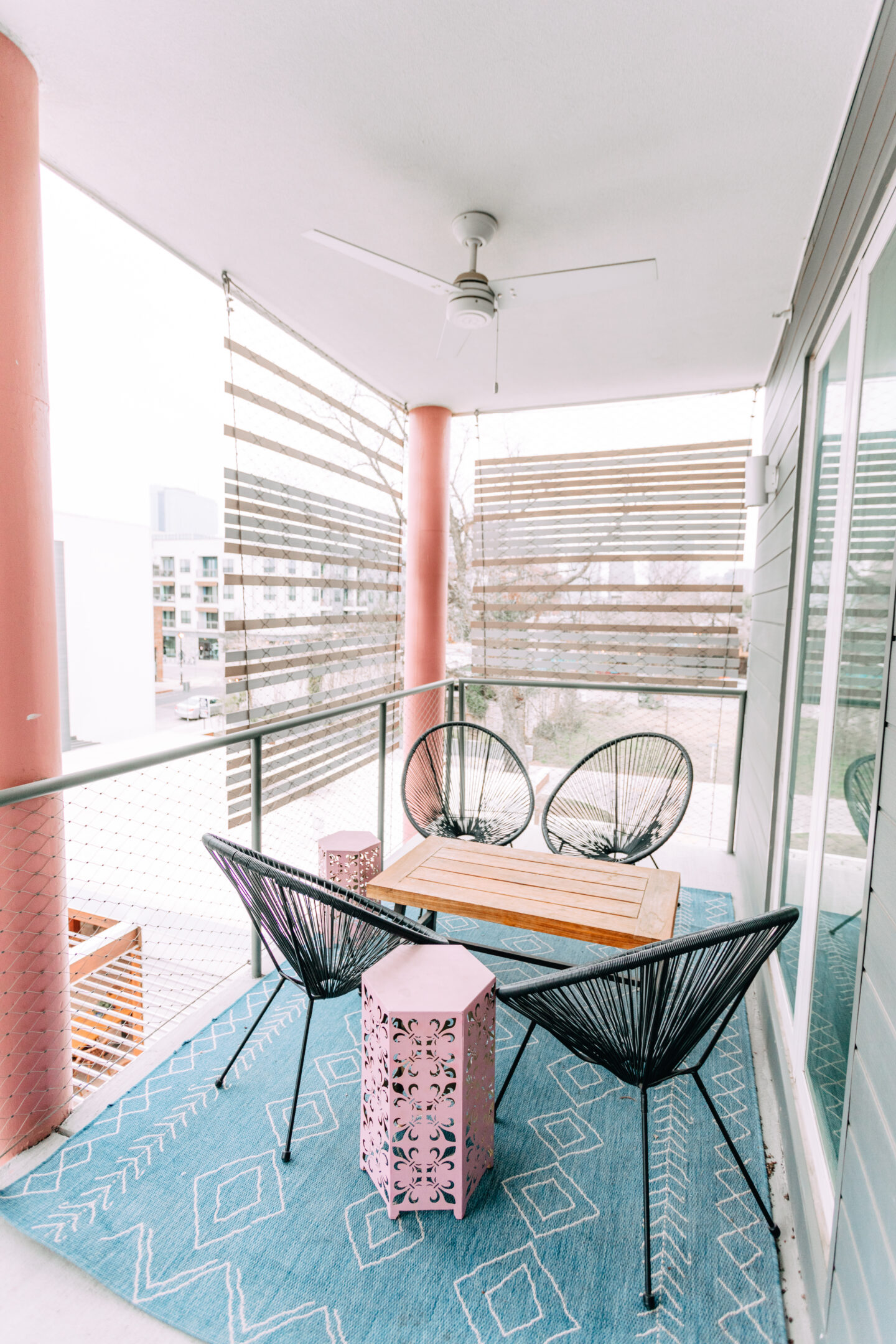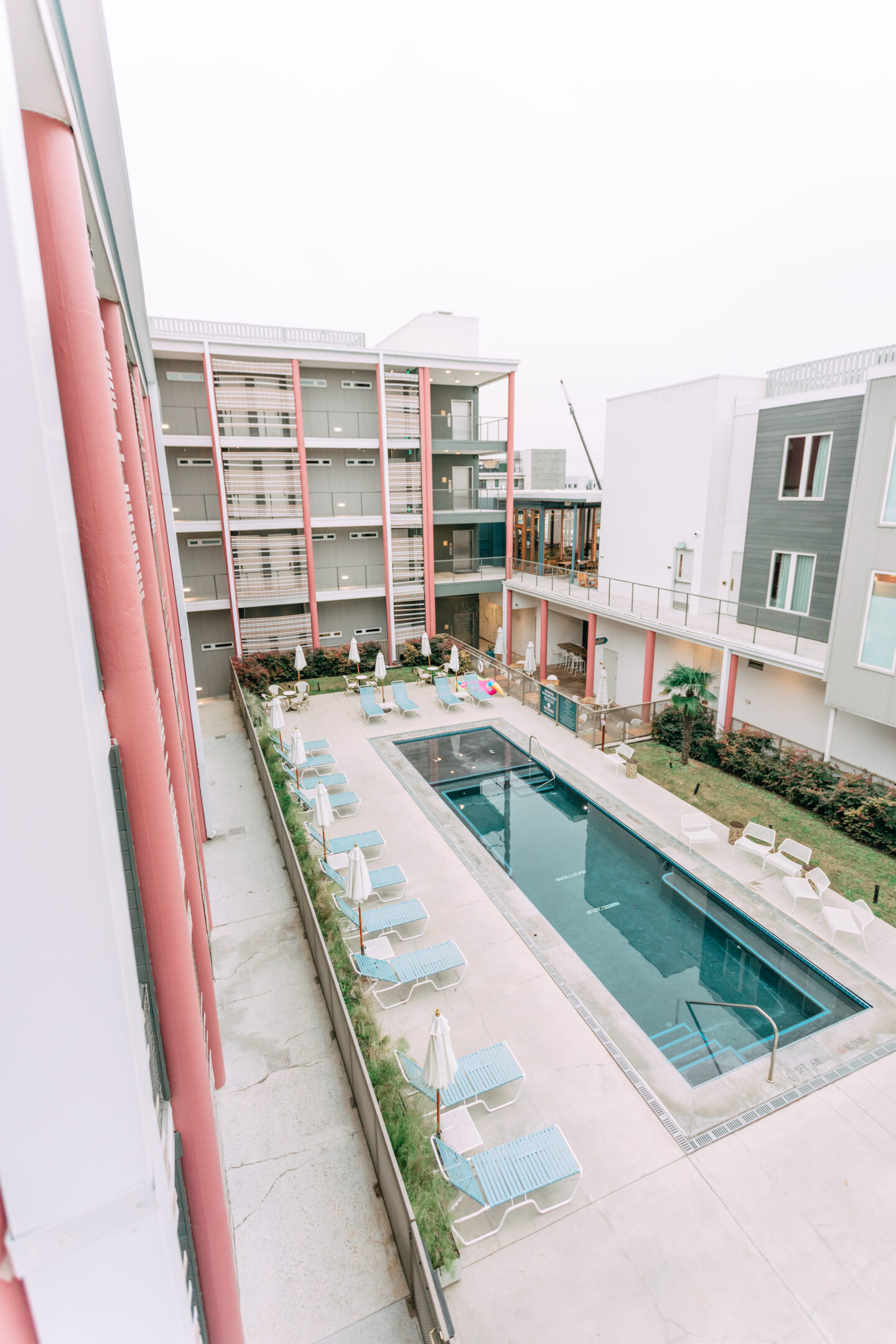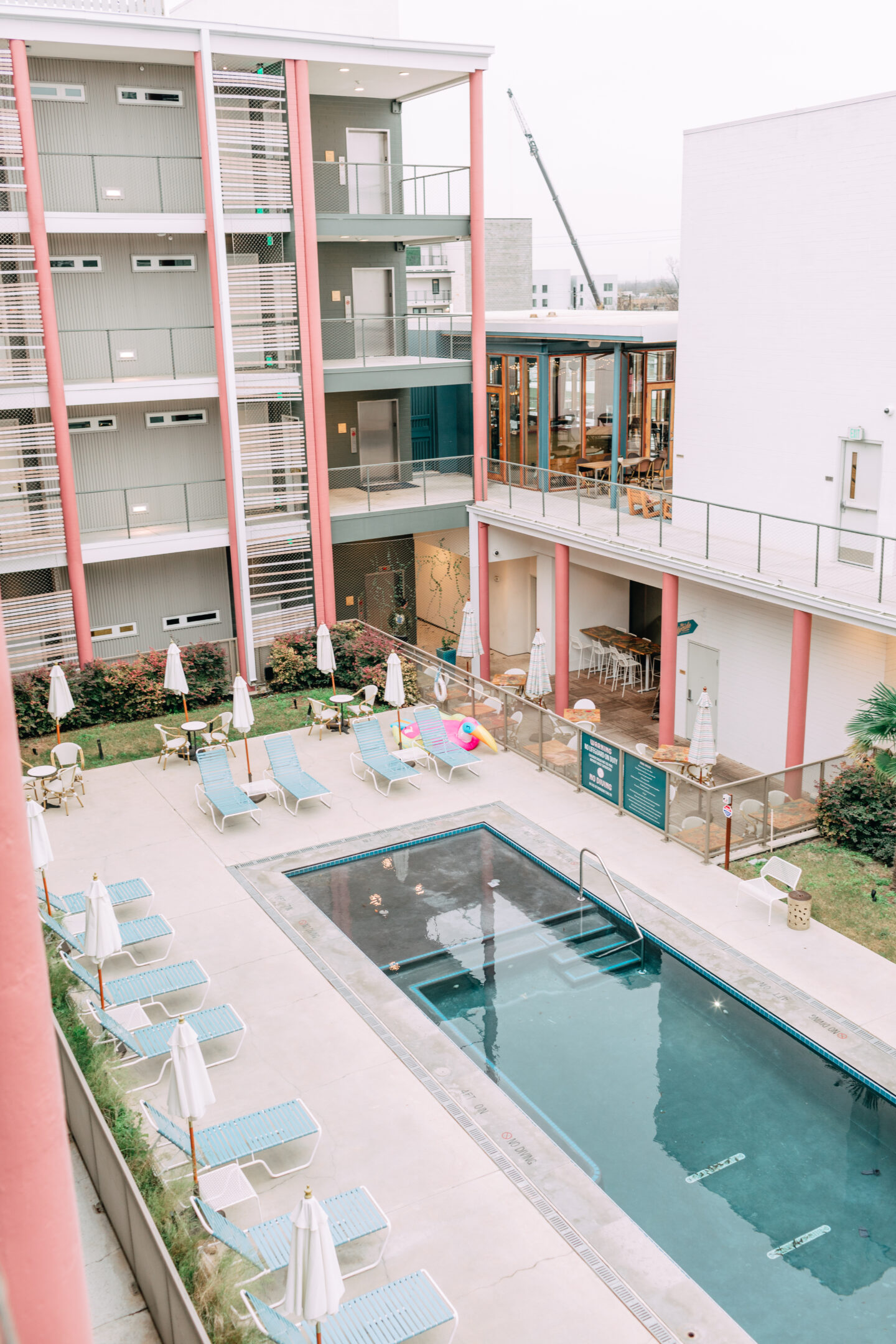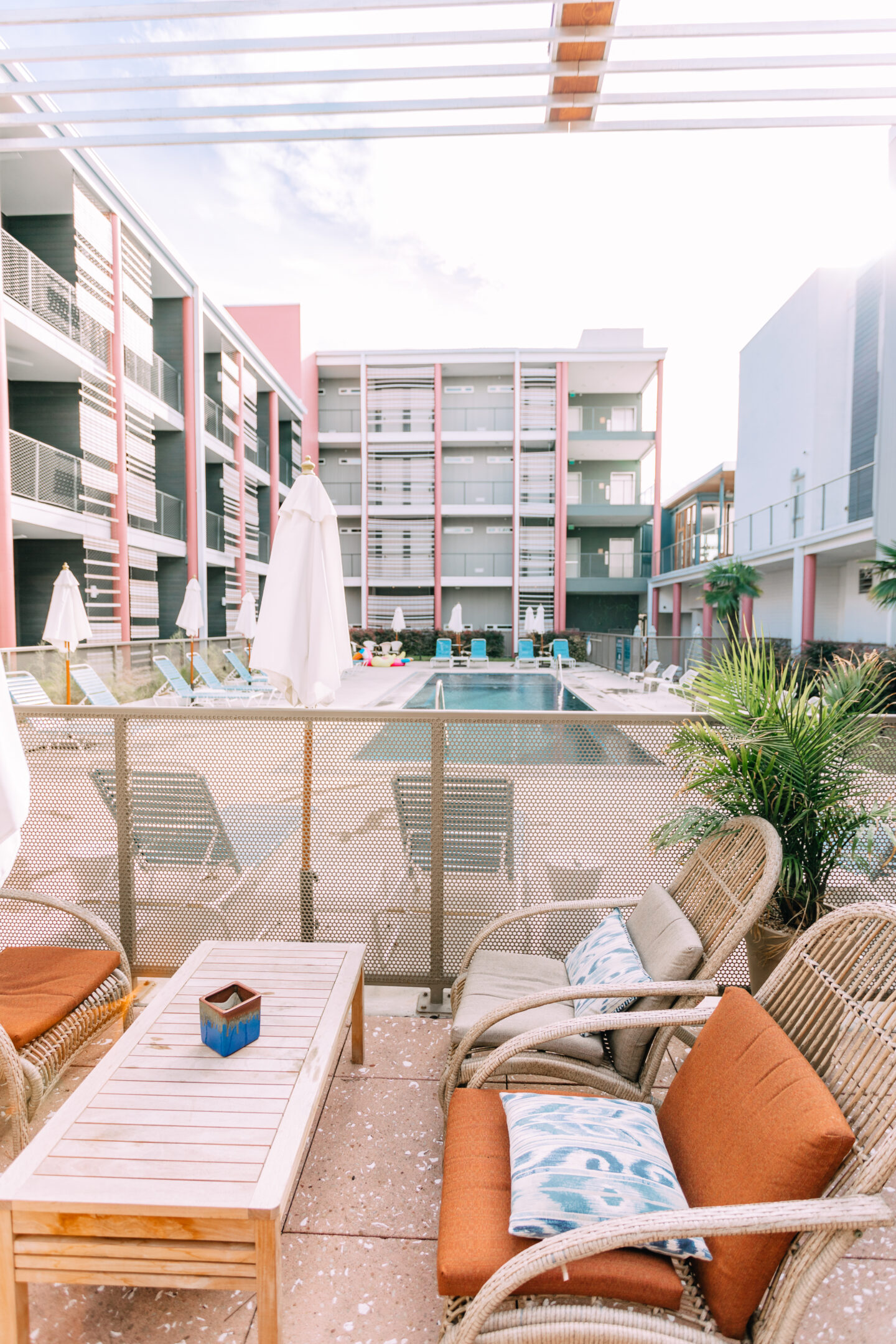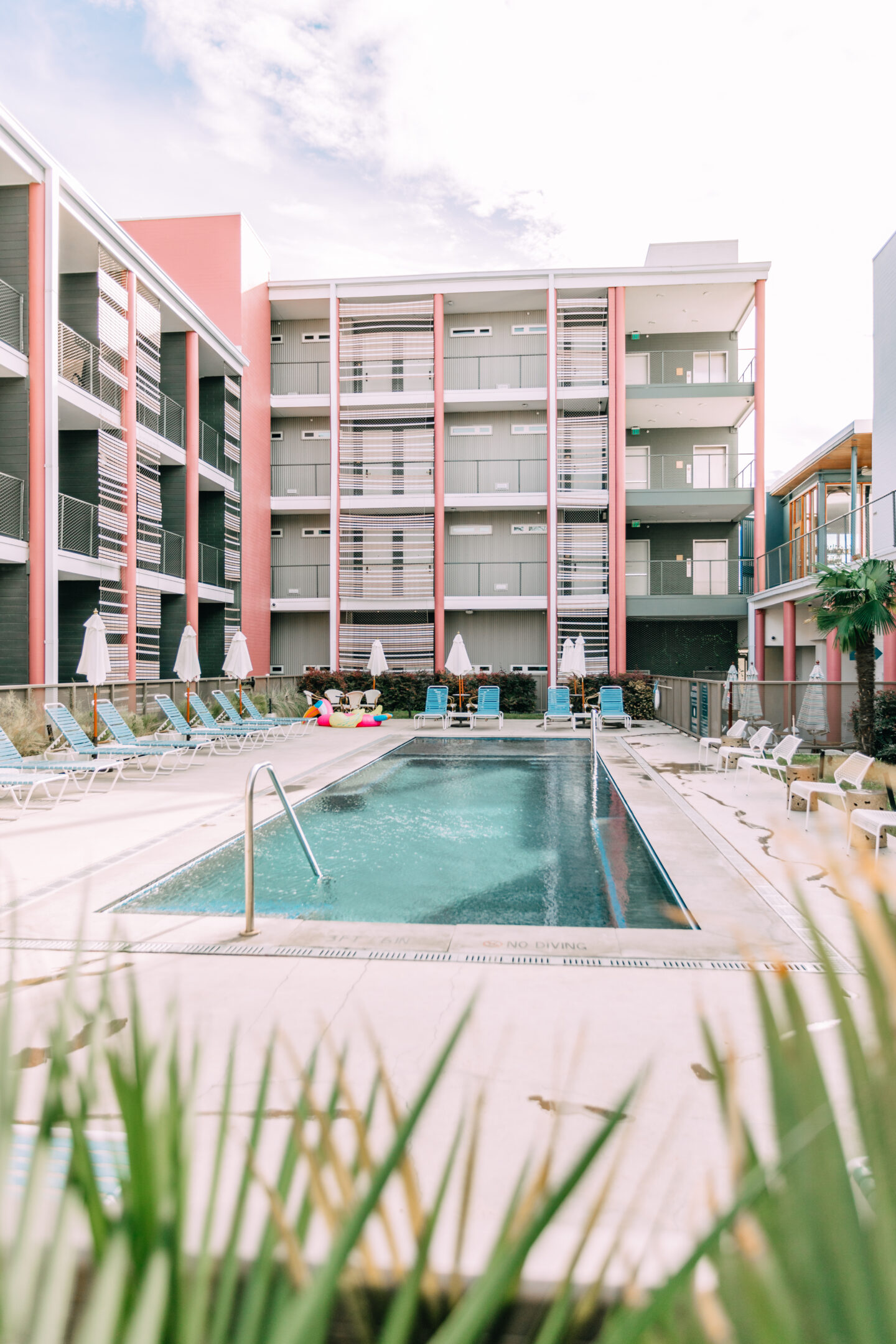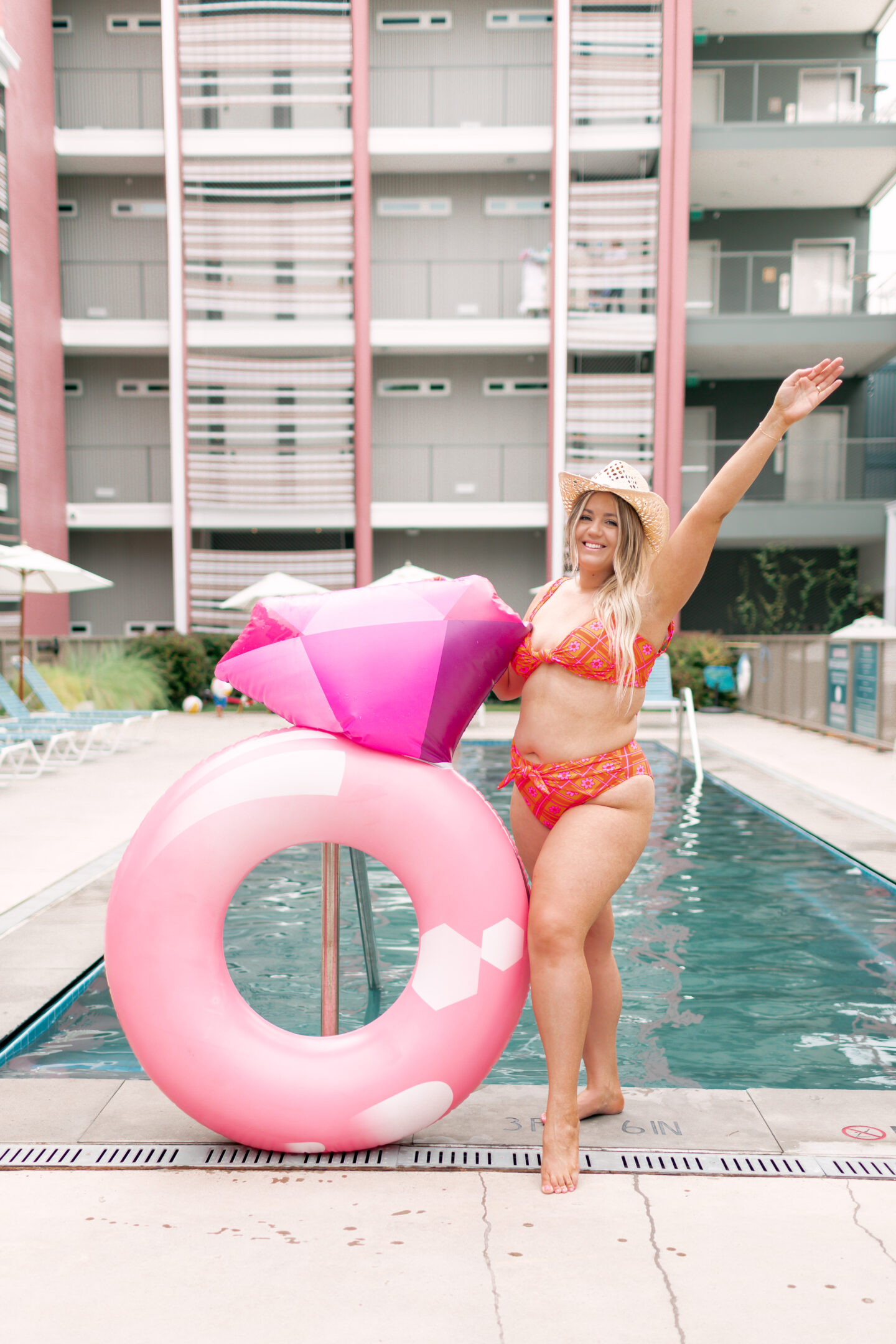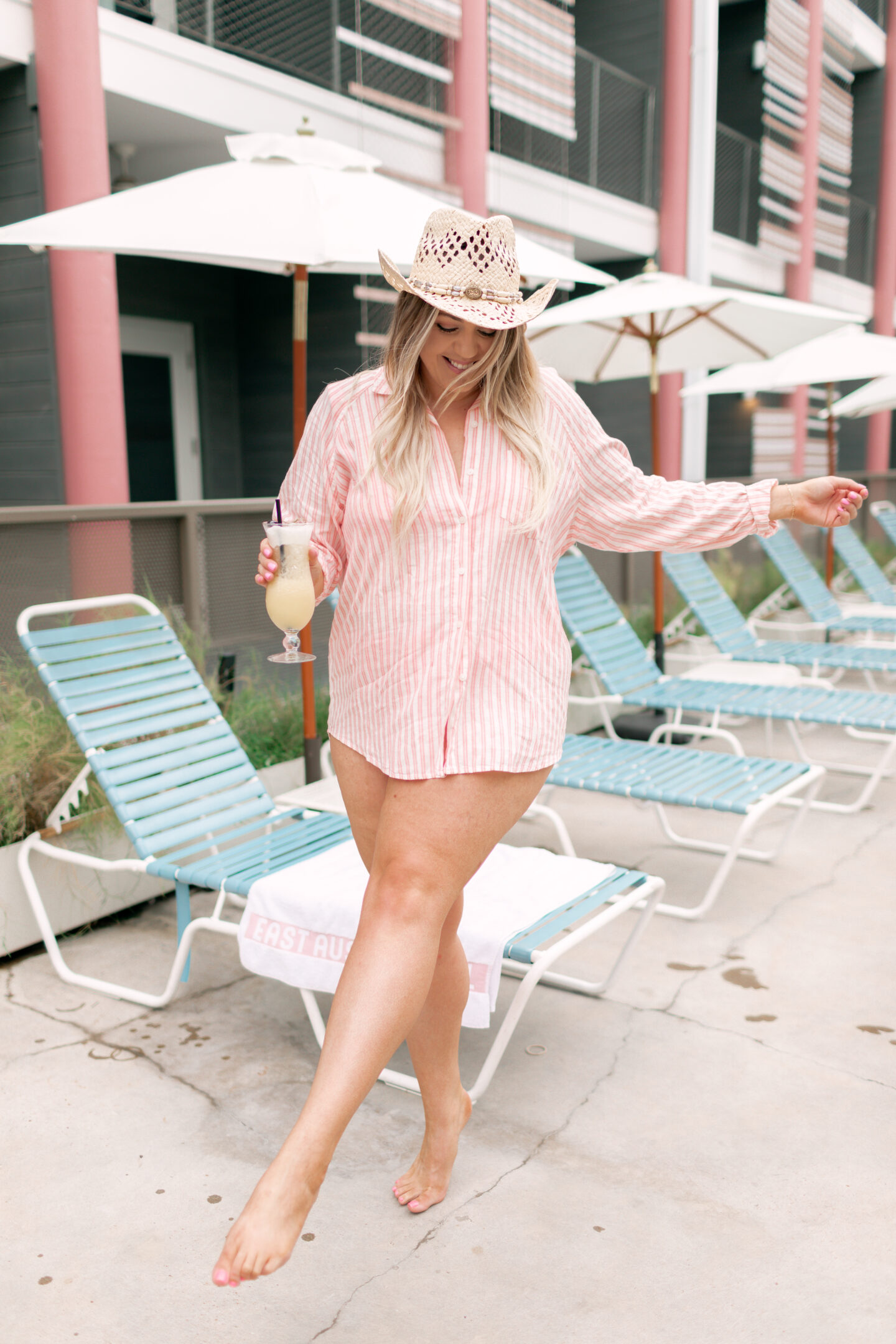 Pool Bar
How freaking cute is the Pool Bar?! That pink tile, the peace sign, the plants, the turquoise accents… so me! It's open to the public with a menu brimming with frozen cocktails and reimagined resort drinks.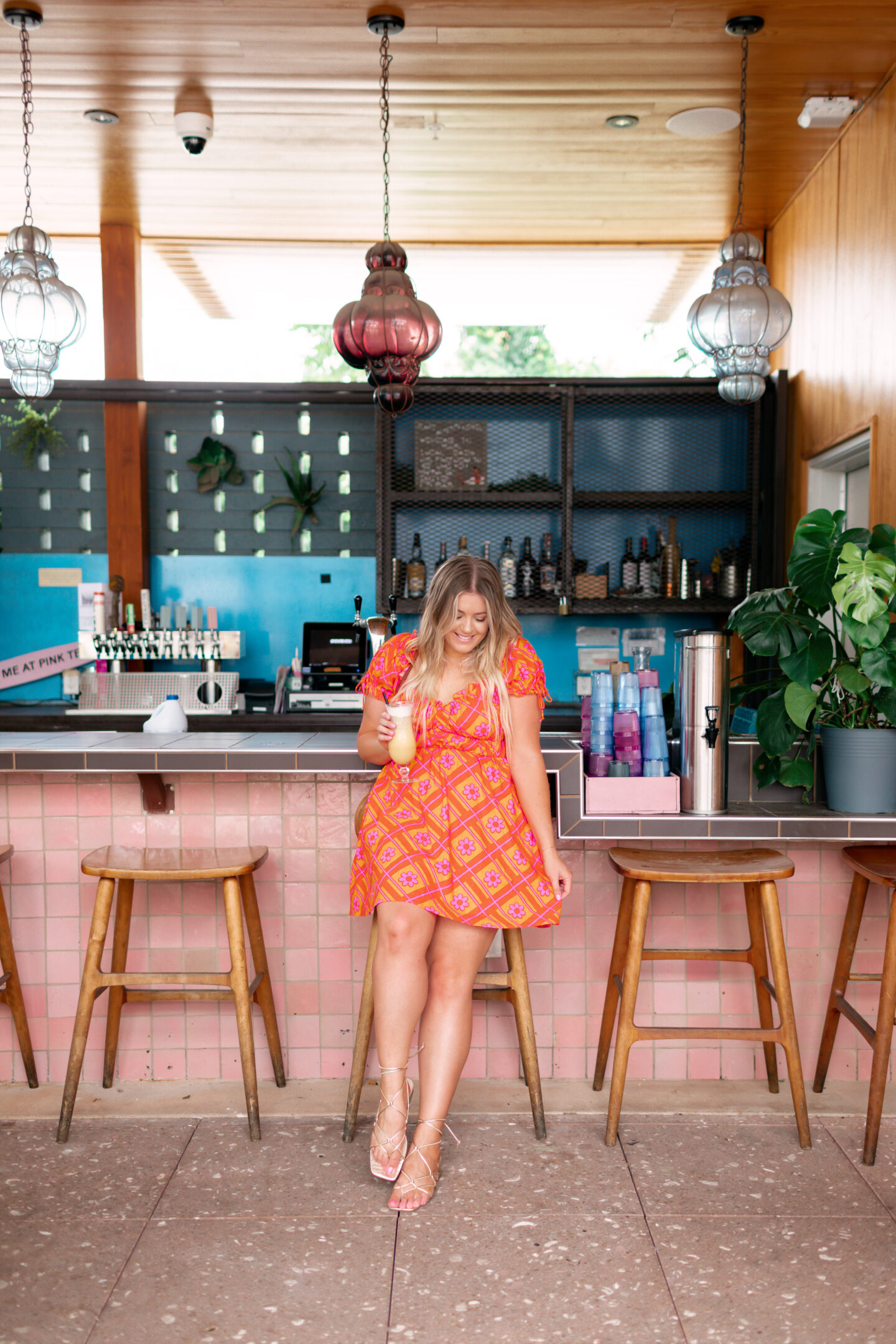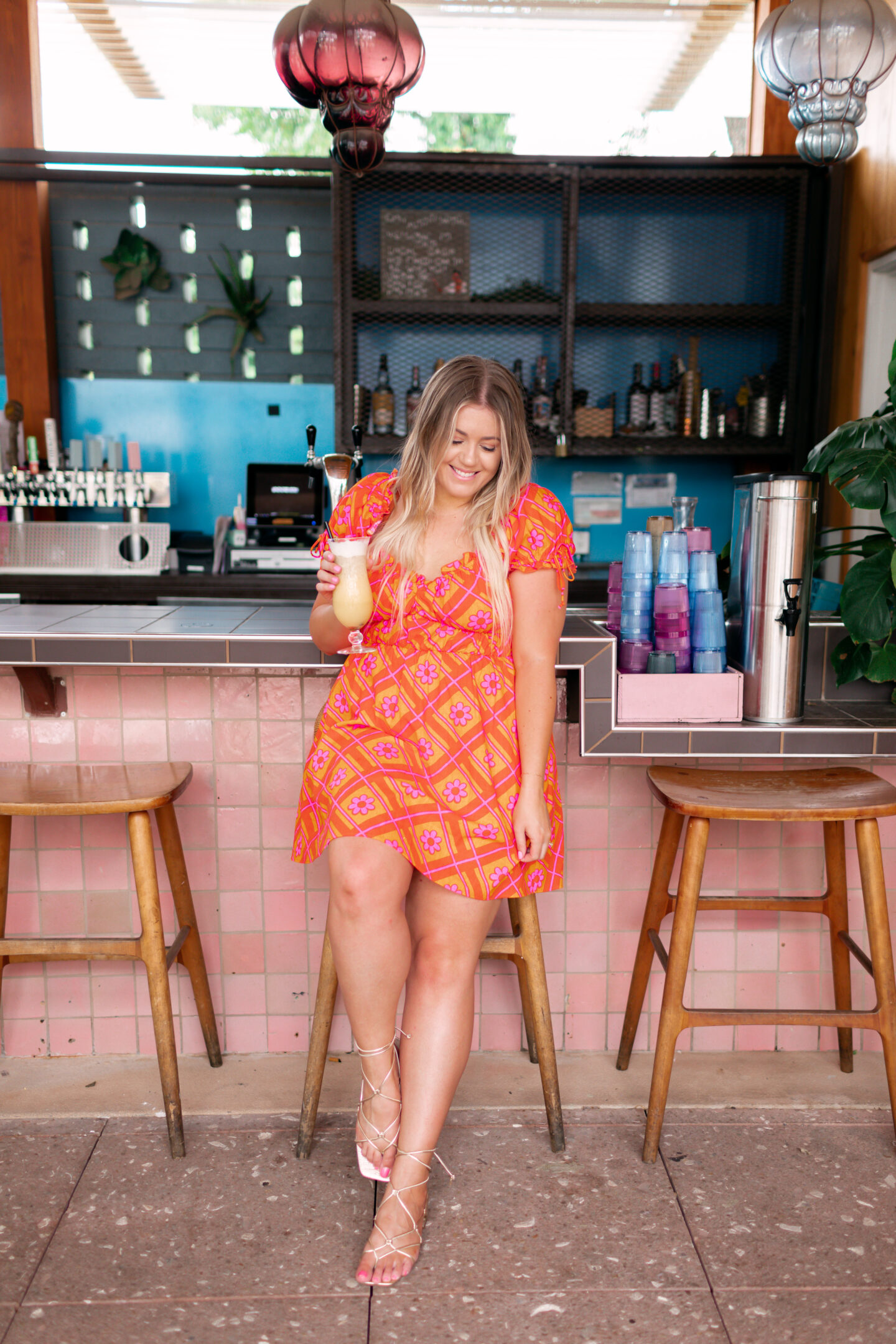 OUTFIT DETAILS:
PRINTED DRESS | GOLD LACE UP SANDALS & HERE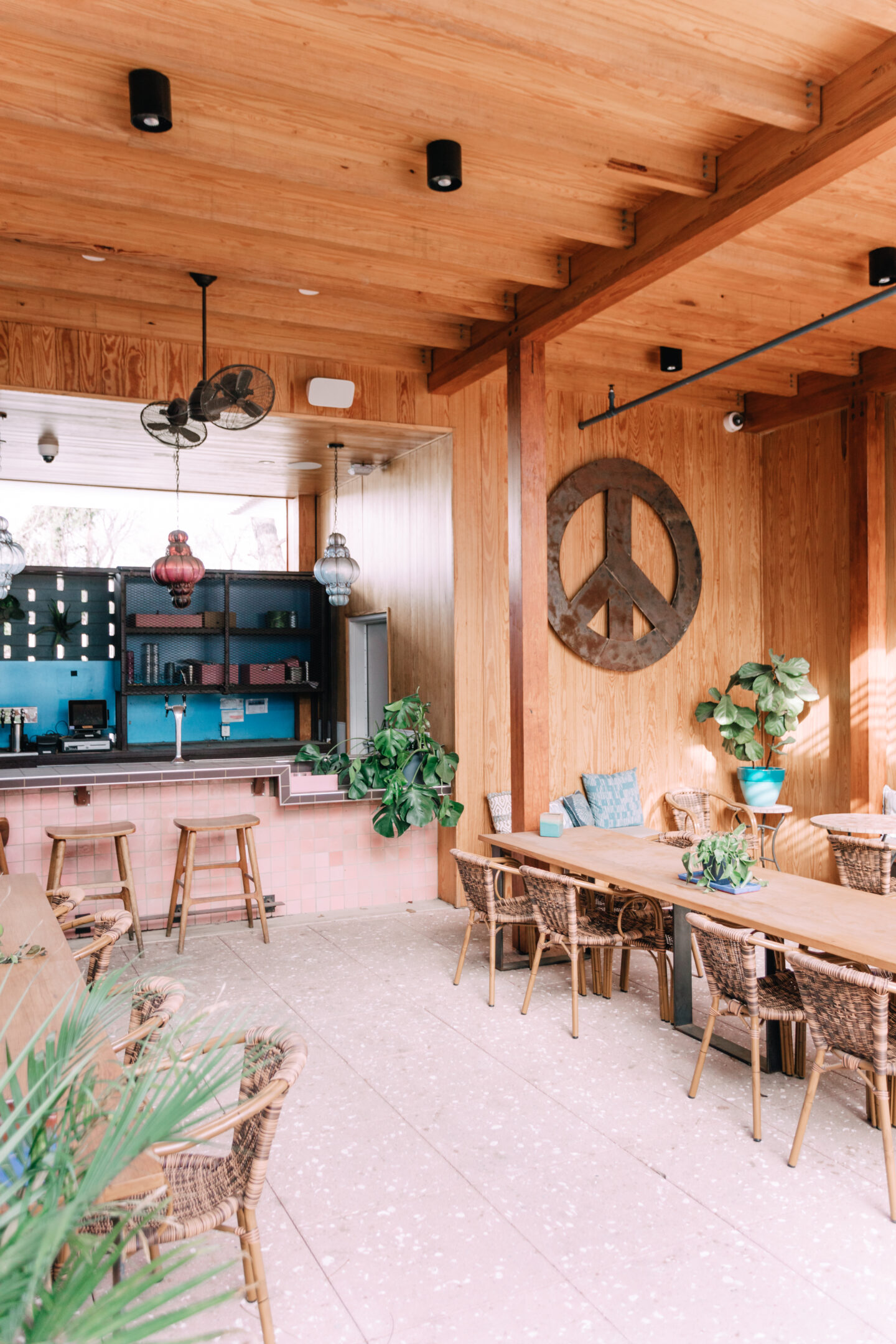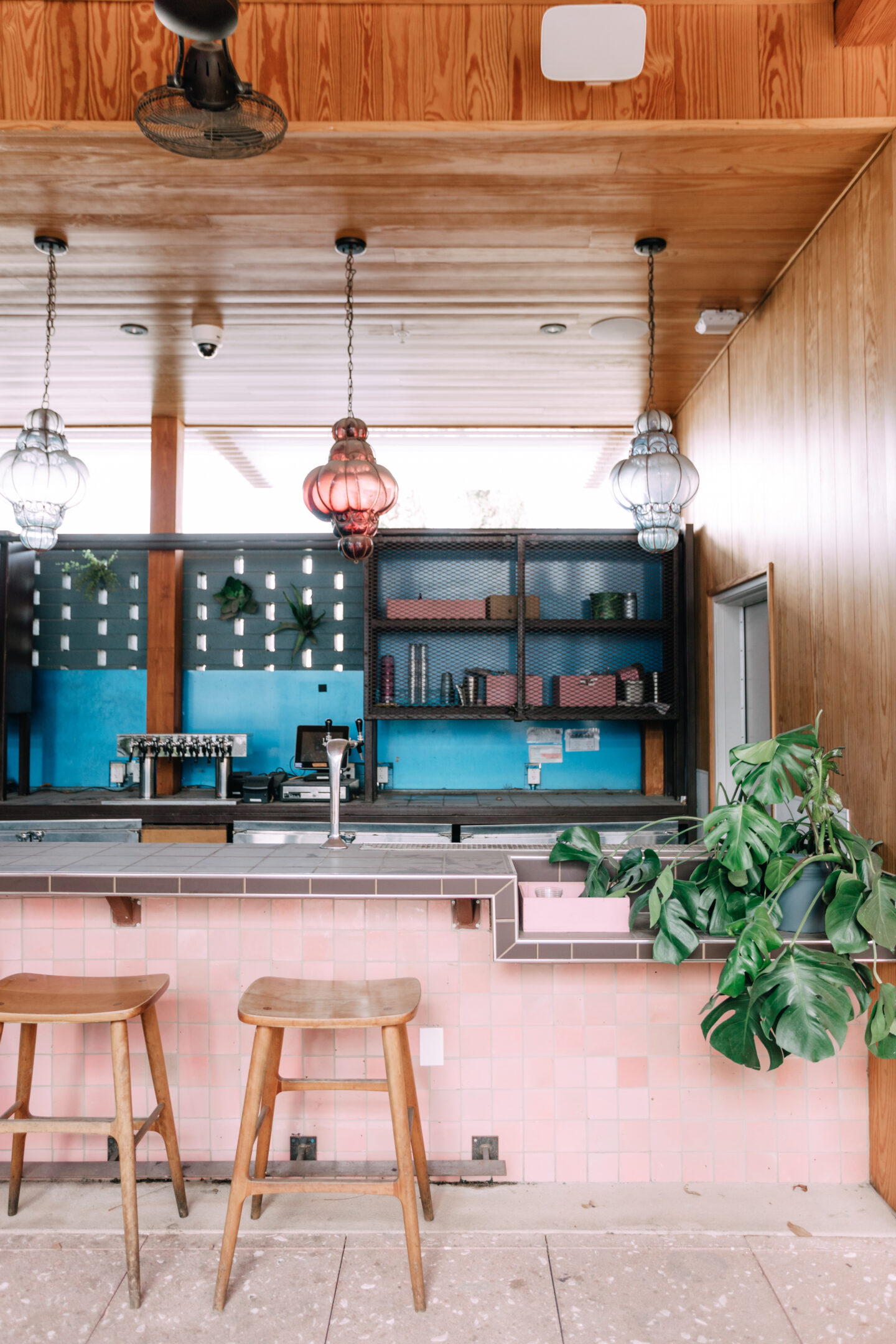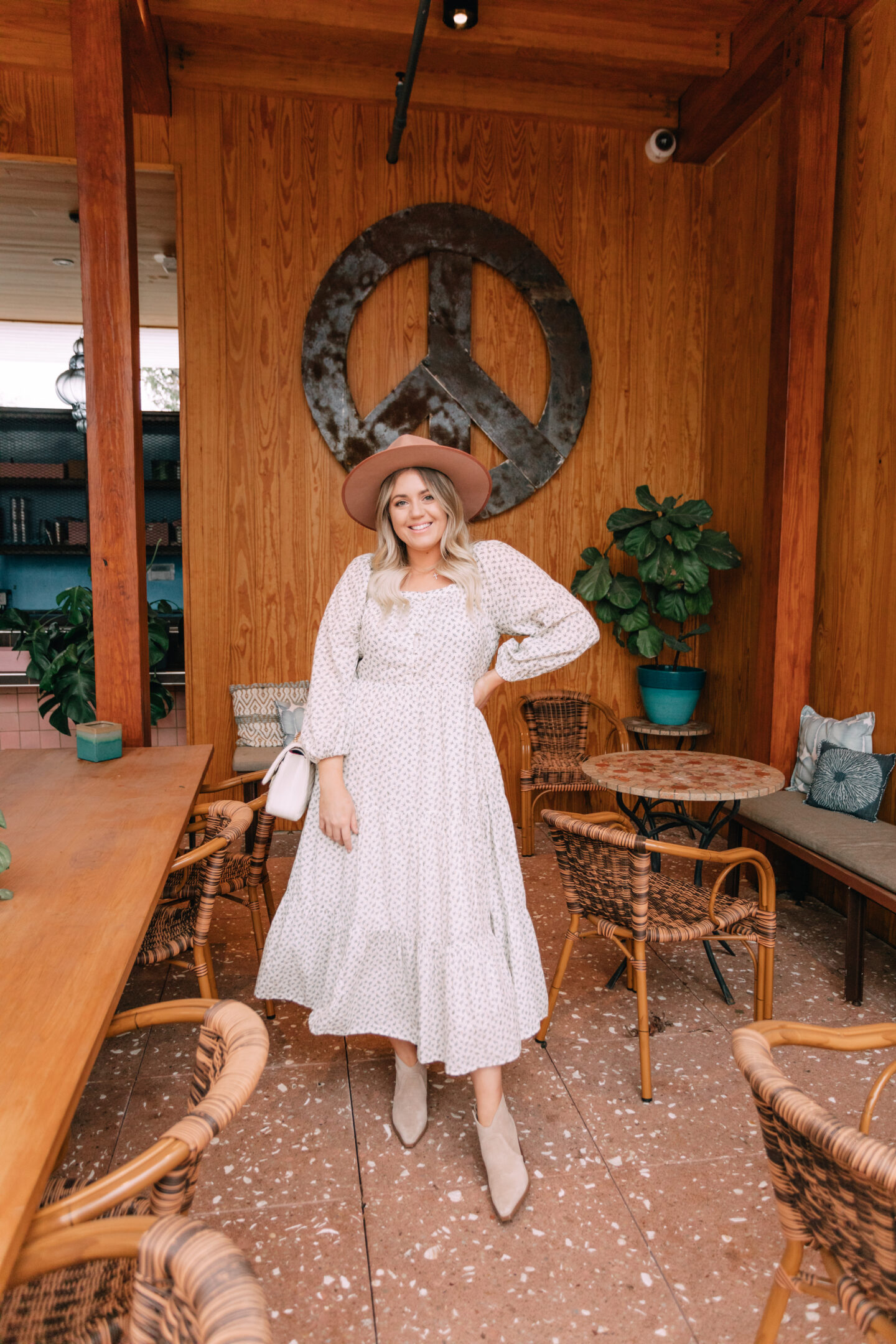 OUTFIT DETAILS:
MIDI DRESS | BLUSH FEDORA HAT | QUILTED BAG | WESTERN BOOTIES
Sixth & Waller
This part of the hotel, Sixth & Waller, is what initially caught my eye! I saw my friend @purposeinthepink post a photo here and I just about died. Again, the decor is SO me!!! This is basically what my dream house would look like. Except I doubt my husband would let me decorate with that much pink 😂
Sixth & Waller is a global diner with "international flavors, vegan/vegetarian-friendly dishes, and scrumptious sandwiches & salads, as well as delicious takes on breakfast classics." I ordered the Waller Street Breakfast and Colton ordered the French Toast. Both were so good, and my favorite part was the crispy potatoes! I also ordered a lavender latte which was super tasty as well.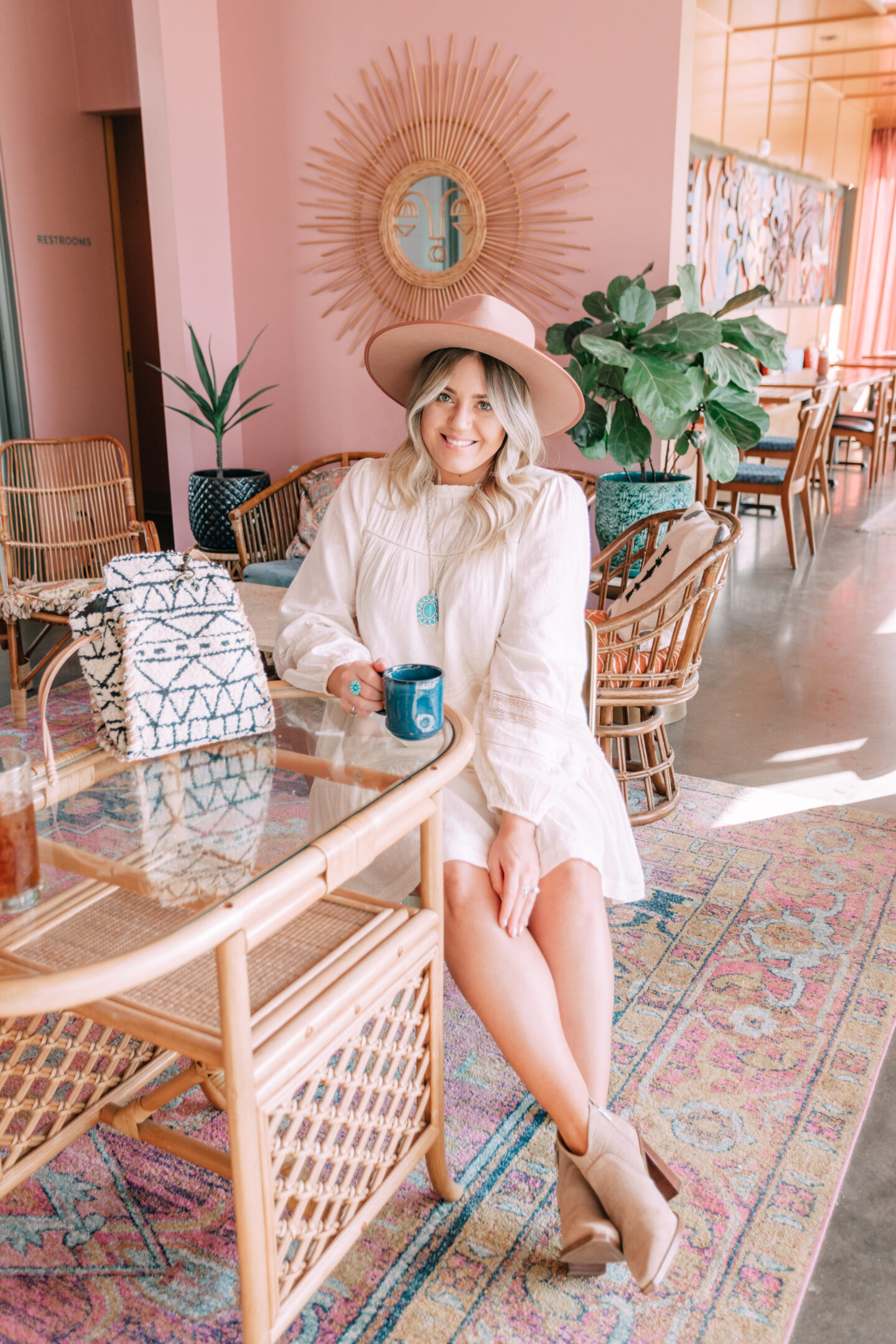 OUTFIT DETAILS:
MINI SWING DRESS | BLUSH FEDORA HAT | WESTERN BOOTIES | TURQUOISE NECKLACE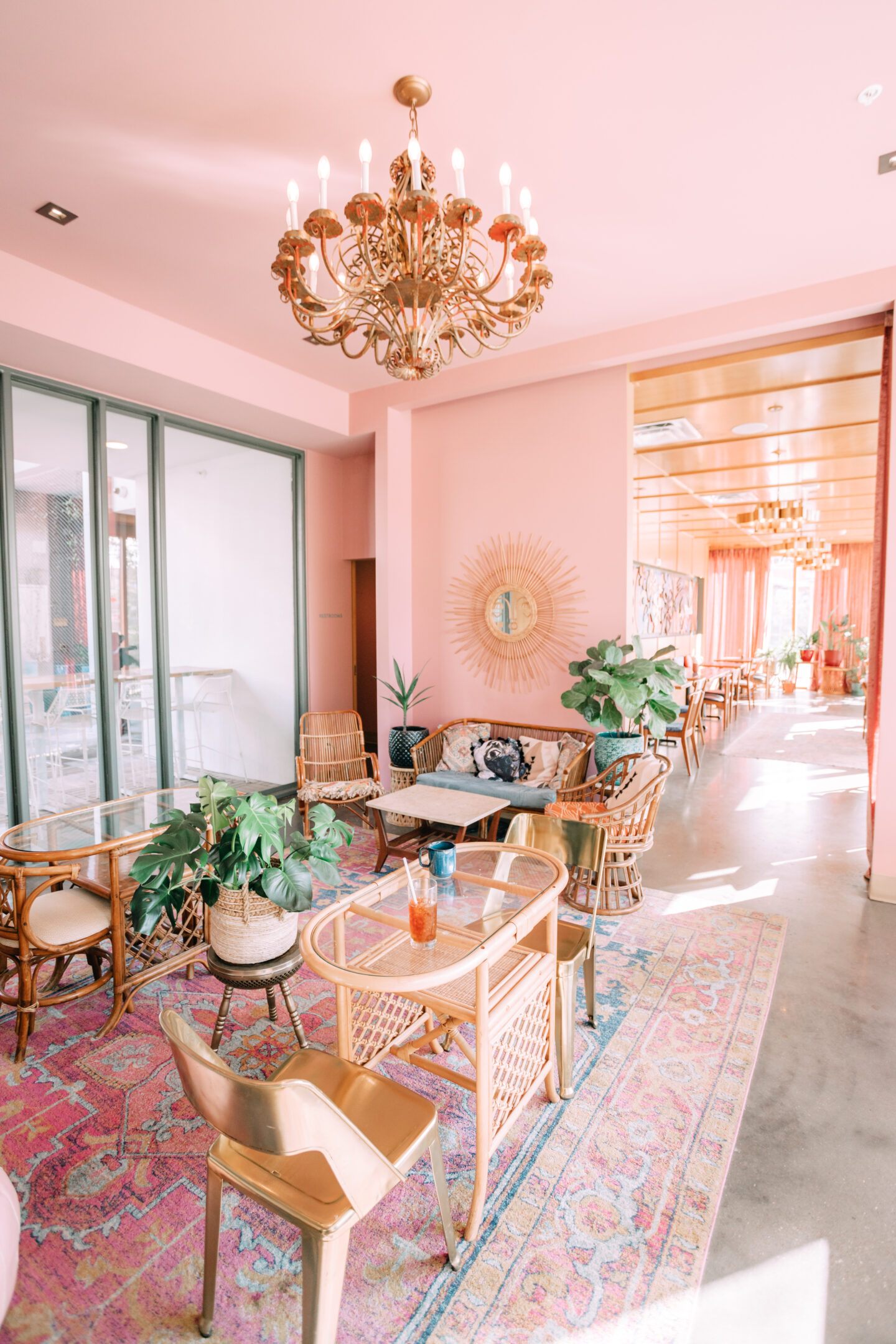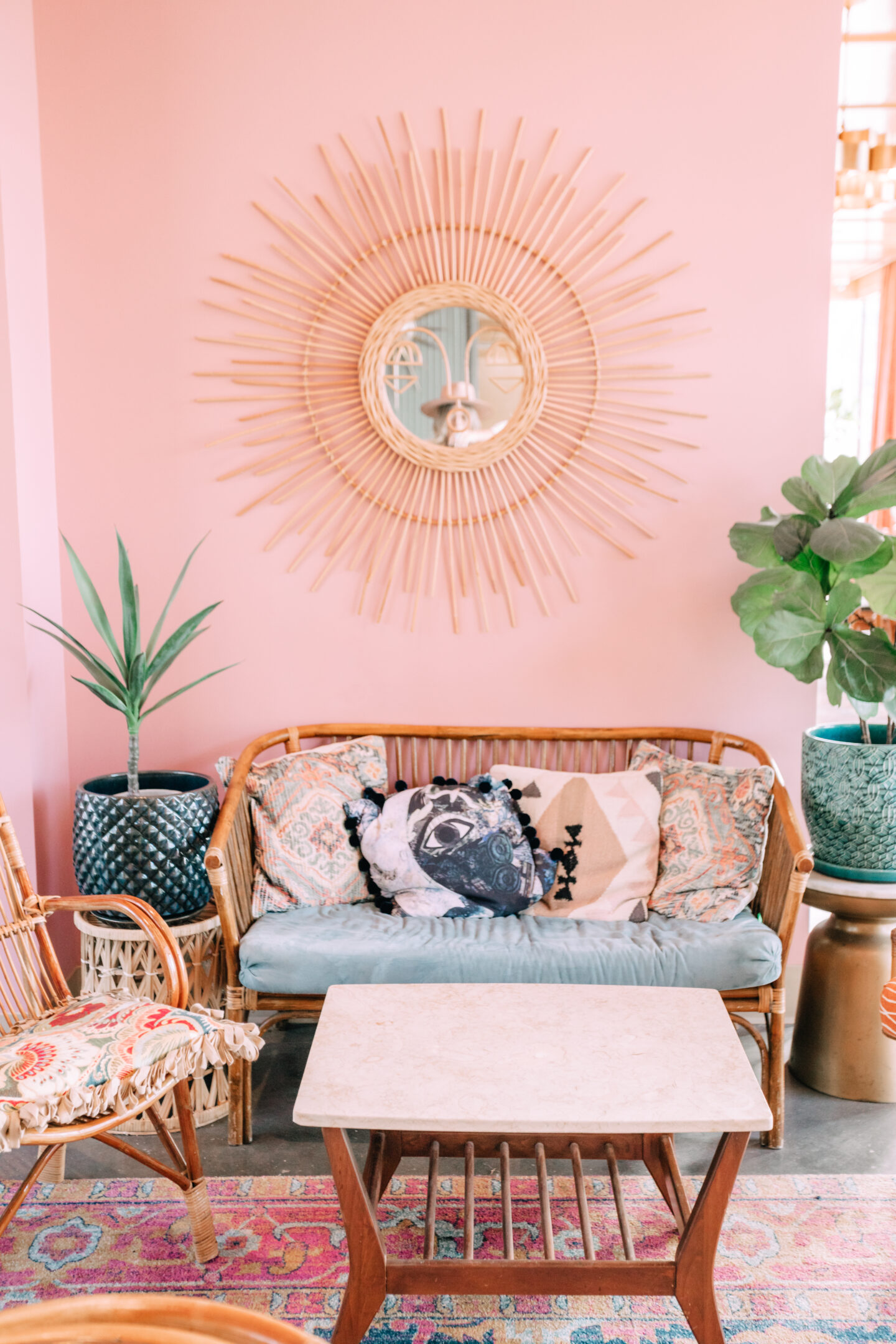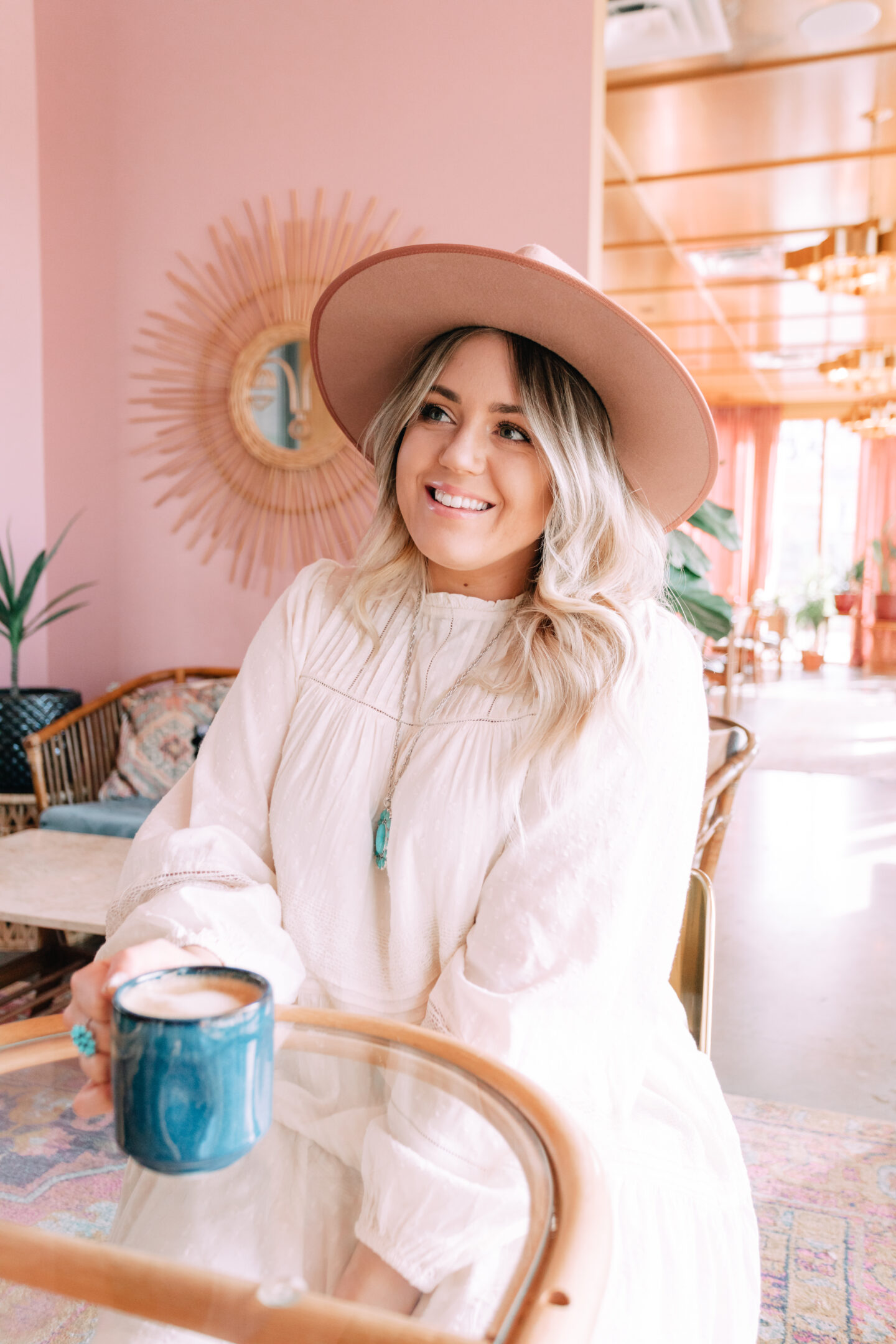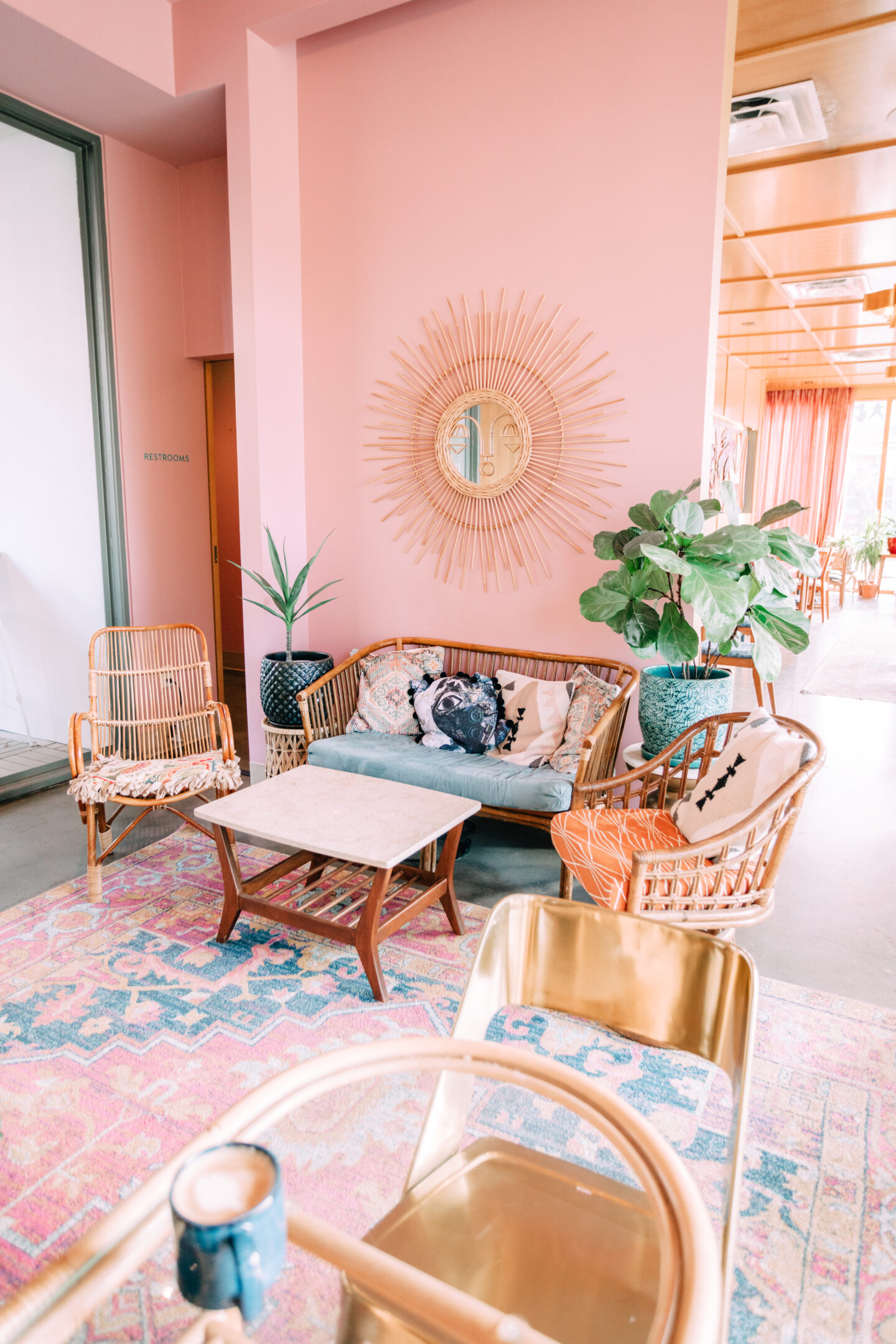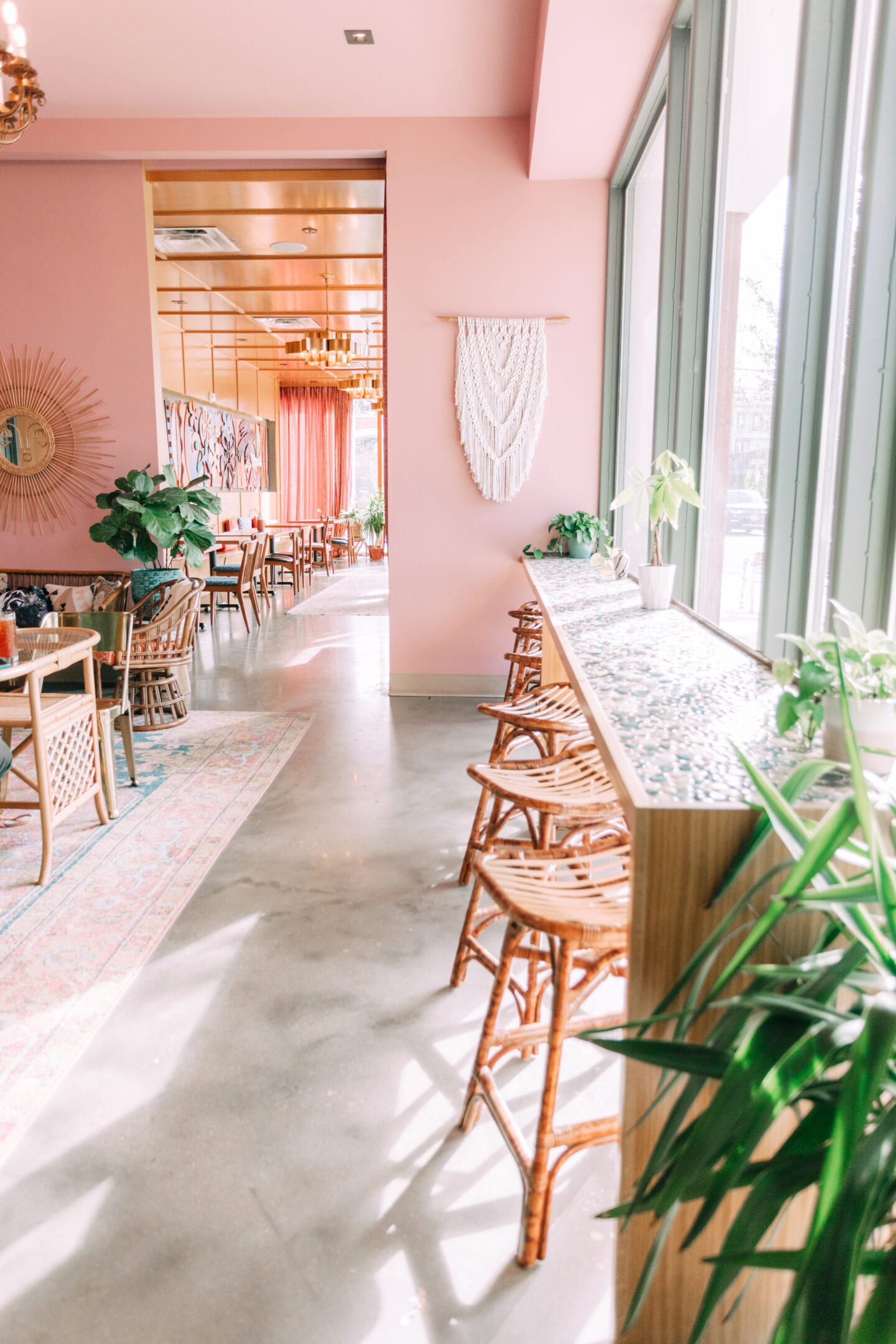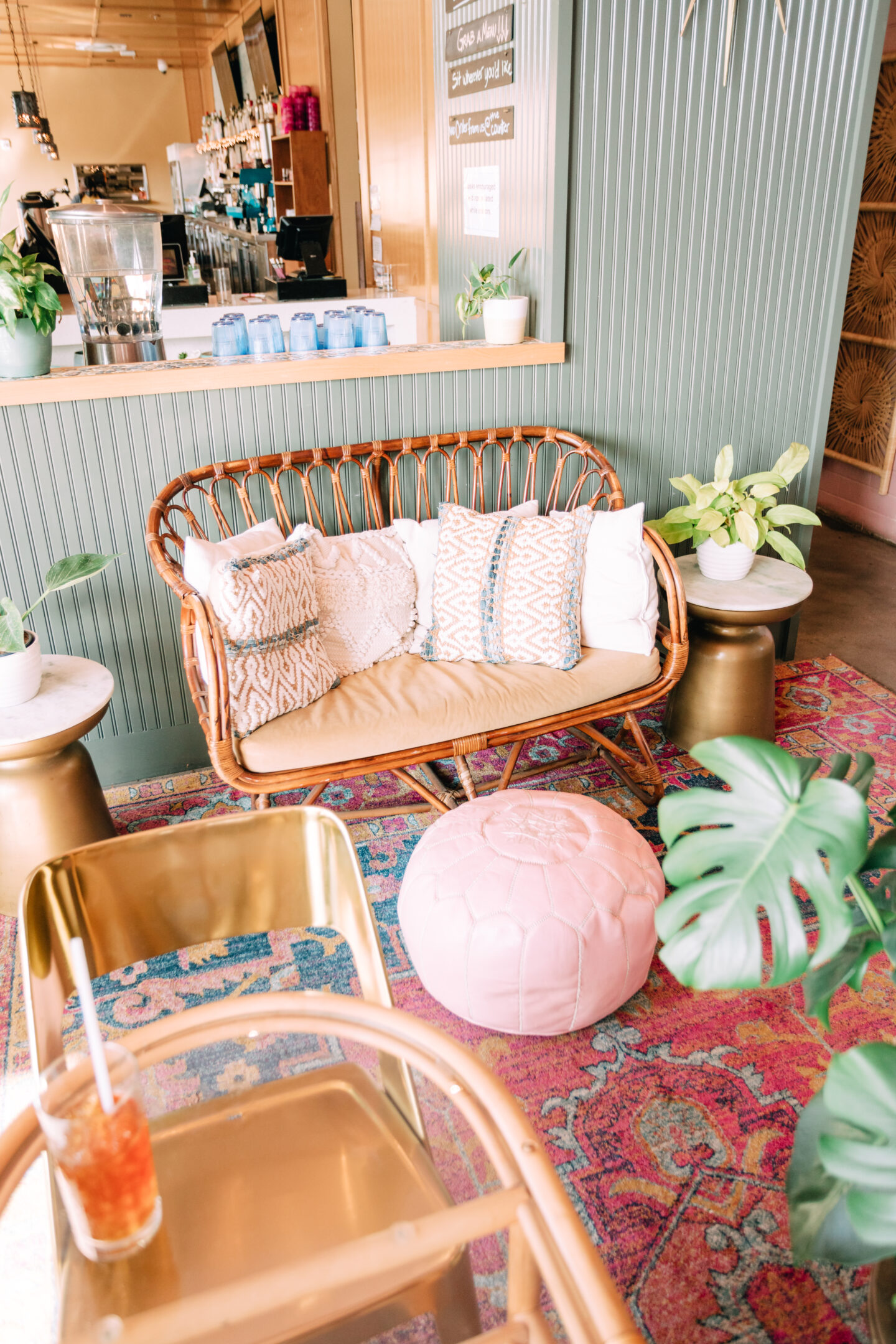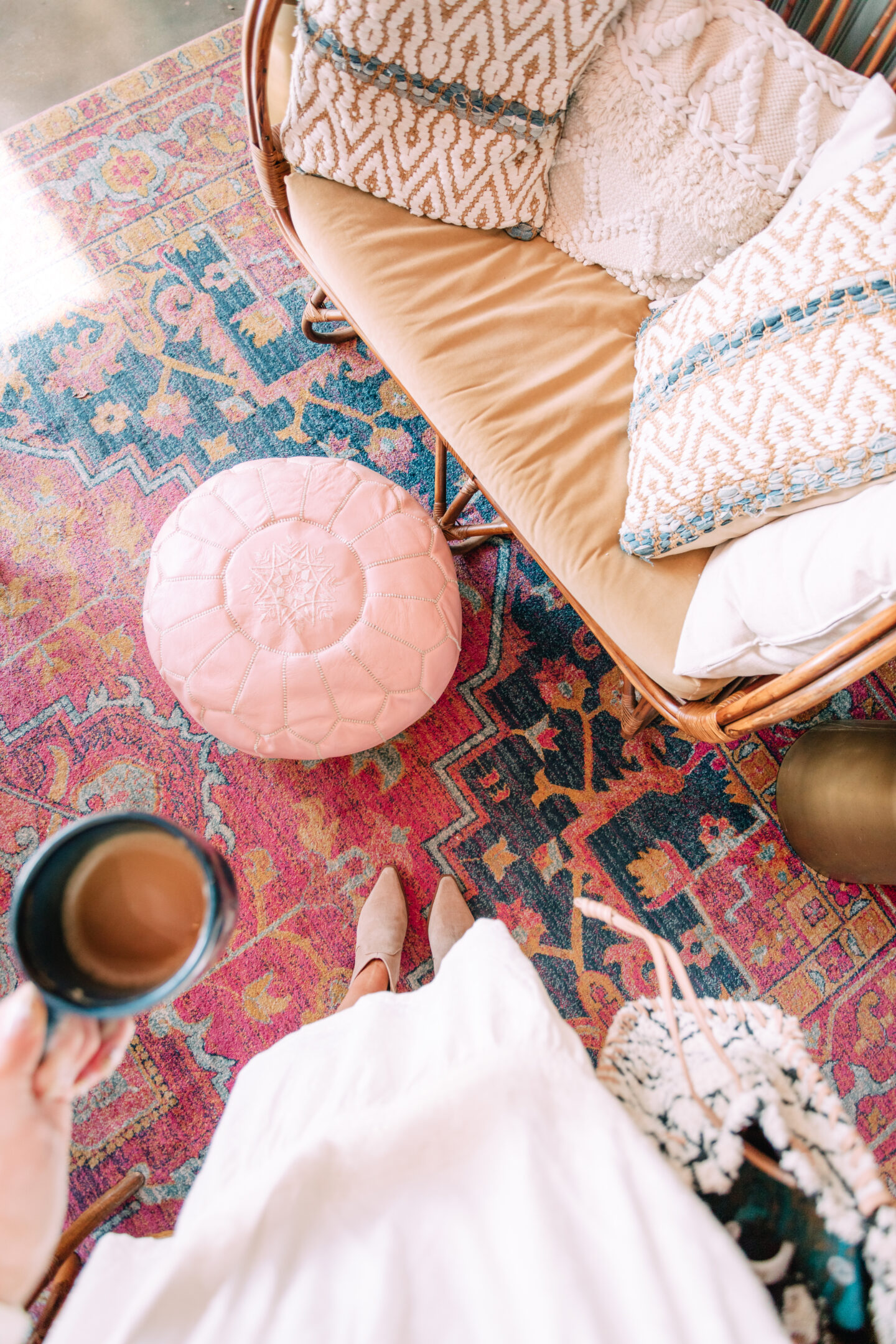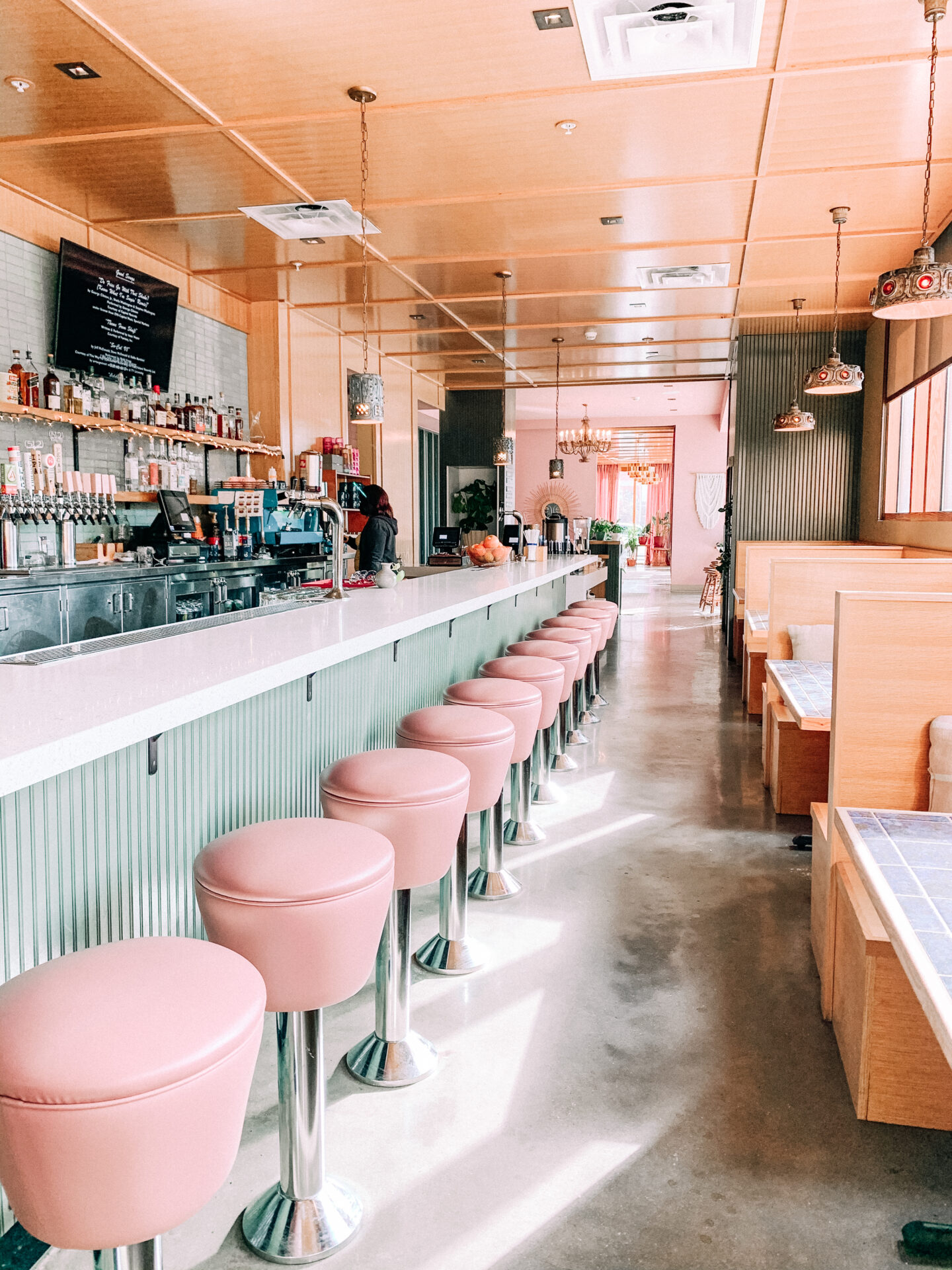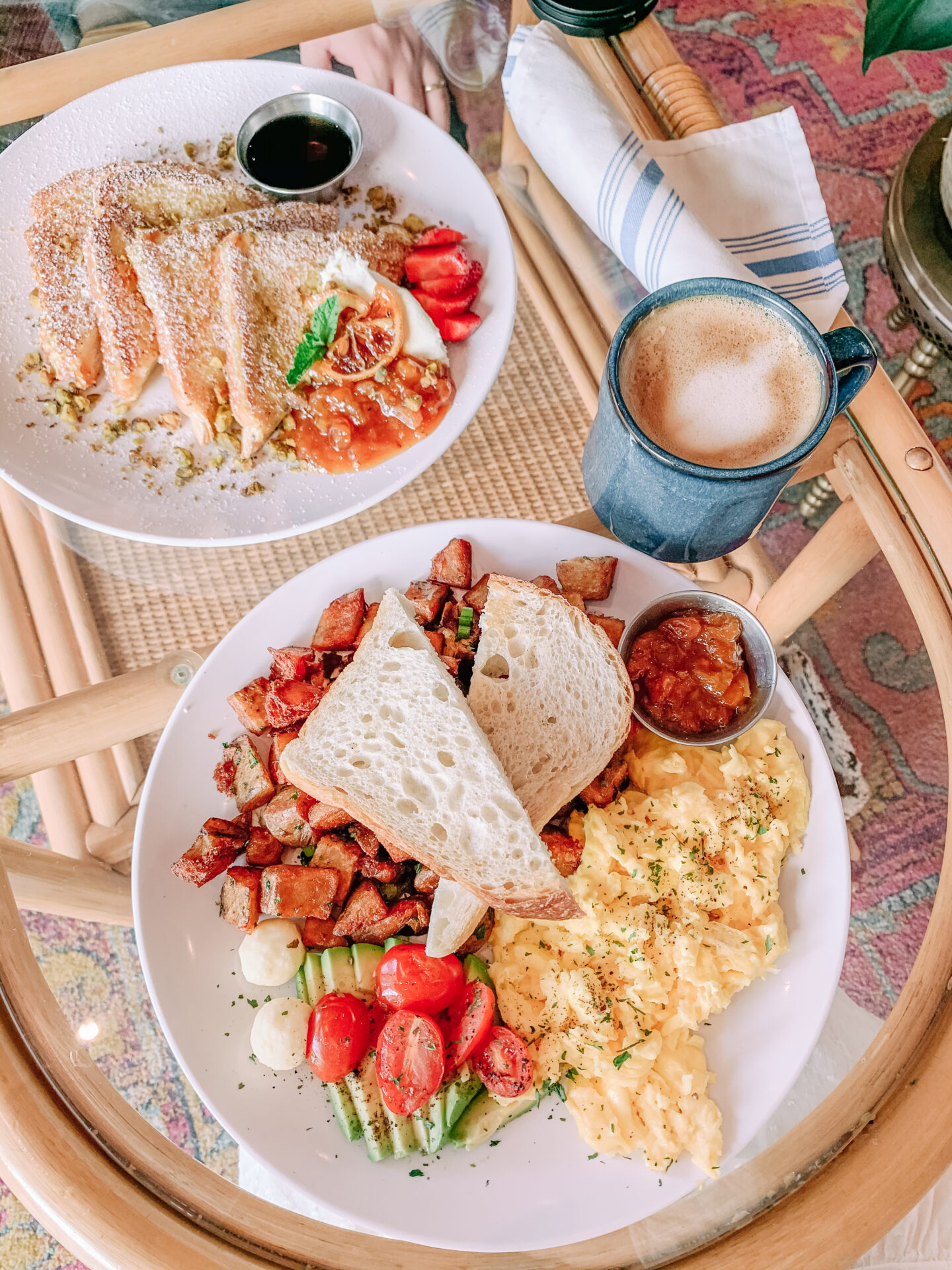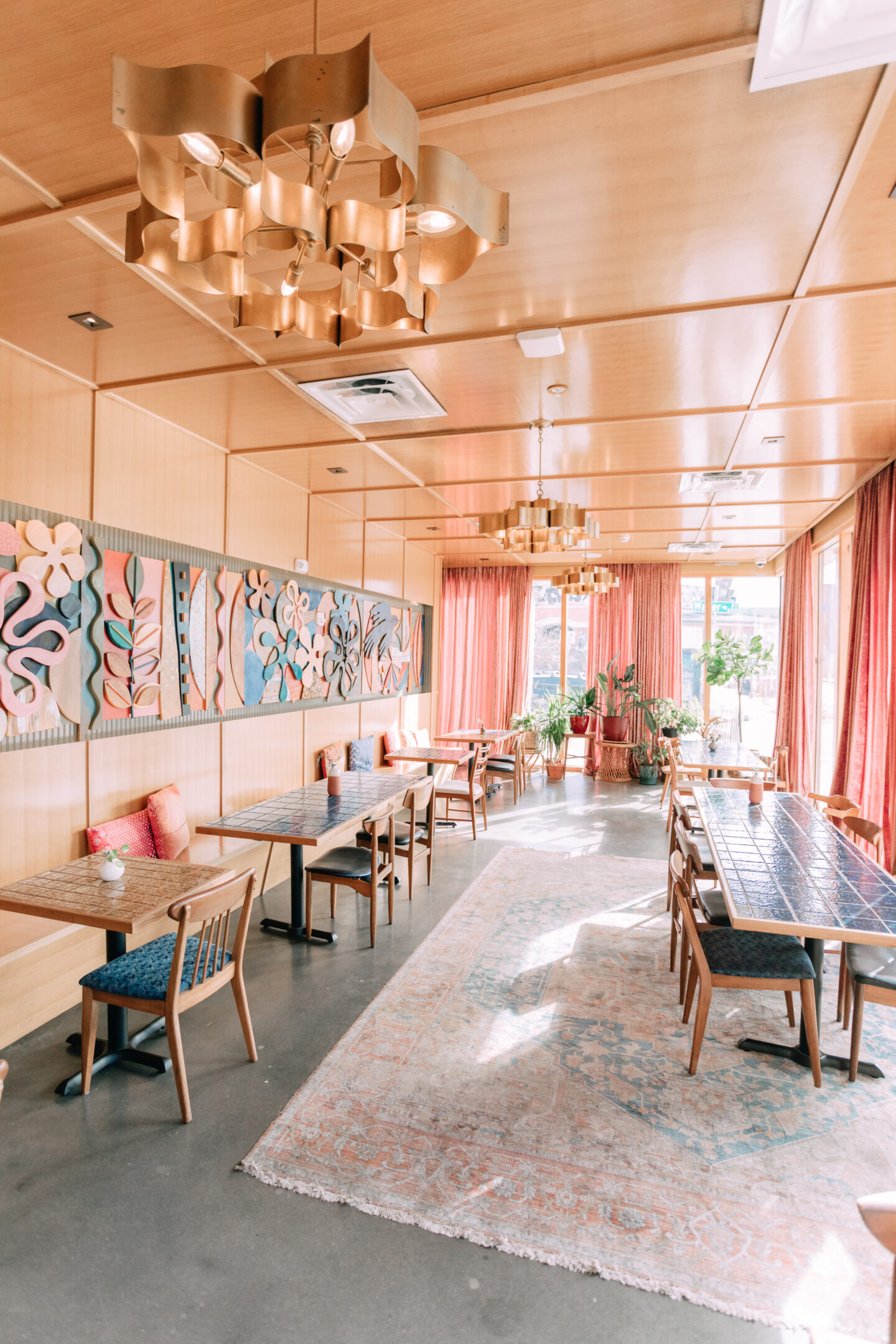 The Upside
The Upside is East Austin Hotel's rooftop bar & restaurant, and is open until 9pm Sunday-Thursday and 10pm on Fridays & Saturdays. They also have a Happy Hour Sunday-Thursday from 4-6pm which is 1/2 off all signature cocktails, beer & wine! We just stopped by for a drink after going out to dinner and before heading back to our room for the night. I ordered the Rosé Margarita which was super yummy 😍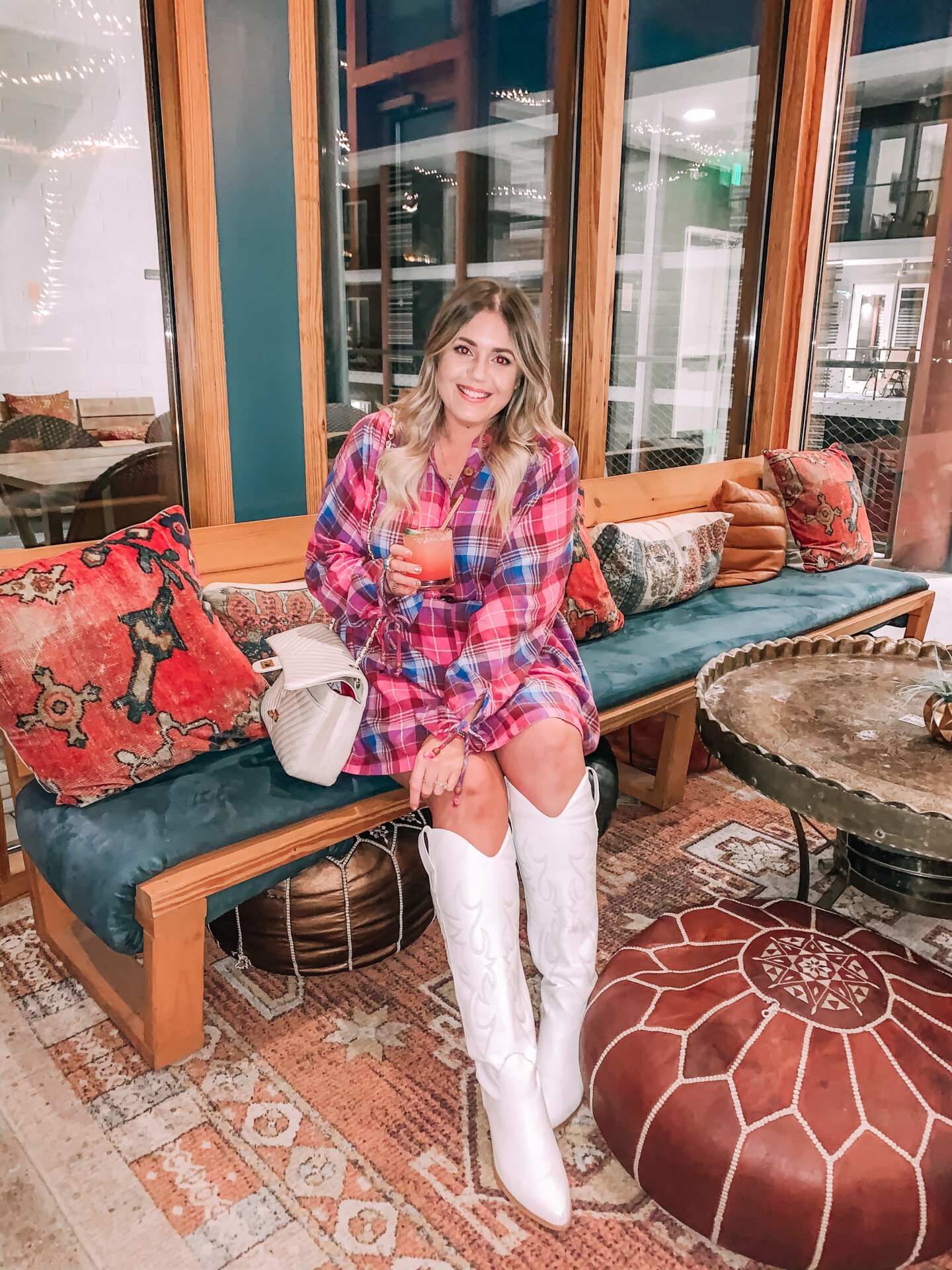 OUTFIT DETAILS:
PLAID SHIRT DRESS | WHITE WESTERN BOOTS | QUILTED BAG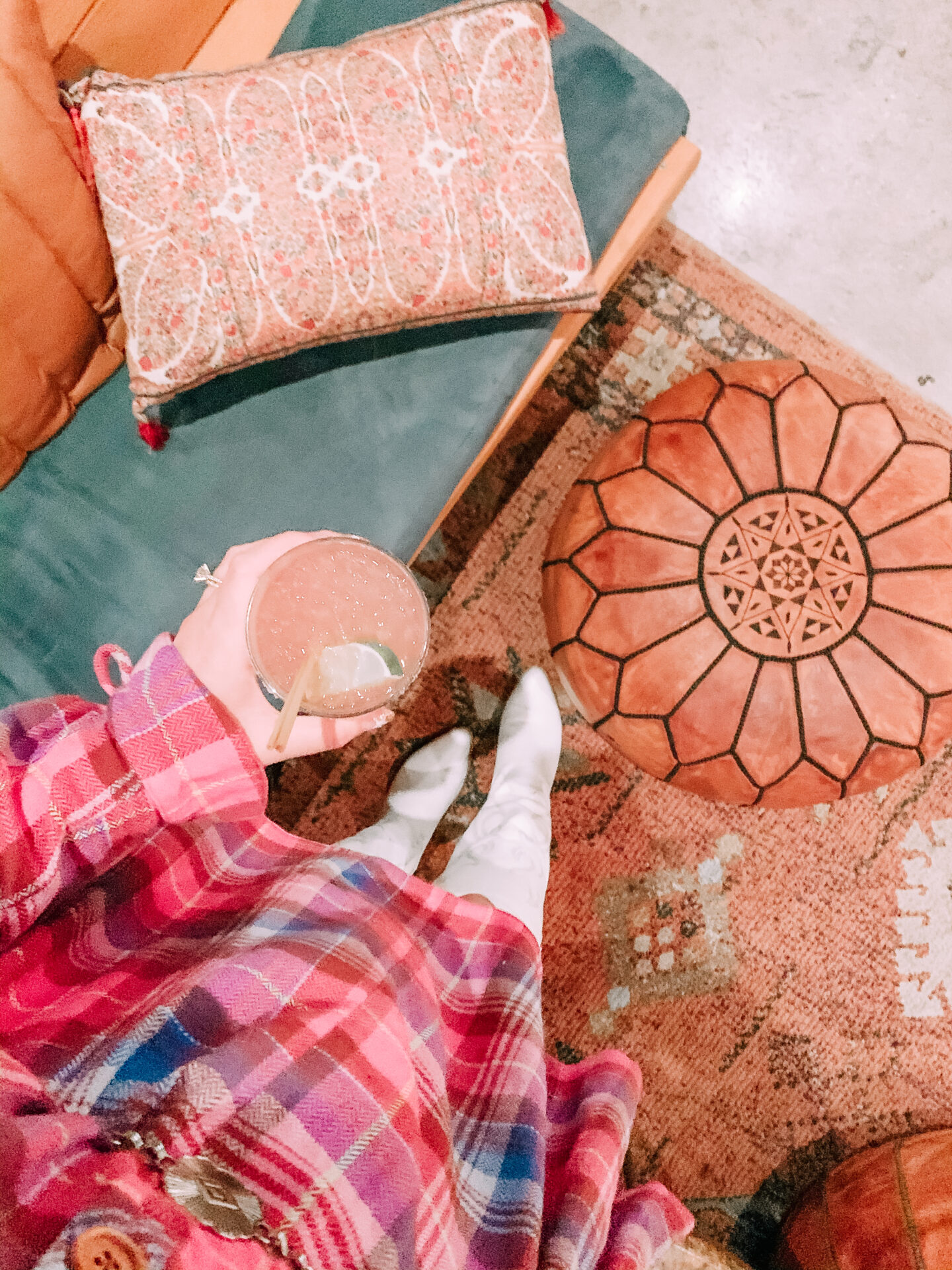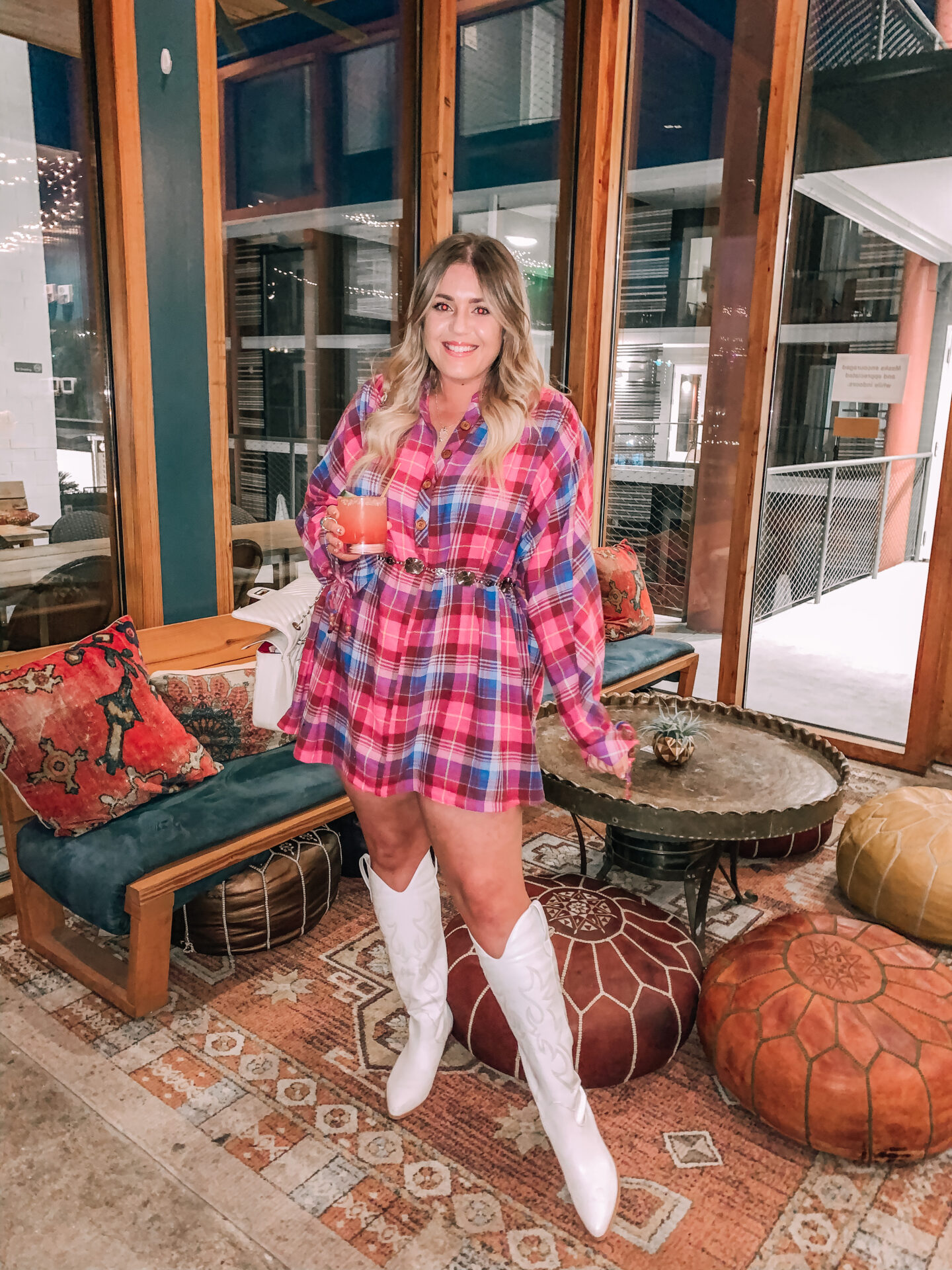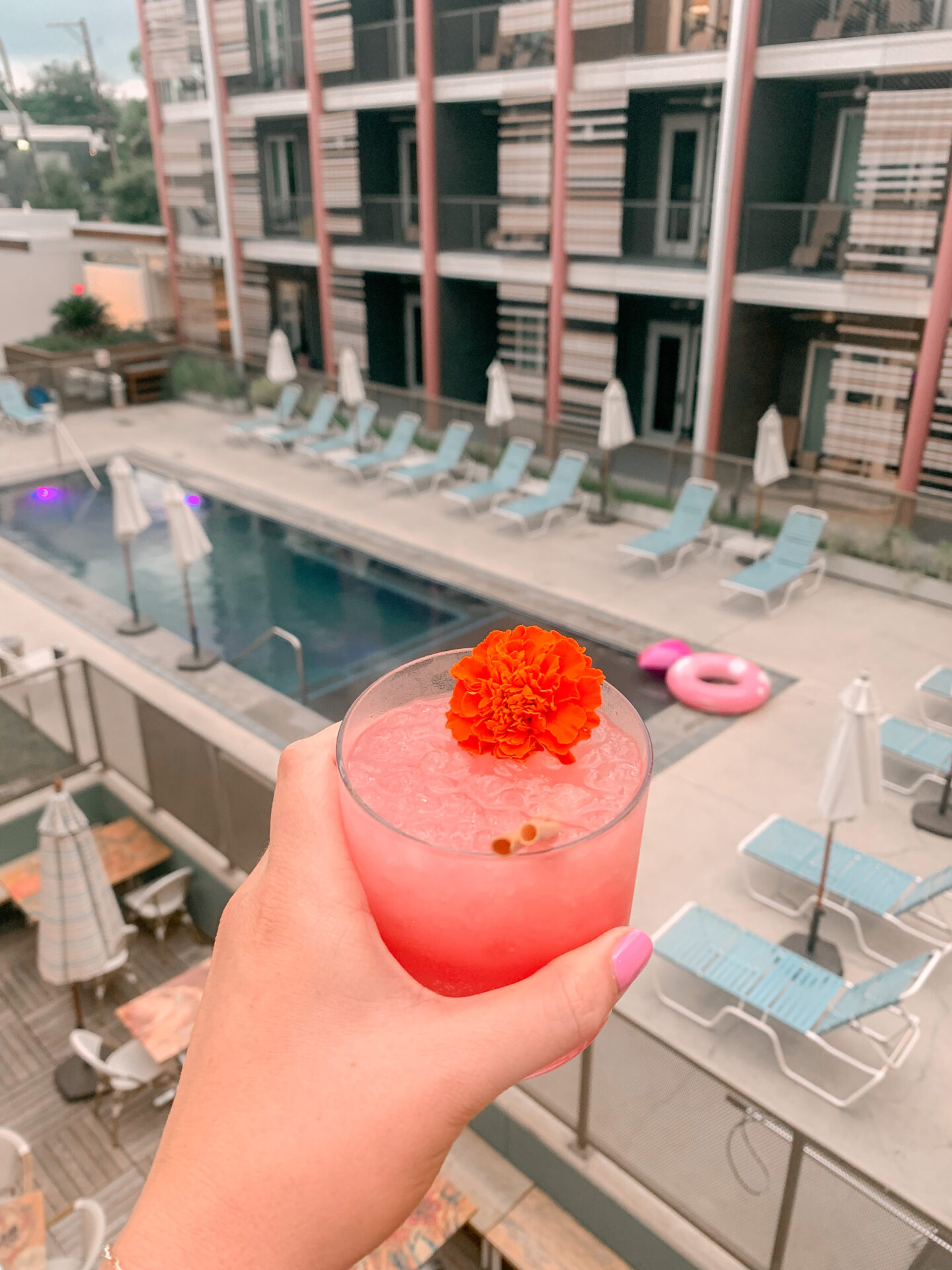 Taquero Mucho
Taquero Mucho was on the top of my list, and I was so excited we got to go! This mexican restaurant has so many cute spots all on its own for photo opps, making it one of the most Instagrammable places in Austin. They're perhaps most popular for their Anti Bitch Juice which comes in a pouch with a straw. My friend ordered that and I ordered the a frozen Pink Margarita Clasica, which was actually really good! I'm super picky with my margaritas and this one was the perfect strength and not too sweet. I didn't take too many photos of the restaurant, but you can check out my Instagram reel here about it! They are owned by Gabriela's, which is another Mexican restaurant we went to just on the other side of I-35, as well as Revival Coffee which I'll be talking about too, and that's just down the street.
I will say… they did copy Coffee Dose Cafe, one of my favorite coffee shops which is based in Orange County, CA, with the "Anti Bitch" branding. They have cups that say "Anti Bitch Serum" and were the originators of that drink idea, so just wanted to put that out there 😊 If you're in OC or LA, you need to check them out!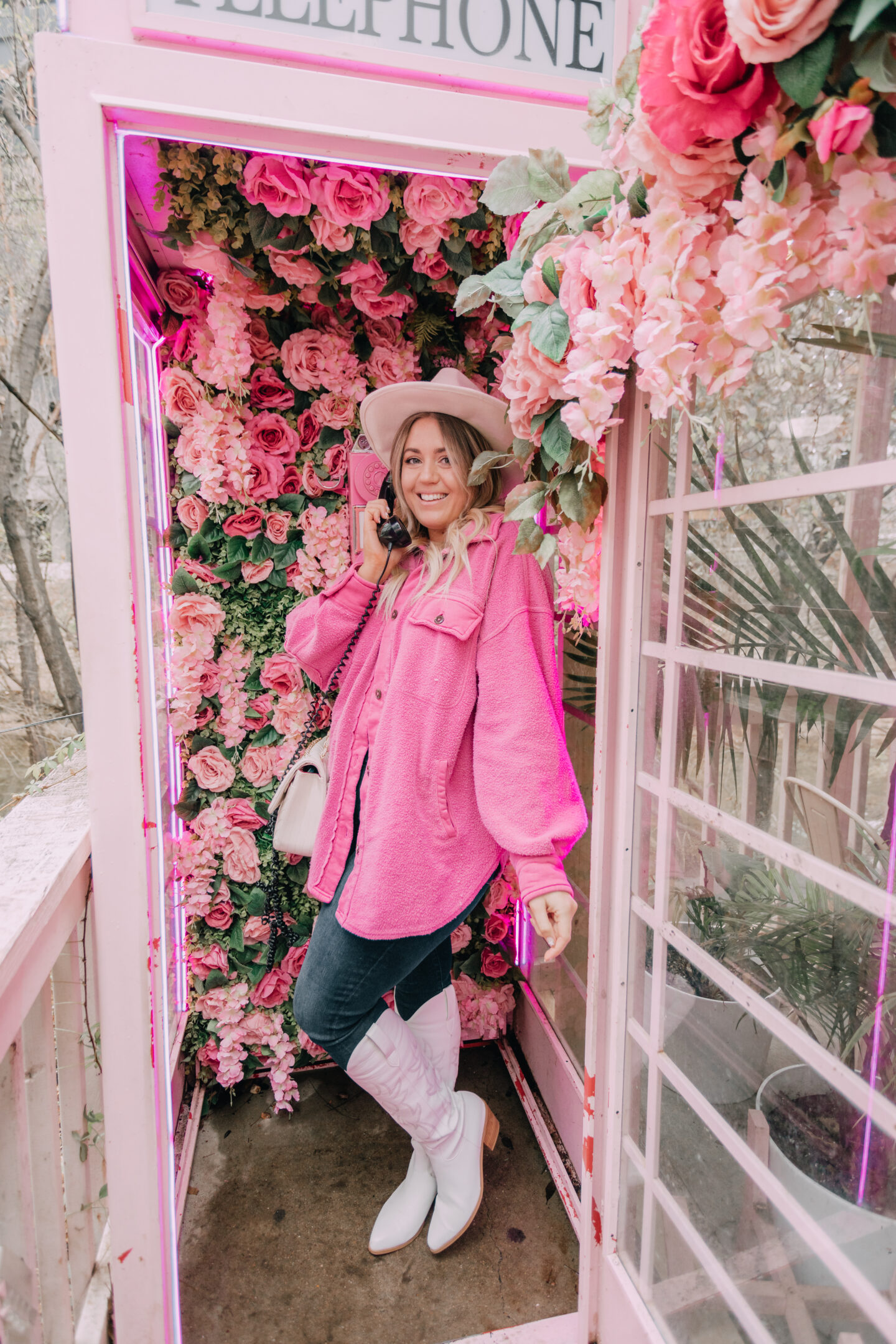 OUTFIT DETAILS:
PINK SHACKET (ALSO HERE) | SKINNY JEANS | WHITE WESTERN BOOTS | QUILTED BAG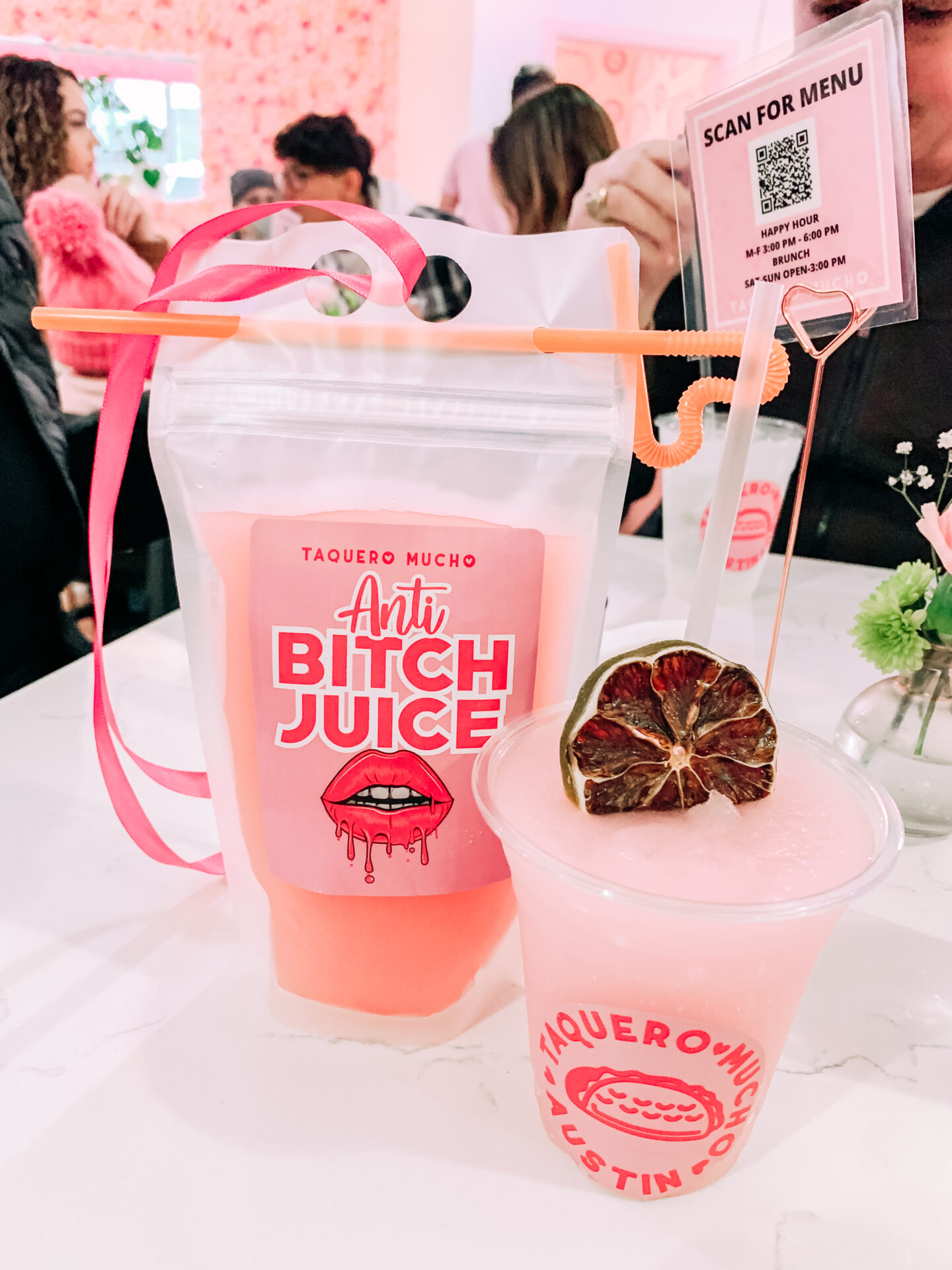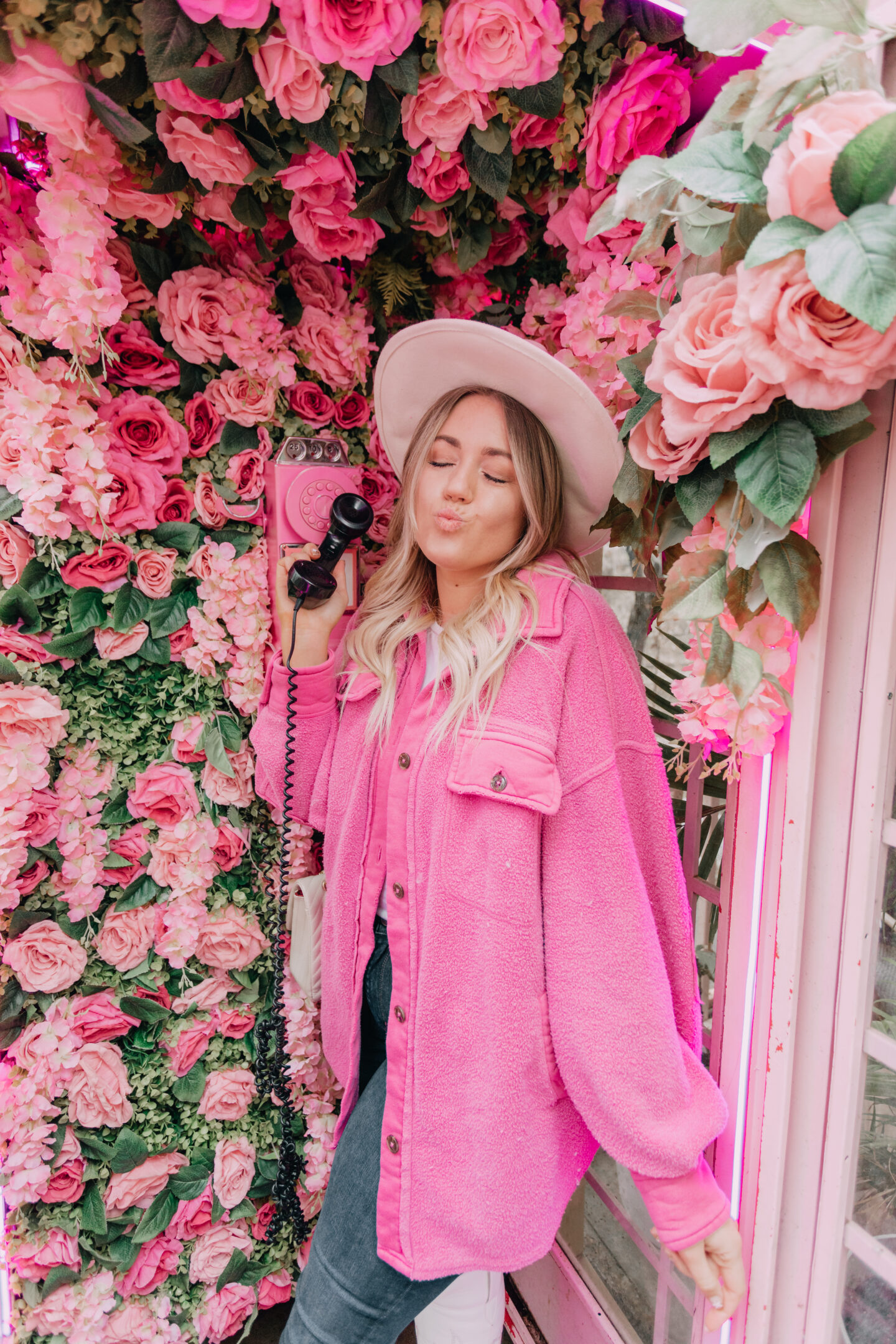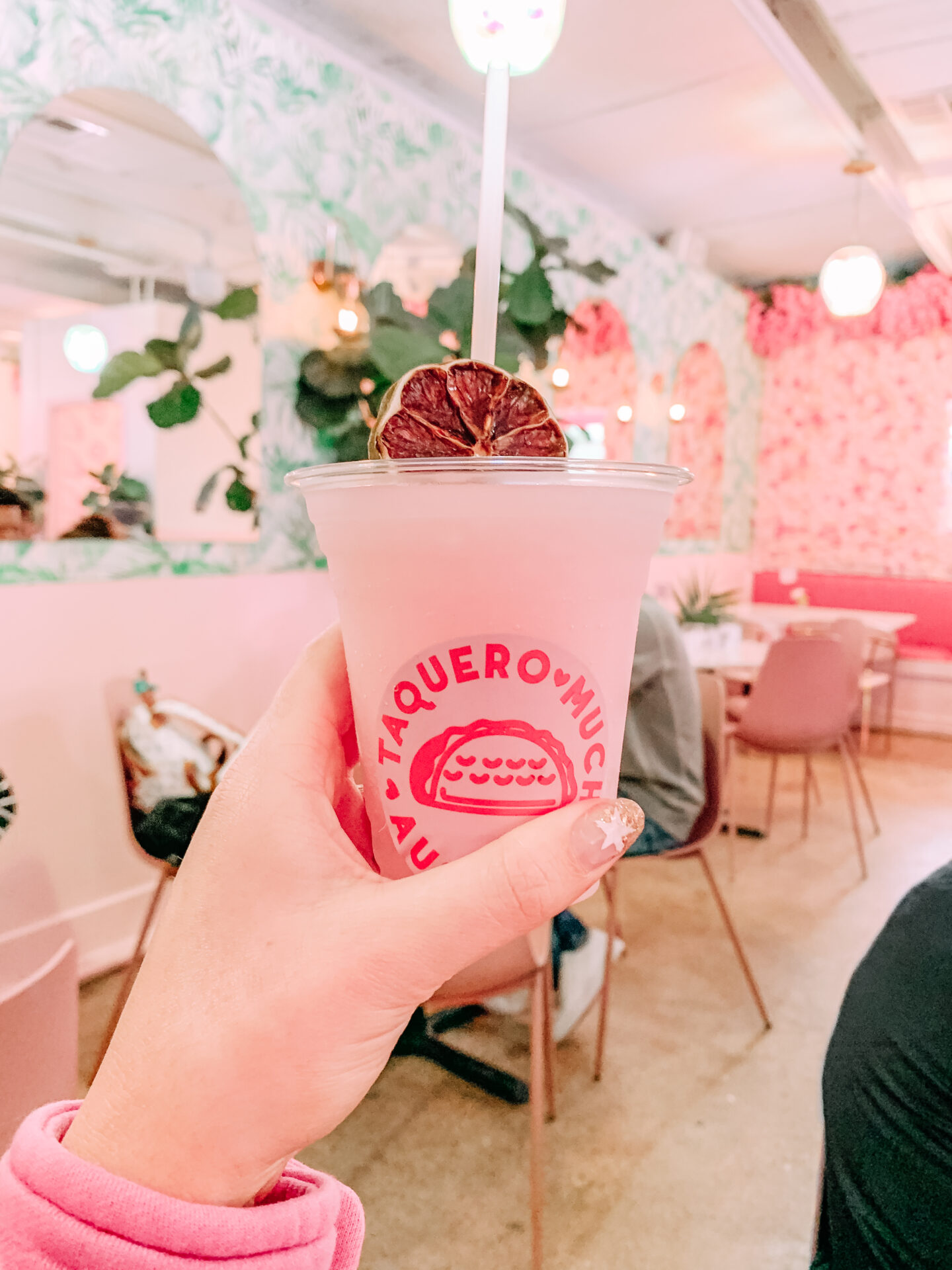 Revival Coffee
This cute pink coffee shop has also been on my list for a while! Like I mentioned before, Gabriela's owns Revival Coffee as well, so they have lots of the same branding and aesthetic, which of course includes lots of pink, haha! I ordered the Horchata Latte, which the barista said is sold out a lot, so I was excited I got to try it. It was pretty sweet though, so if you don't like sweet coffee, I would suggest getting something else.
Something that I like about this Austin coffee shop is that they have a HUGE outdoor space with seating, picnic tables, and Jenga! It looks like they might have live music sometimes too!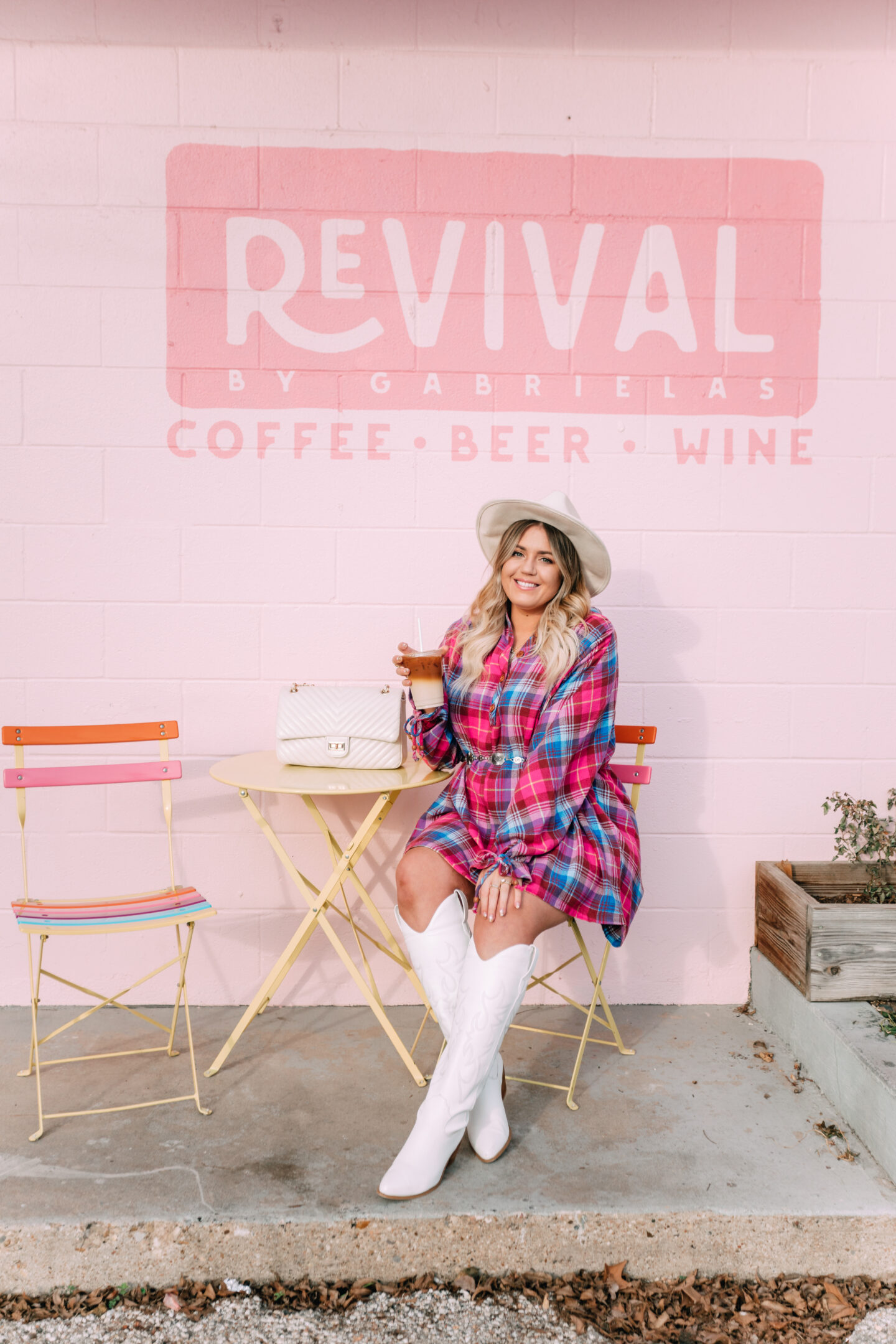 OUTFIT DETAILS:
PLAID SHIRT DRESS | WHITE WESTERN BOOTS | QUILTED BAG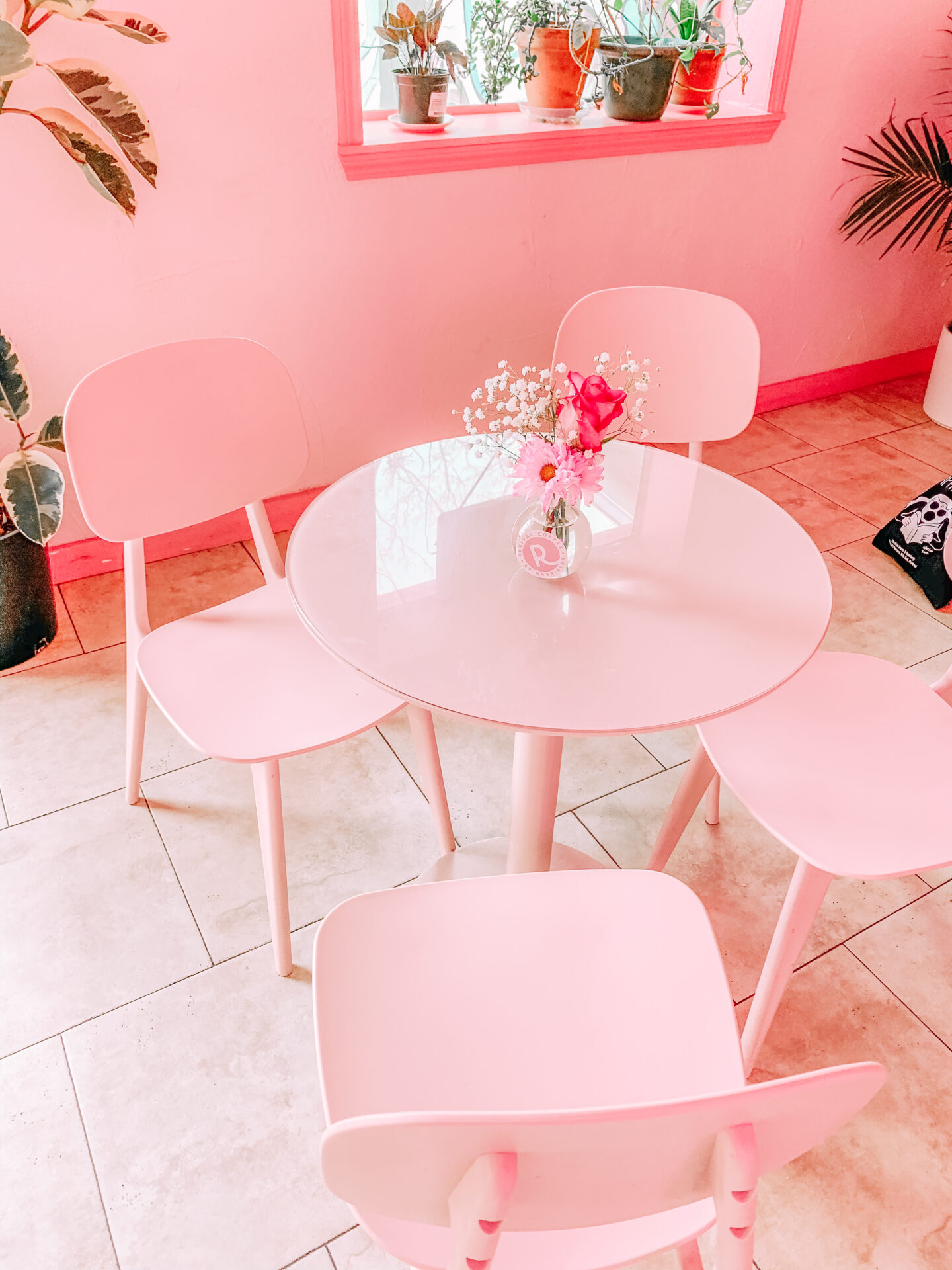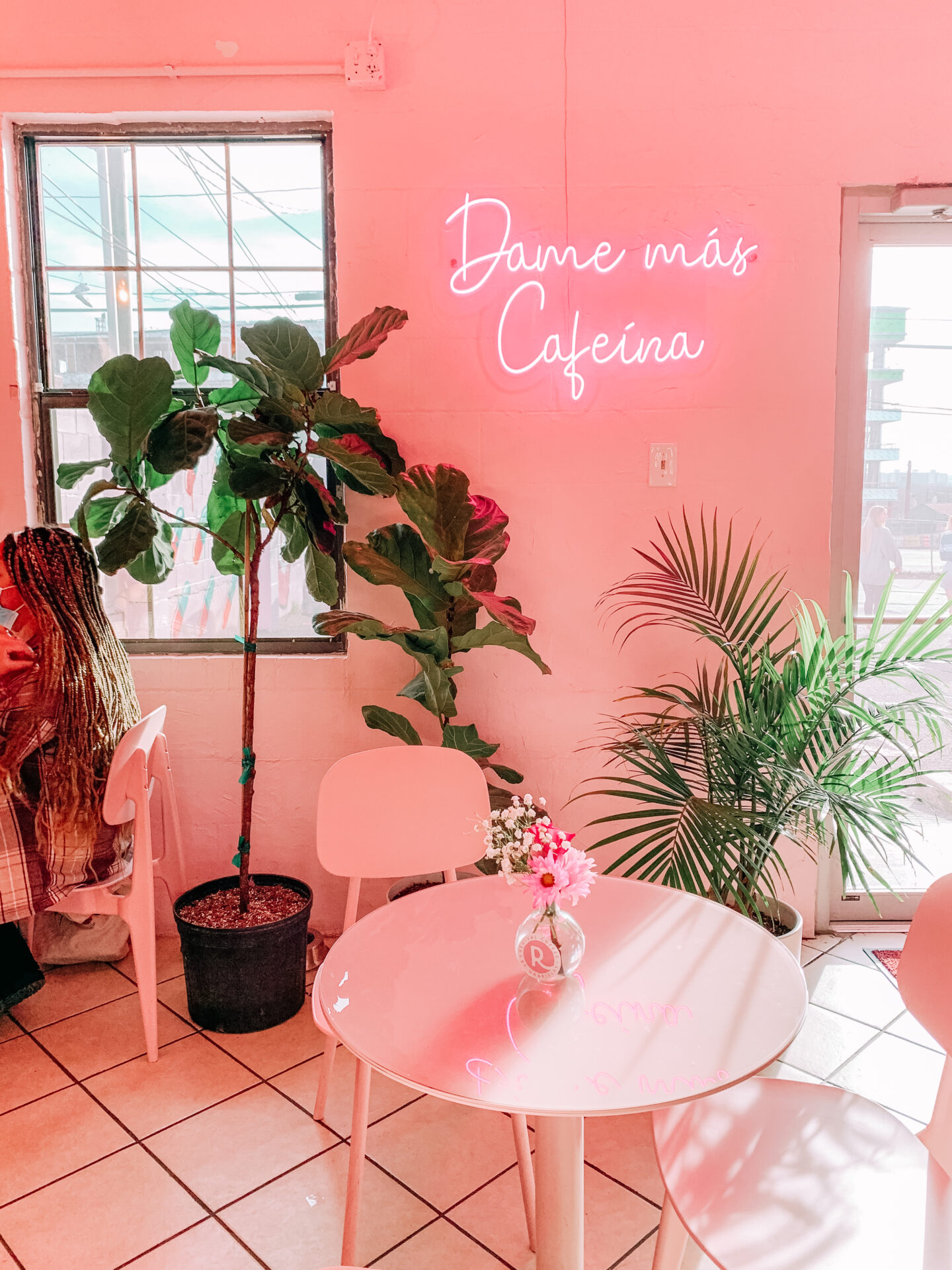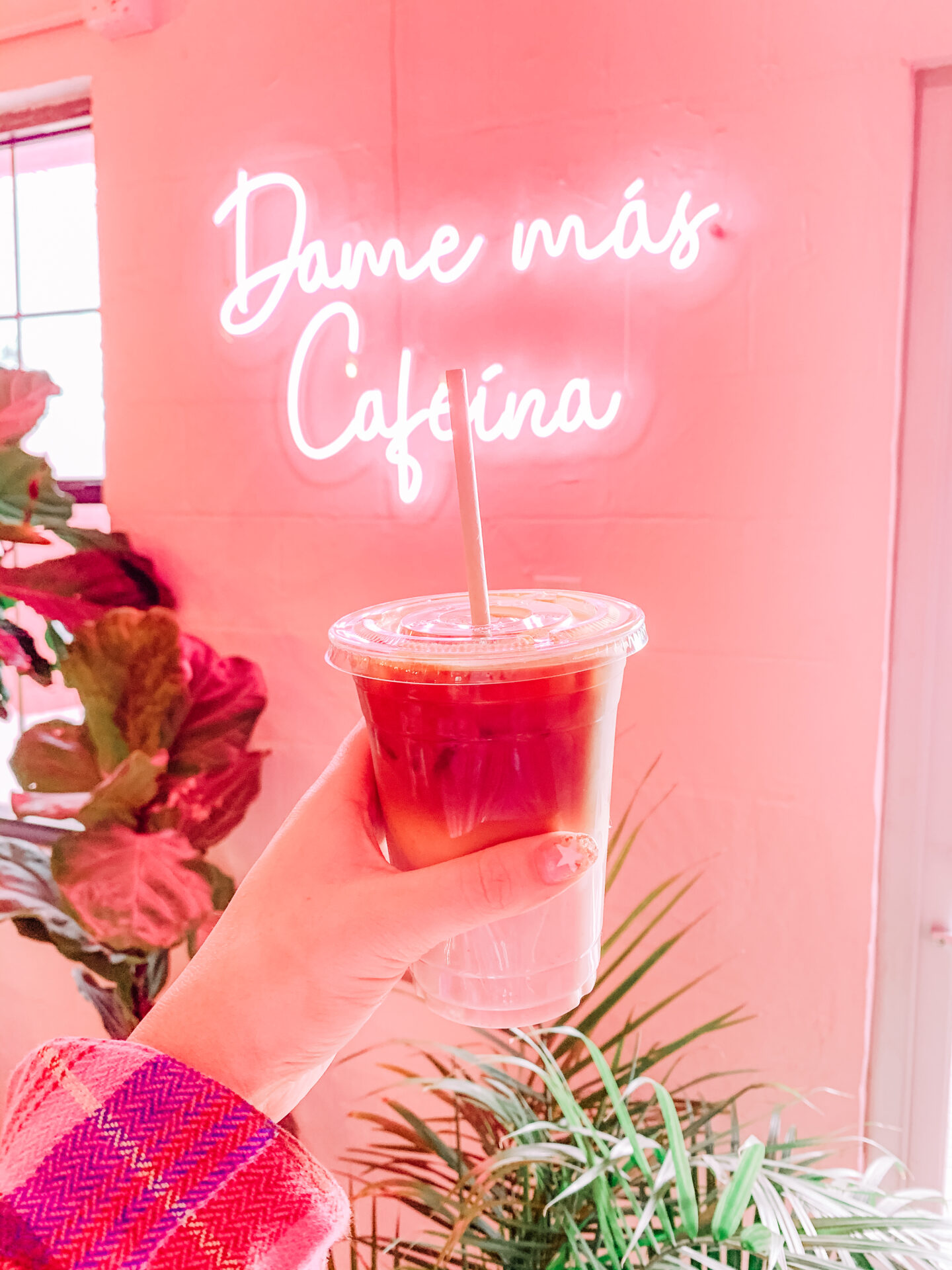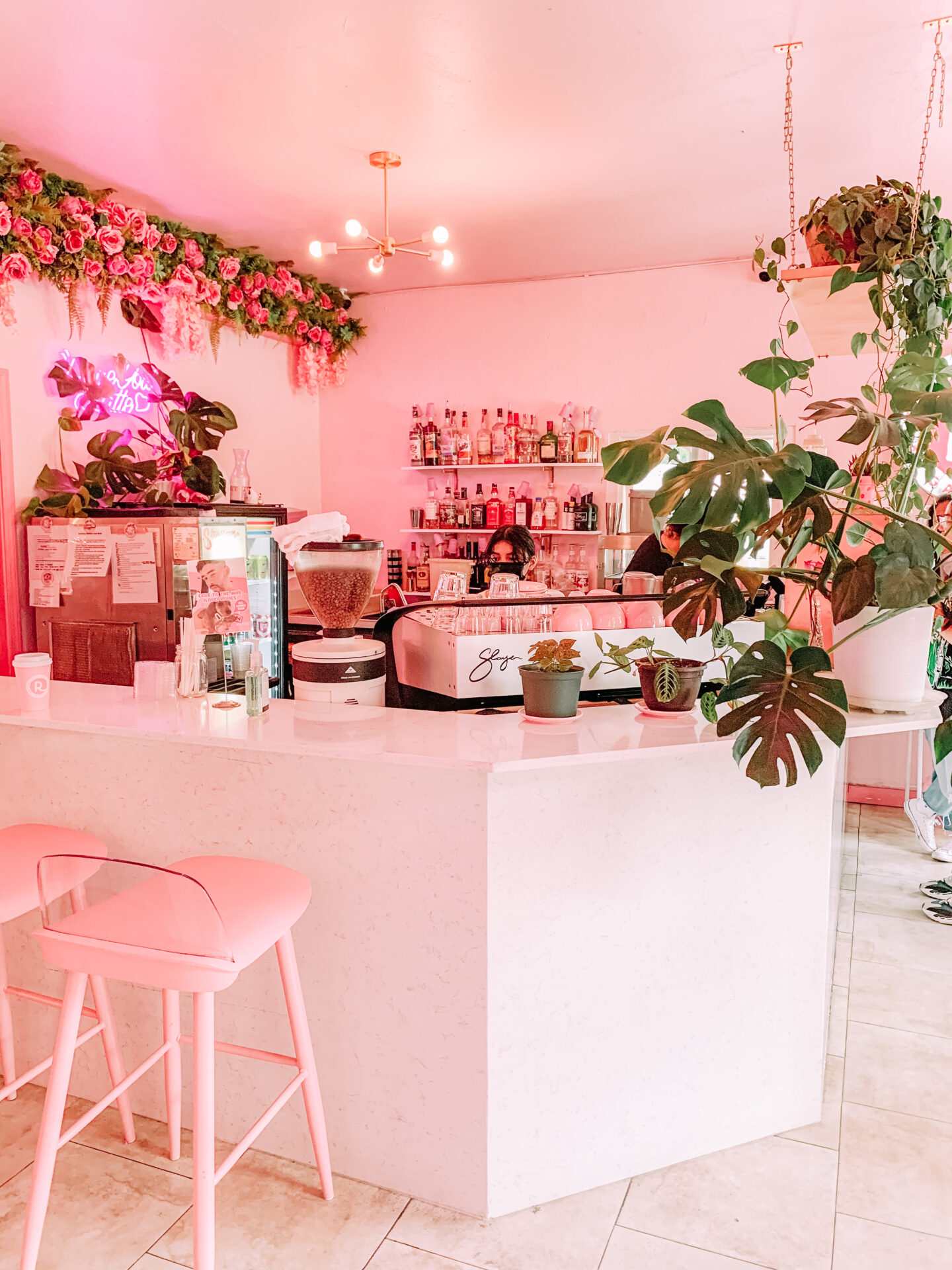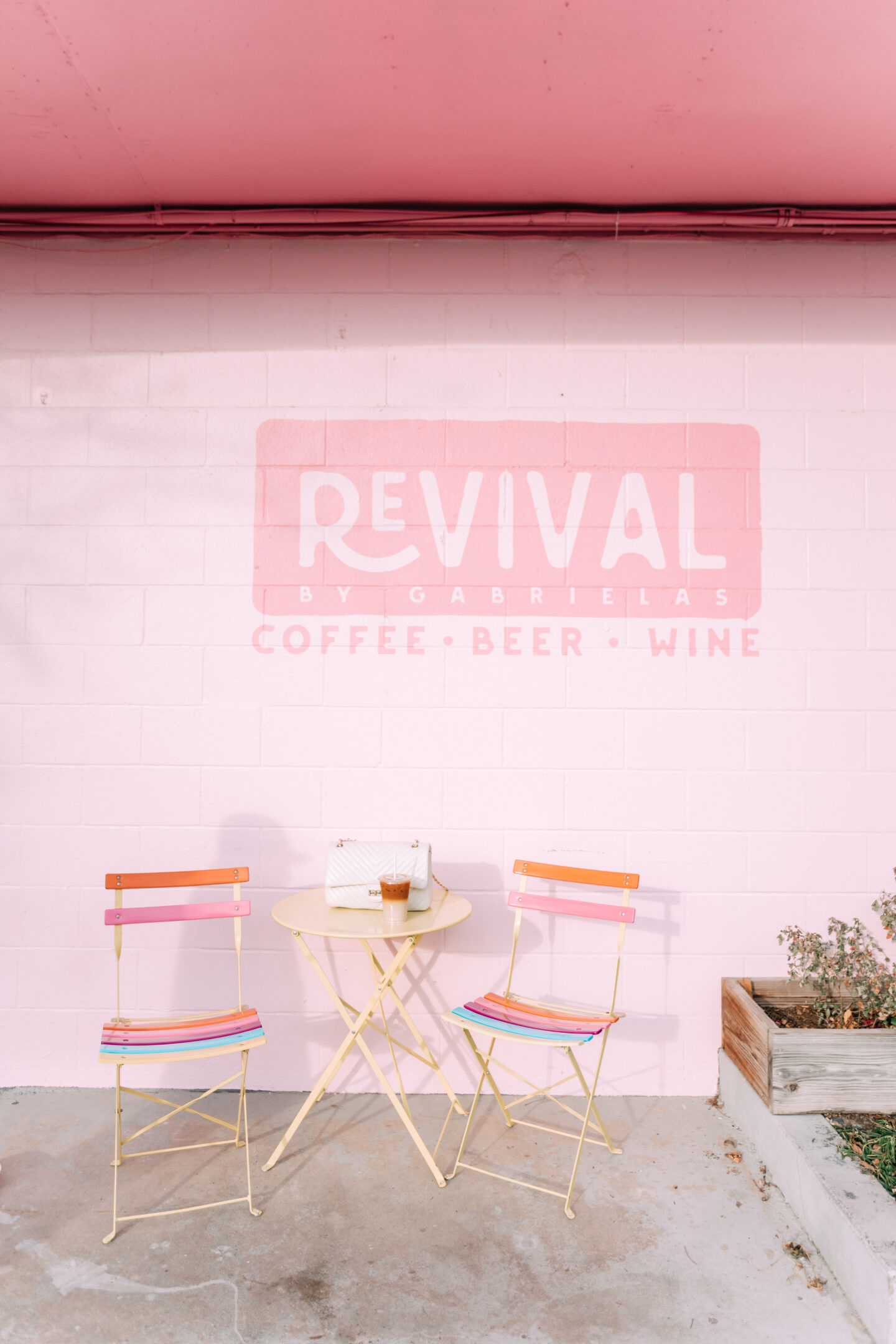 South Congress Street
When I went to Austin the time before this, my friend and I only went to South Congress Street, which is where a lot of the trendy shopping and restaurants are. It's just over the bridge, so you're not quite in downtown. You can also see the Capitol from there!
Below are a couple of the places we went to, but there are so many other stores, restaurants, and even walls that are super cute.
Loveshack Fancy
LoveShackFancy is one of the most popular clothing brands on Instagram right now, at least in the blogger world. Their look is very girly with lots of pink, florals, and ruffles. They currently have 12 stores right now, plus a Winter pop-up in Aspen, CO, and are opening 2 more locations this year!
The front of their stores are always so gorgeous with pink flowers surrounding the windows and doors, making for beautiful photos.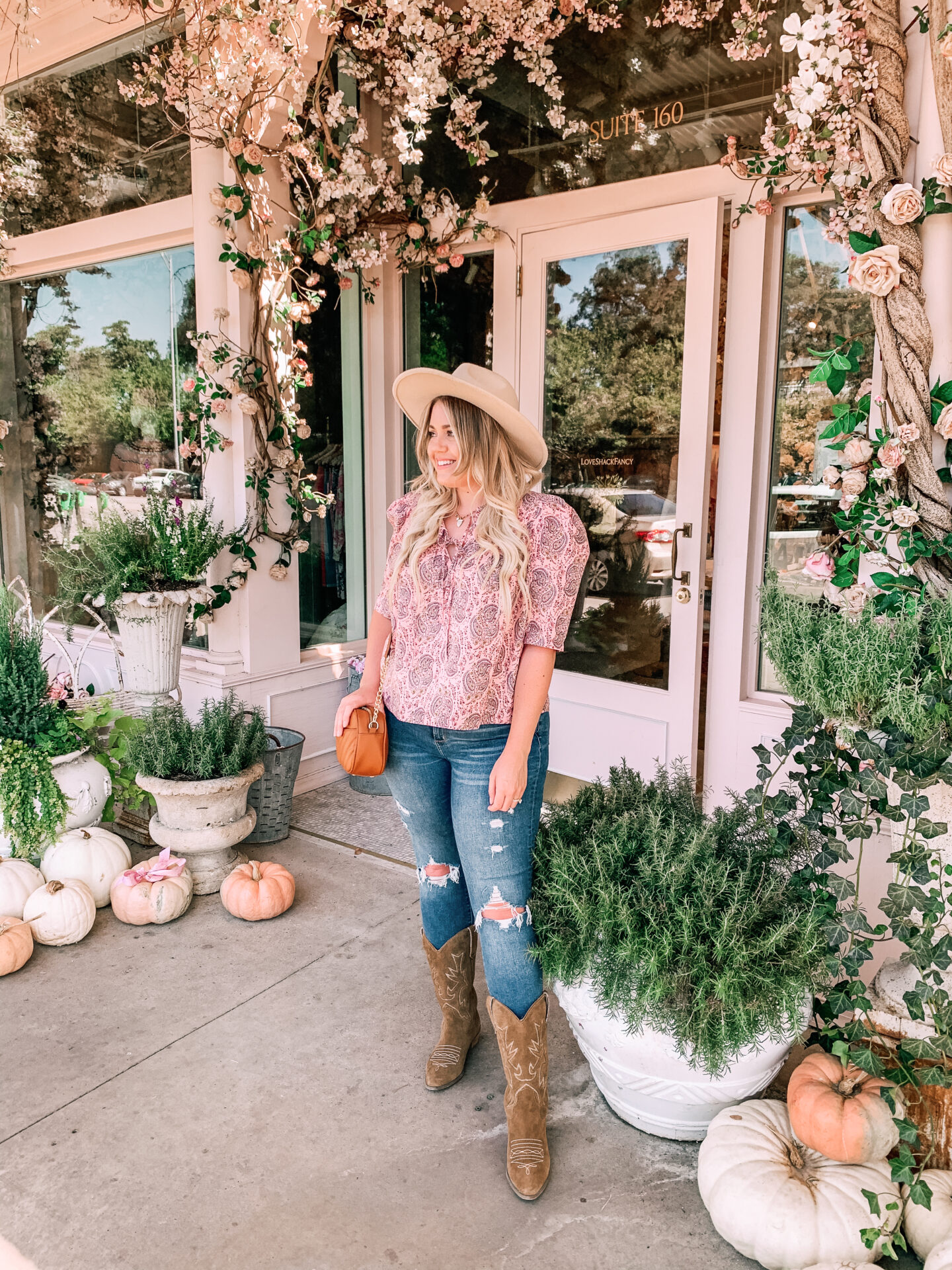 Kendra Scott Flagship Store
Kendra Scott is one of my favorite jewelry brands that I wear all the time, and they're based in Austin, TX! Their flagship store is on South Congress Street and is SO cute. Not only is the actual inside of the store gorgeous, but they also have this cute little café Sips & Sweets in the front! I ordered the Sparkling Gem Lemonade & a Birthday Cake Kringle (Kendra's childhood favorite), which were both so delicious. They also have other sweets & baked goods, beer & wine, coffee drinks, & some savory bites.
There's also a wall on the side of the building that they paint seasonally! The one below was taken in in June 2022 and I also included the one they had up for Breast Cancer Awareness Month in October 2021 😊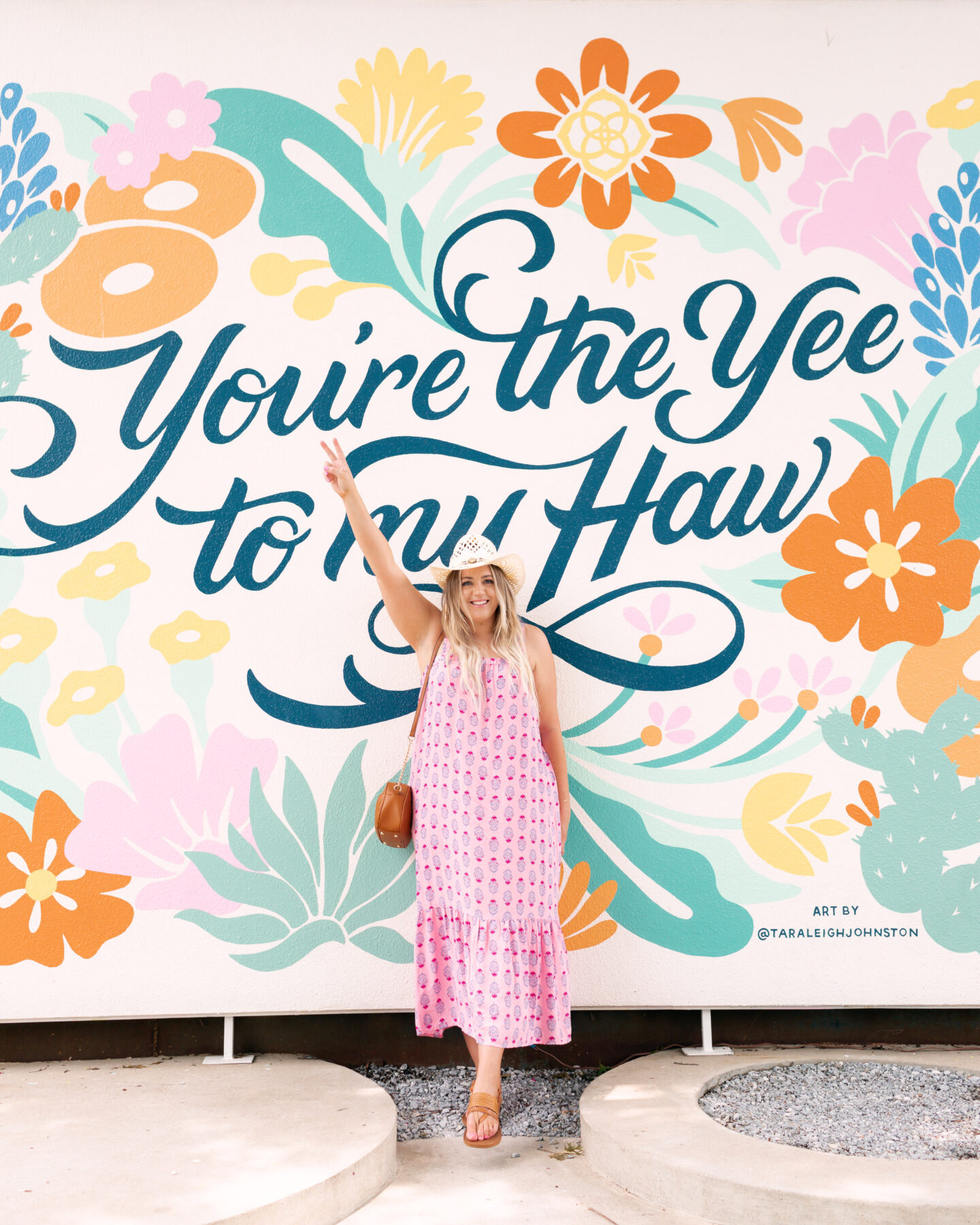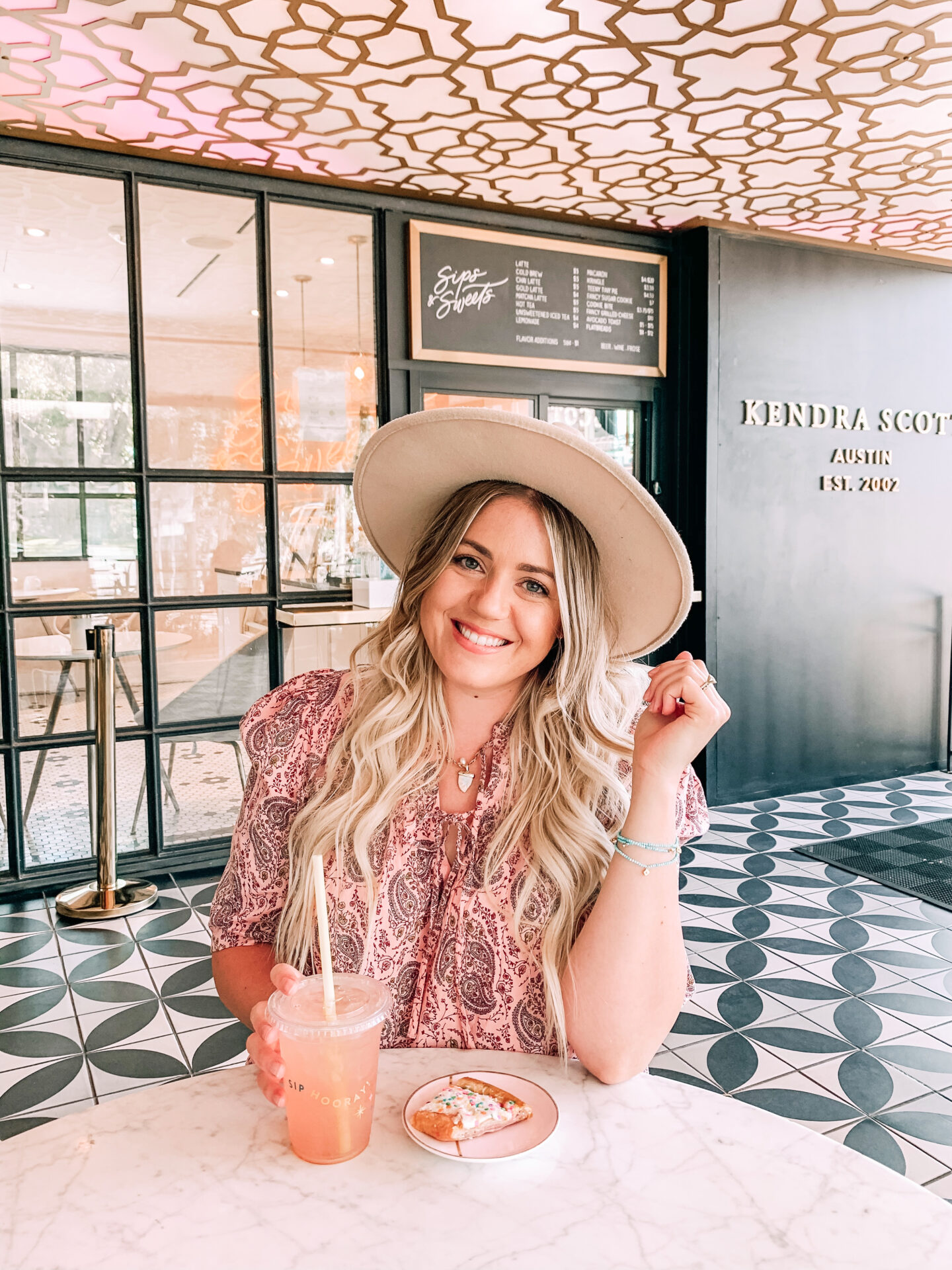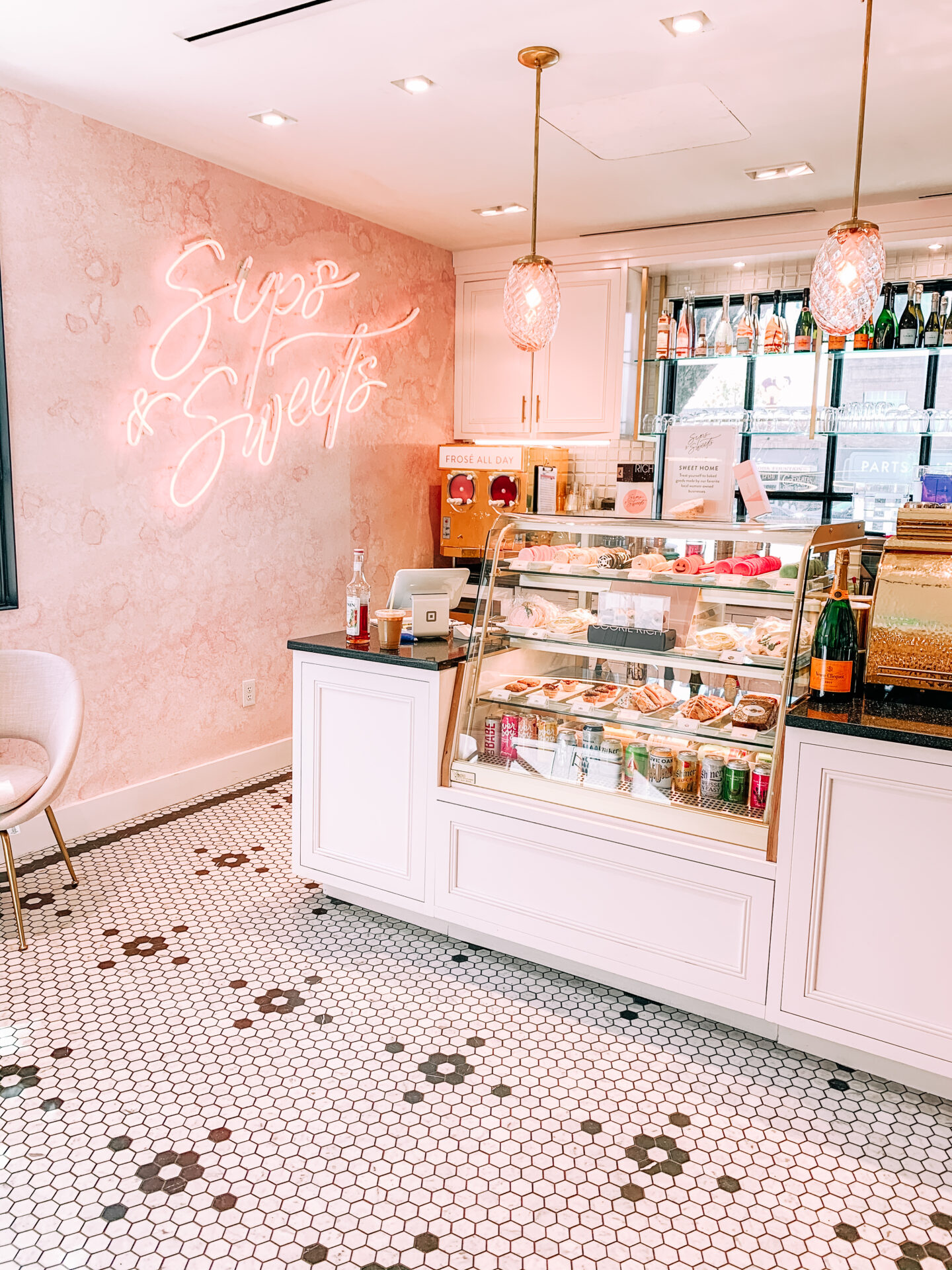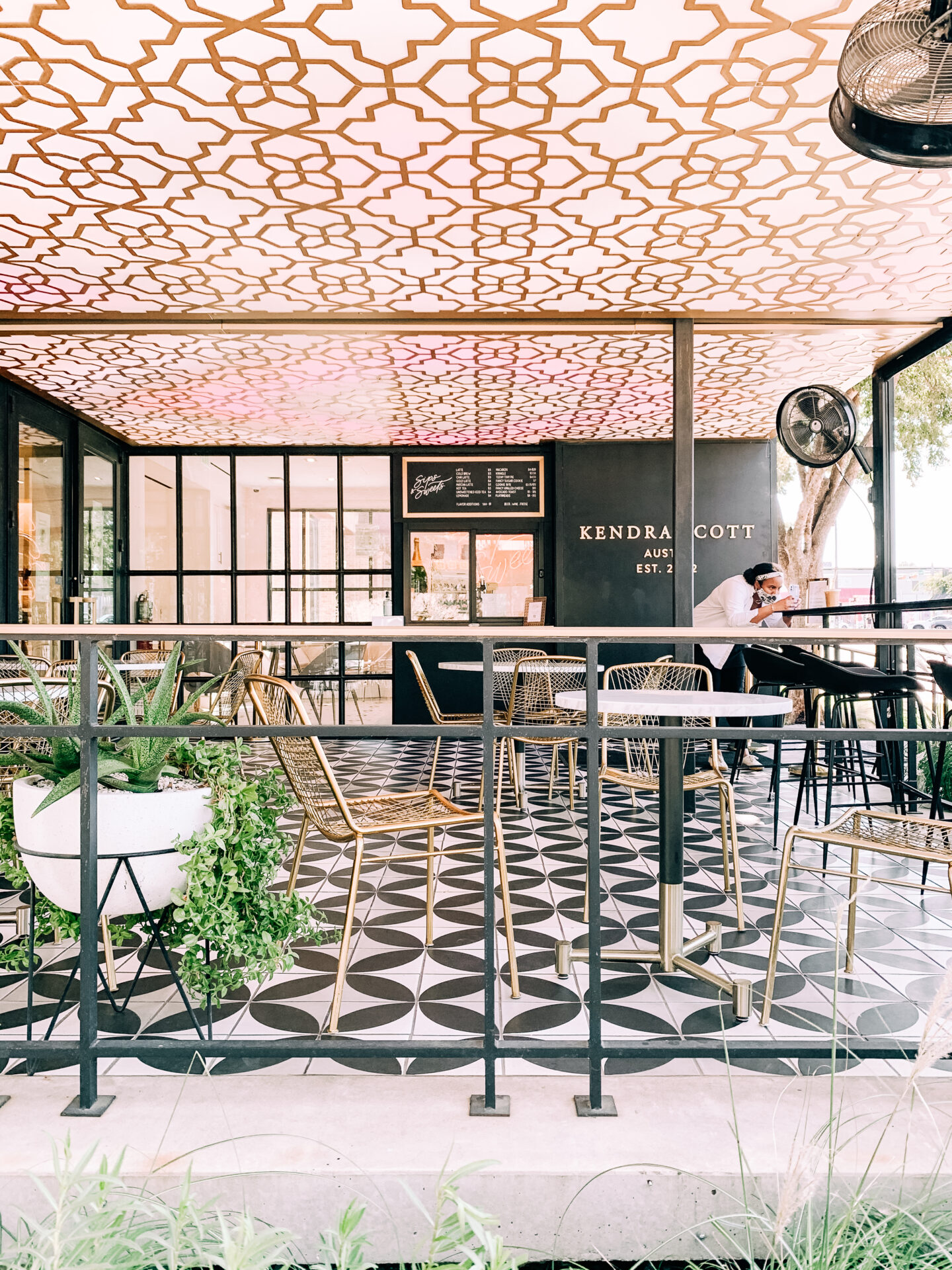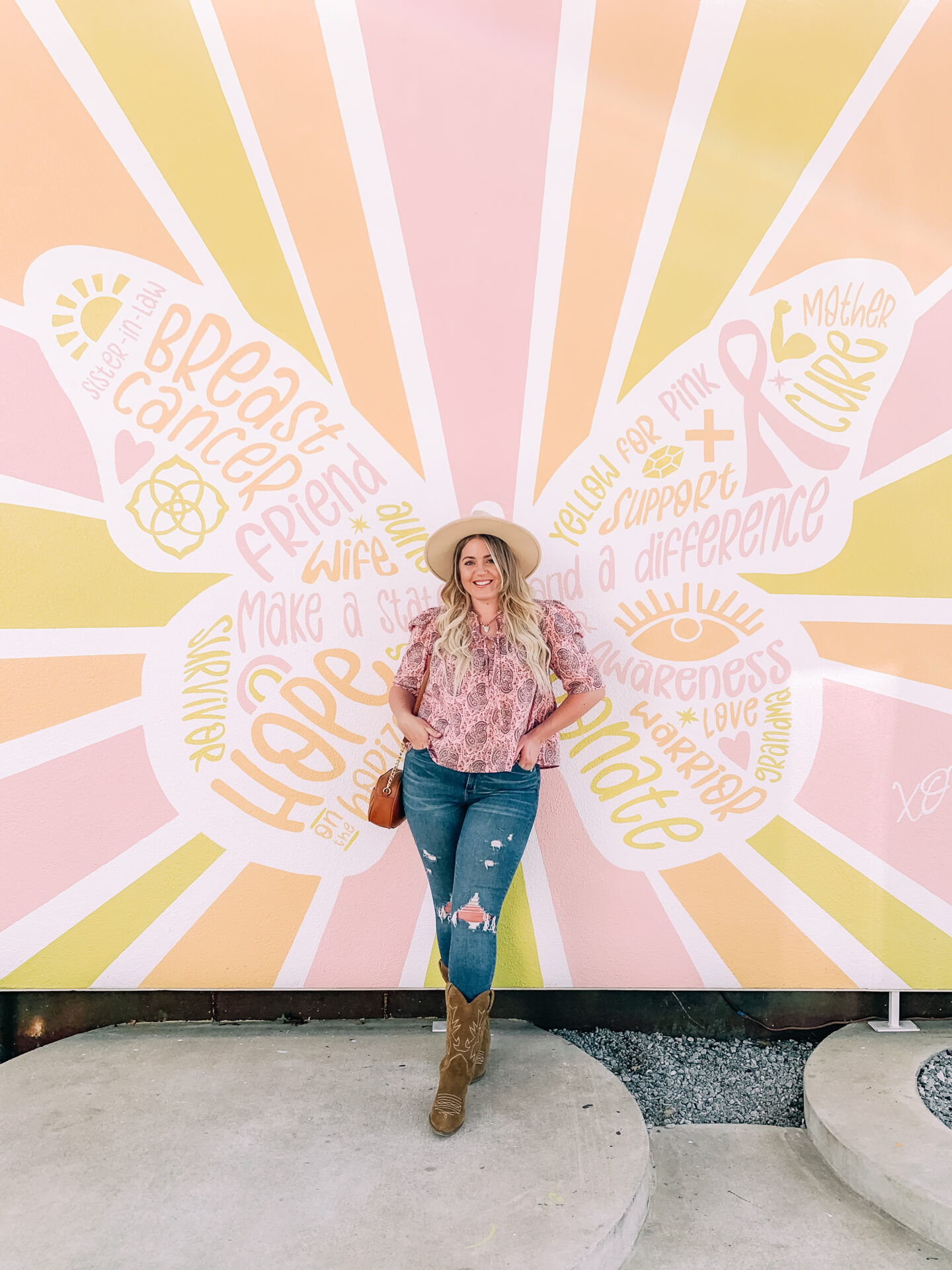 Texas State Capitol
As new Texans, we of course had to visit the Texas State Capitol! It's actually 7 feet taller than the United States Capitol in Washington D.C. Everything really is bigger in Texas! haha
It was SO beautiful outside and inside. Keep scrolling to see the inside of the dome 😍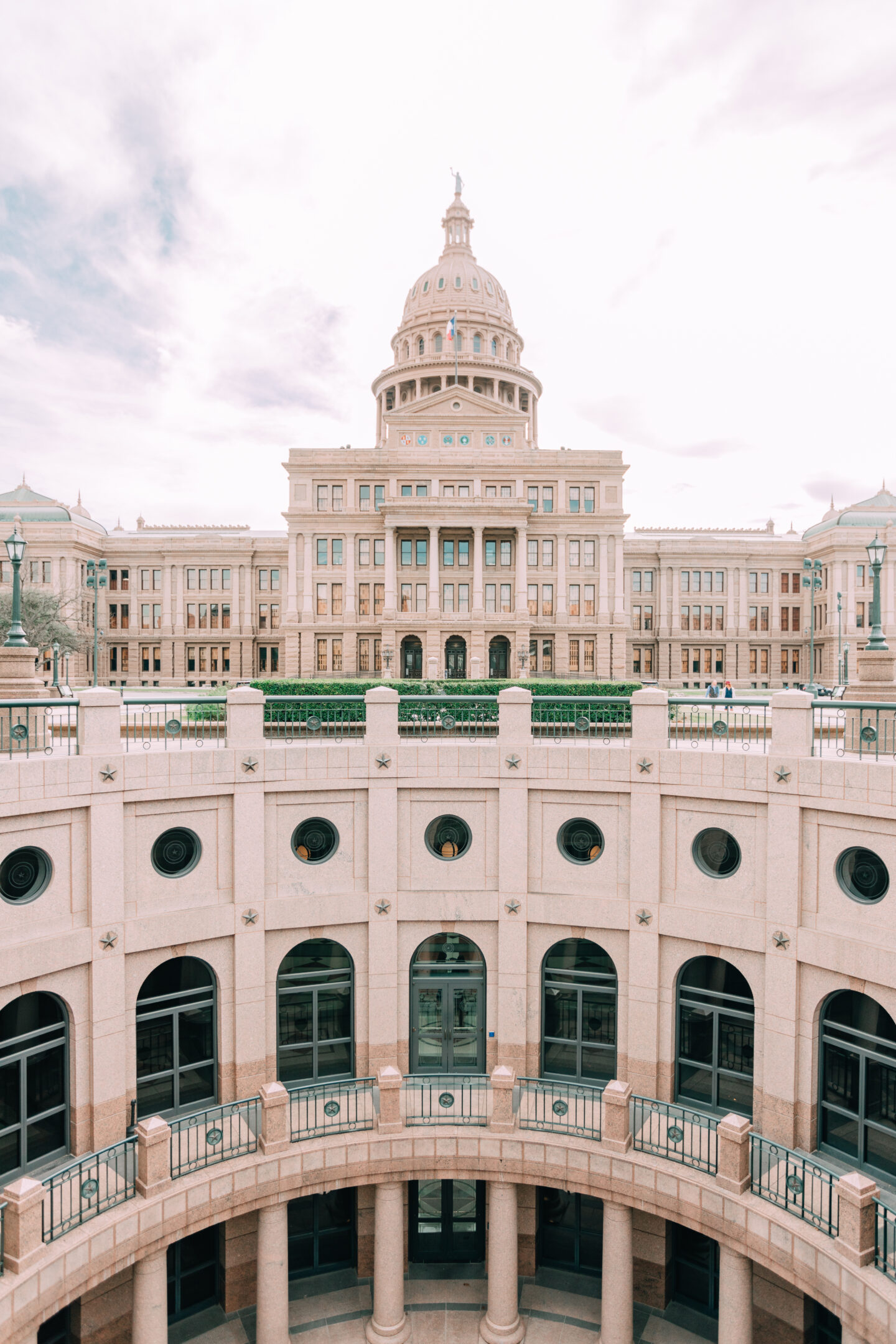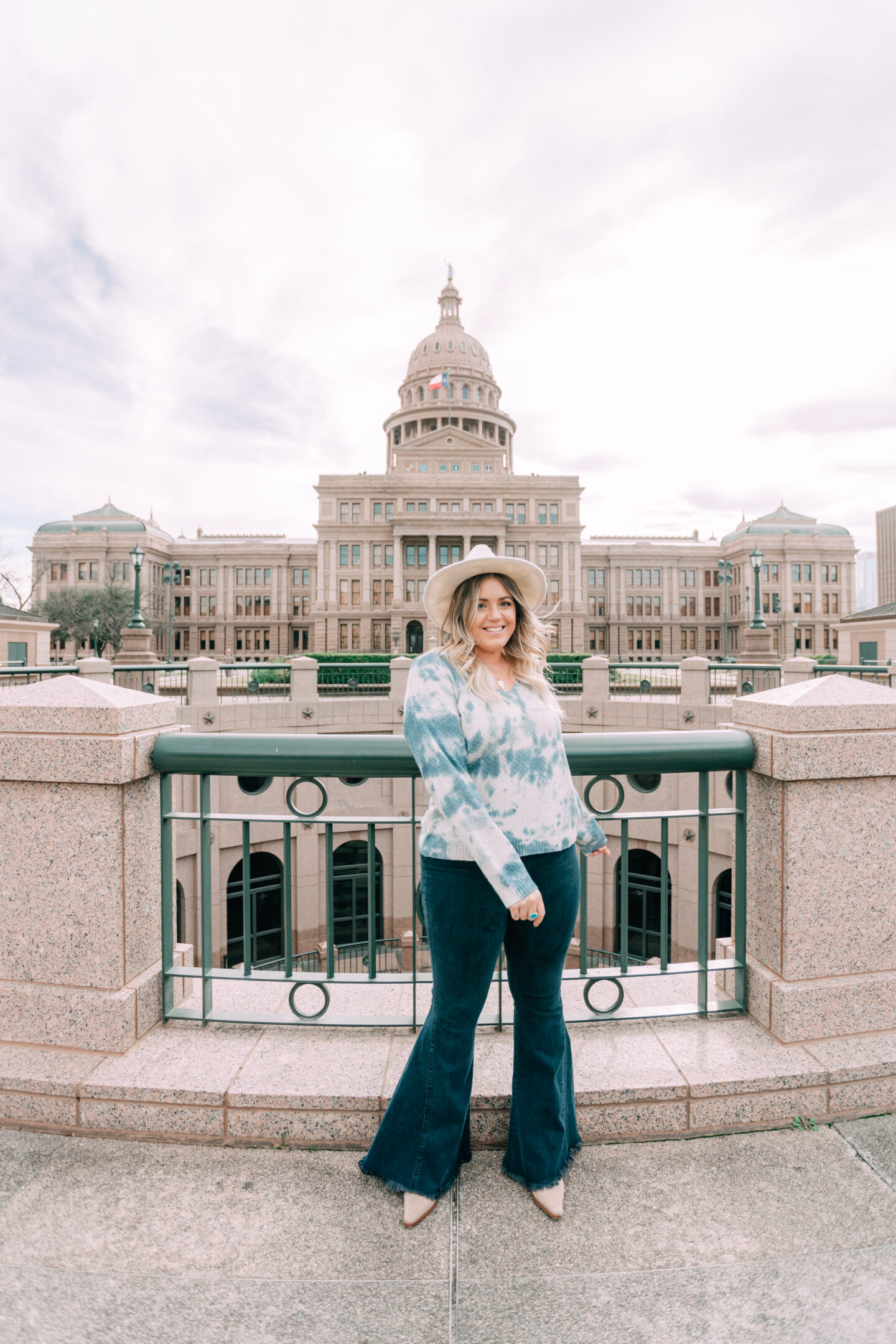 OUTFIT DETAILS:
TIE DYE SWEATER | FLARE JEANS | HEART NECKLACE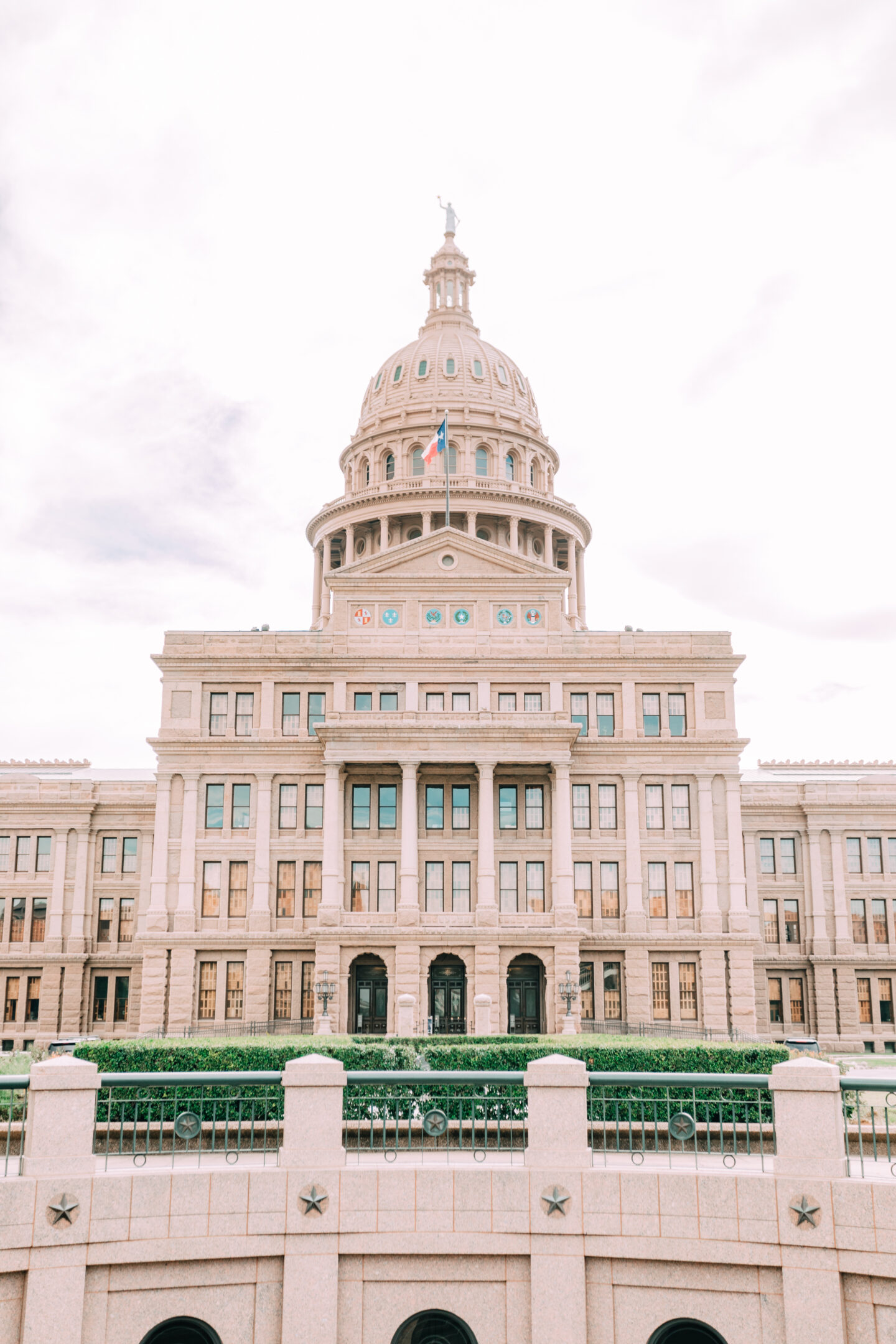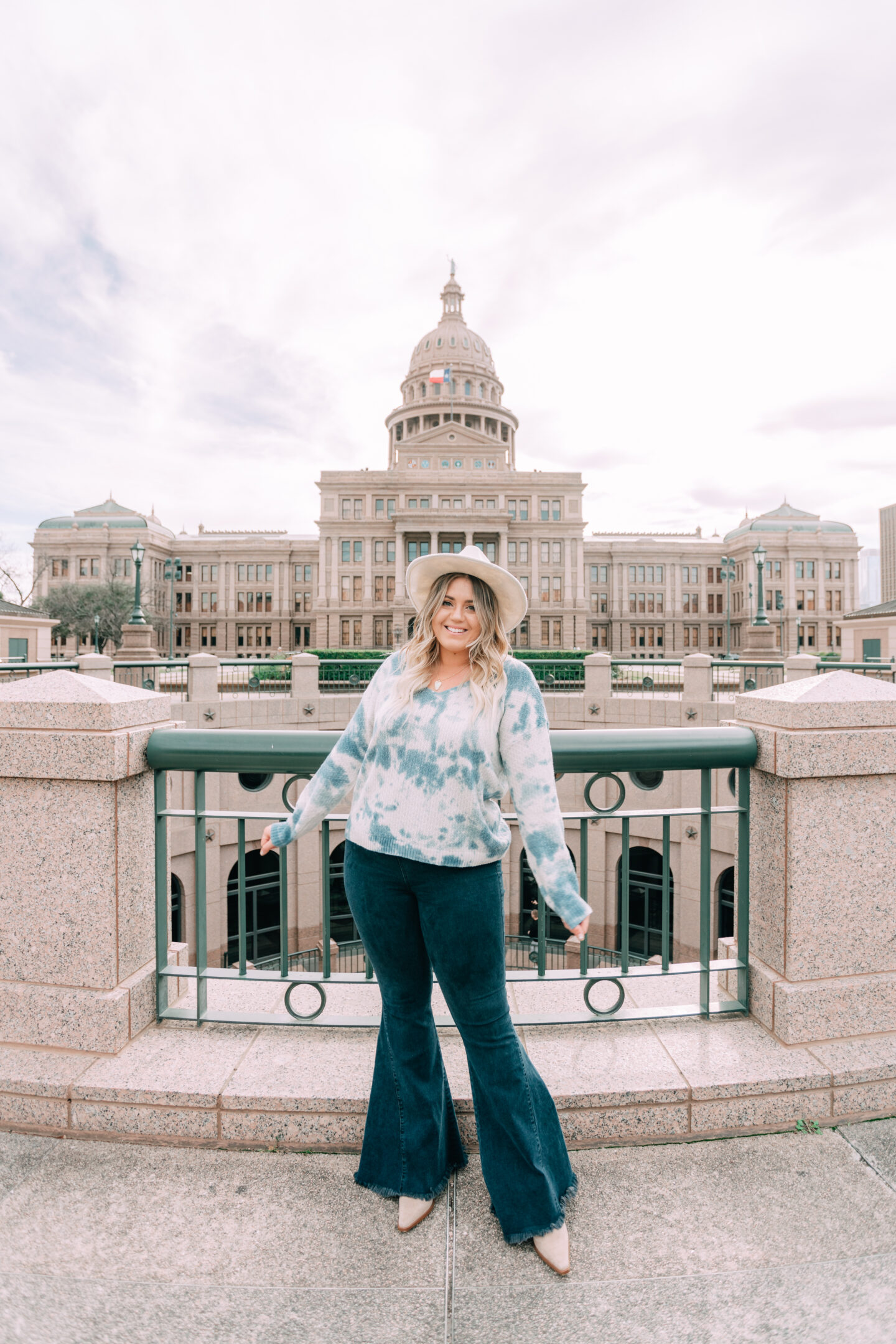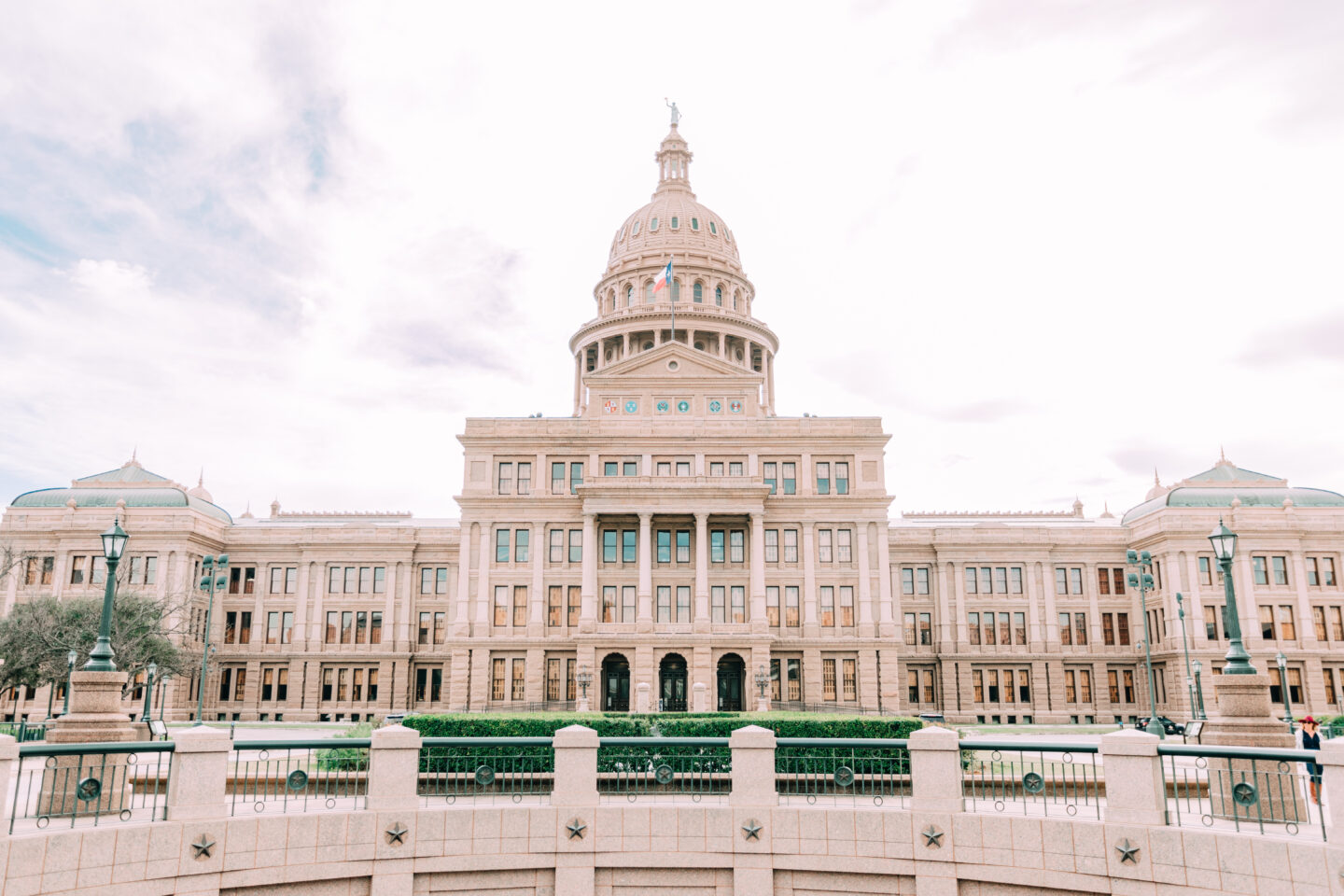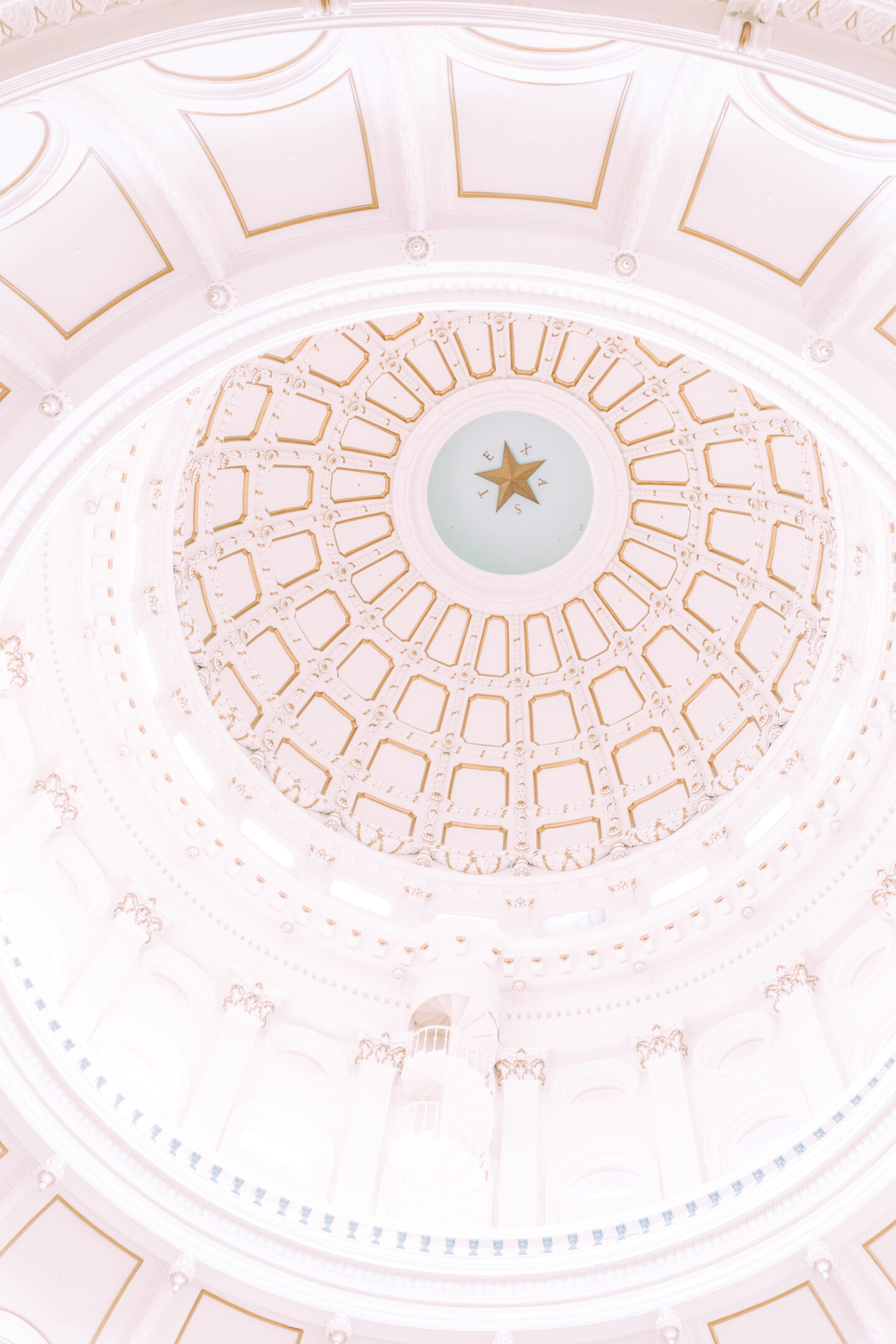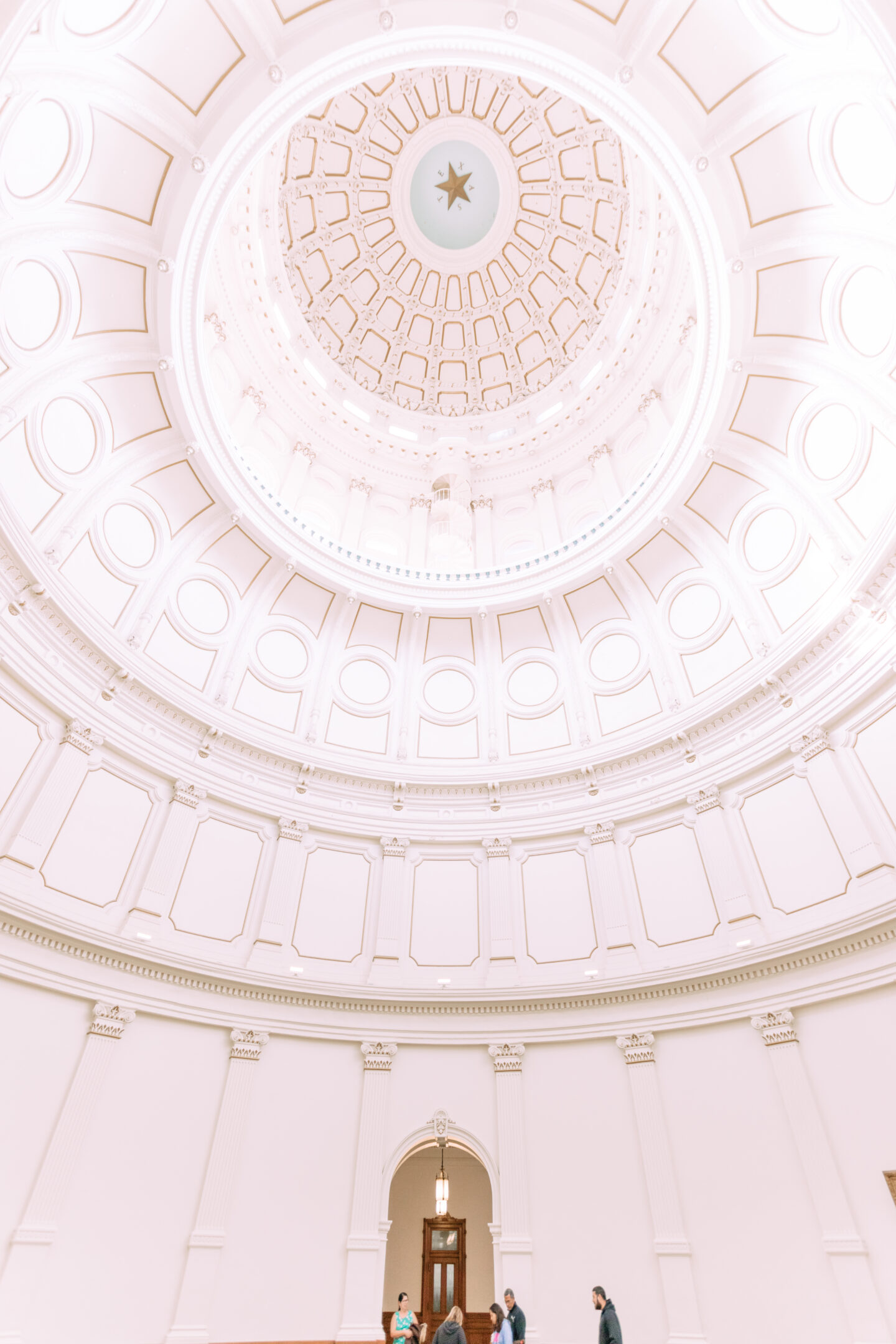 Have you ever been to Austin, Texas? Comment any other Instagrammable places in Austin! I'd love to check them out next time I'm in the area!
P.S. If you found this blog post helpful, I'd love for you to pin one of the images below to your Pinterest! 😊