/
My Boho Bedroom Redesign with Havenly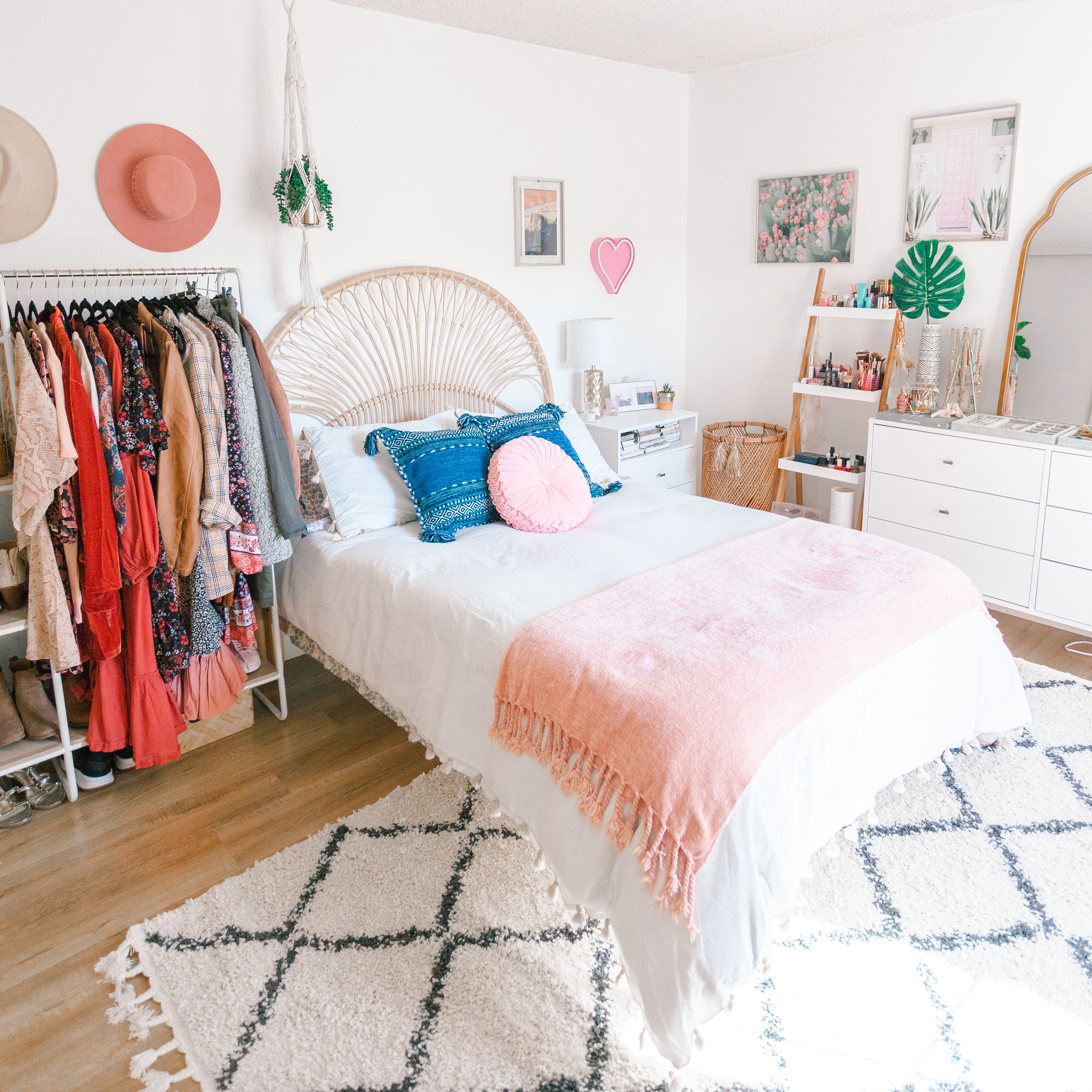 I'm SO EXCITED to share my boho bedroom redesign I did with Havenly today!! I moved back into my parents' house about a year ago and although I did get it somewhat decorated, it still felt incomplete and kind of mismatched. None of my furniture went together (I've always just had things I found on Offer Up, Craigslist, etc.) which was something I really wanted to change.
If you haven't heard of Havenly yet, it's an online interior design service where you take a style quiz, tell them what room you want to redesign, and then they'll match you with an interior designer depending on your style. They have a full design service for those that are either starting with a blank canvas or need a complete rehaul of a room (new furniture, new decor, new layout) which is $159, and a mini design service if you just need design inspiration and custom solutions to spice up your space or refresh a room, and that is $79.
However, if you sign up with my code, you get $50 off a full design package, or $20 off a mini design package! SIGN UP HERE!
Before we get to the good stuff, I want to share some photos of what my room looked like before. As you can see, the two smaller walls with my window, door, and closet were still hot pink from freshman year of high school (over 10 years ago!!), so painting over those was definitely the first step in this process. I also had to do A LOT of decluttering and purging because I wanted to get rid of that bookcase with all the bins in it.
The first step of the design process was the Ideas Workspace. My designer, Leah, took the inspiration photos and ideas I sent her, and put together three concepts for me to leave feedback on. I really loved all of them and was so excited because she totally got the style I was going for!
After leaving feedback, Leah then put together two versions of the concept for my room, one with an ivory rug and one with a blue rug. I decided to go with an ivory rug so that the room would feel brighter!
Next was the final layout after leaving more feedback and changing some things around, and when Leah sent this to me I was SO EXCITED!! I could not wait to bring this concept & layout to life.
The Havenly team also puts together this AMAZING 3D rendering of your room which looks so real it's insane!!
Okay now for the super exciting stuff–the AFTER photos!! I am SO happy with how my room turned out because it feels so uniform and "adult" but still very fun and me. Everything isn't exactly like how the final renderings look because I ended up not buying a few of the items and the dimensions may have been a little off, but I think it looks amazing.
SHOP THE ROOM:

So, what do you think of my boho bedroom?! Let me know your thoughts and your favorite part about the room in the comments below!