/
Instagrammable Places in Dallas, Texas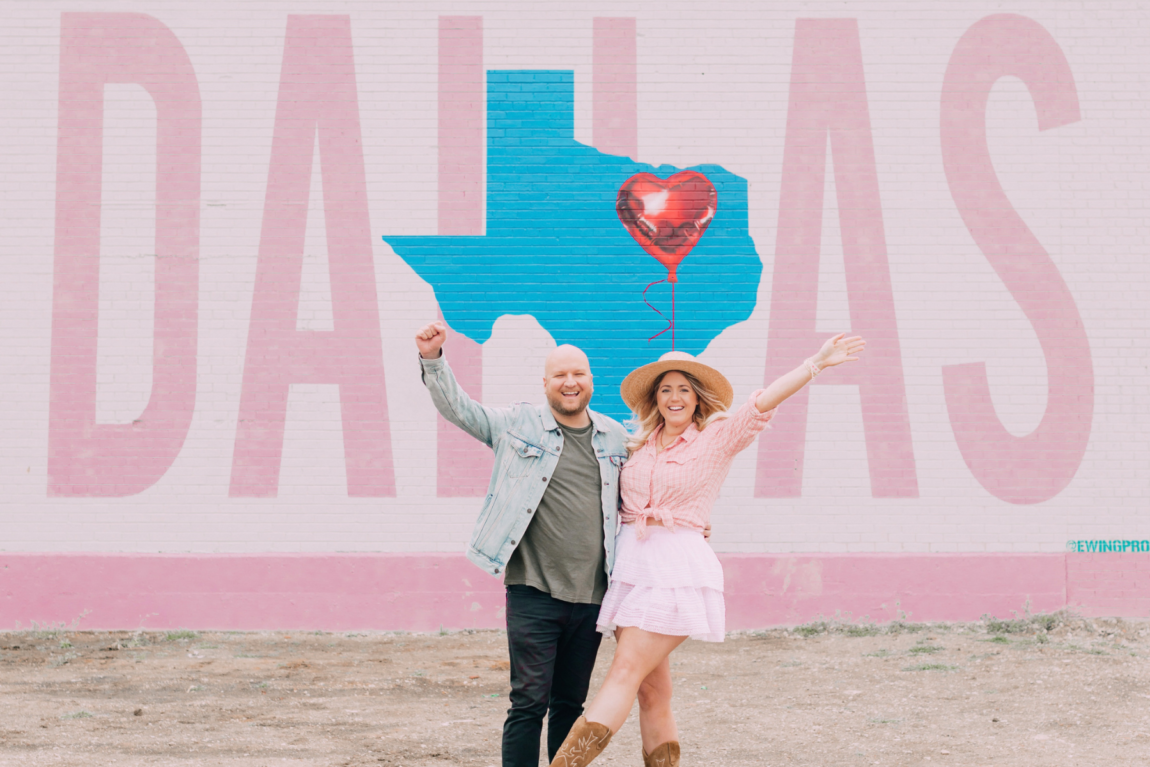 When people think of Dallas, TX they probably don't immediately think of it as a super cute and instagrammable city. But they would be wrong! My husband and I moved to the Dallas area in June 2021 and started visiting a year before then, and over time I've realized just how fun, beautiful, and artsy this city really is. With so many people moving here, it seems like they're really developing and redeveloping Dallas and its surrounding areas, so there's always new spots popping up! Being said, in this post I'm sharing all the Instagrammable places in Dallas that I've visited, and over time will add more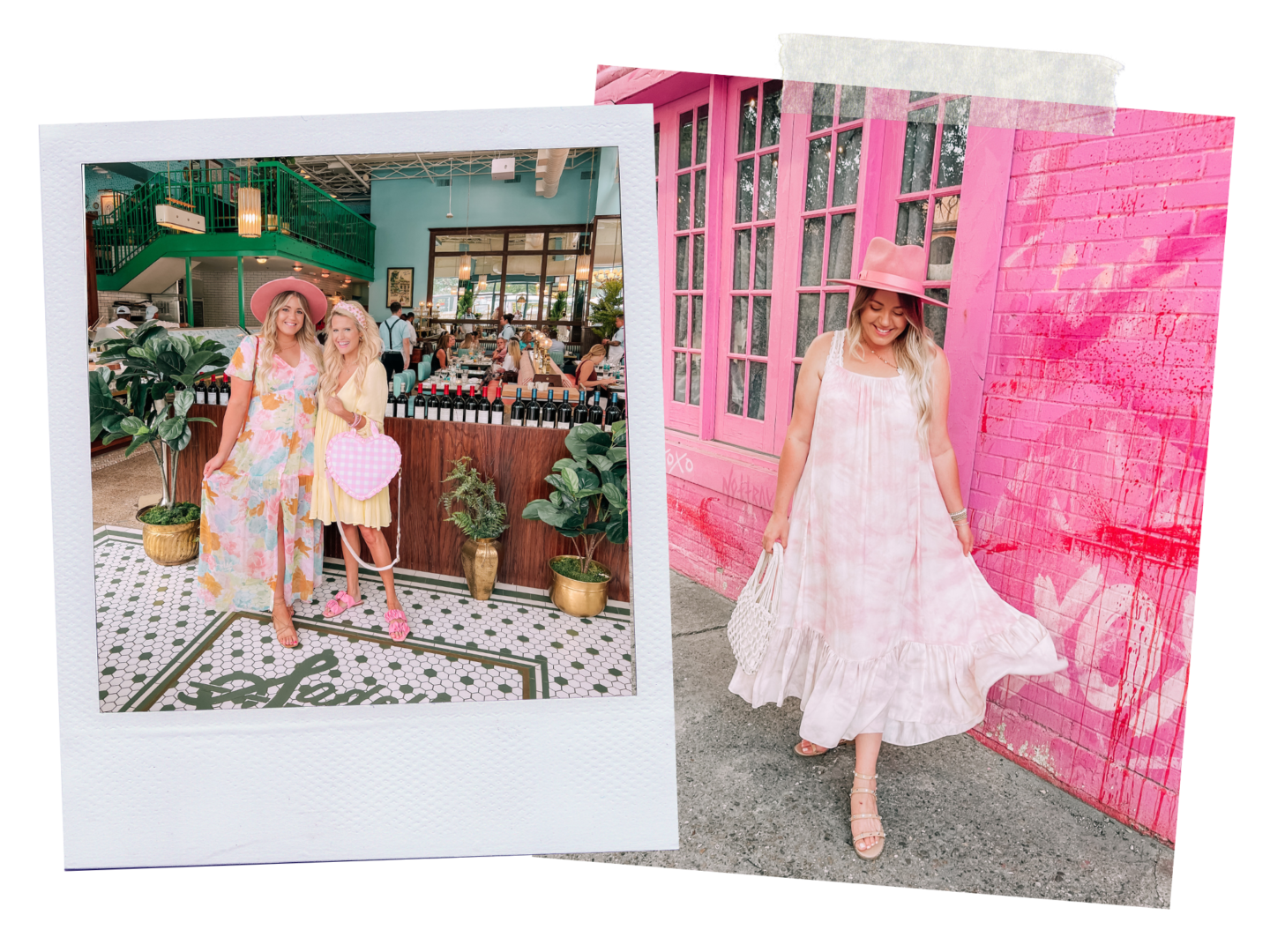 Deep Ellum
Deep Ellum is known for being a super artsy part of town with lots of murals, and also has great venues with live music.
Flea Style
Flea Style is a super cute boutique with boho clothes and DIY western hats! These walls below are in their parking lot, and are probably one of the most popular Instagrammable places in Dallas.
Address: 3009 Commerce St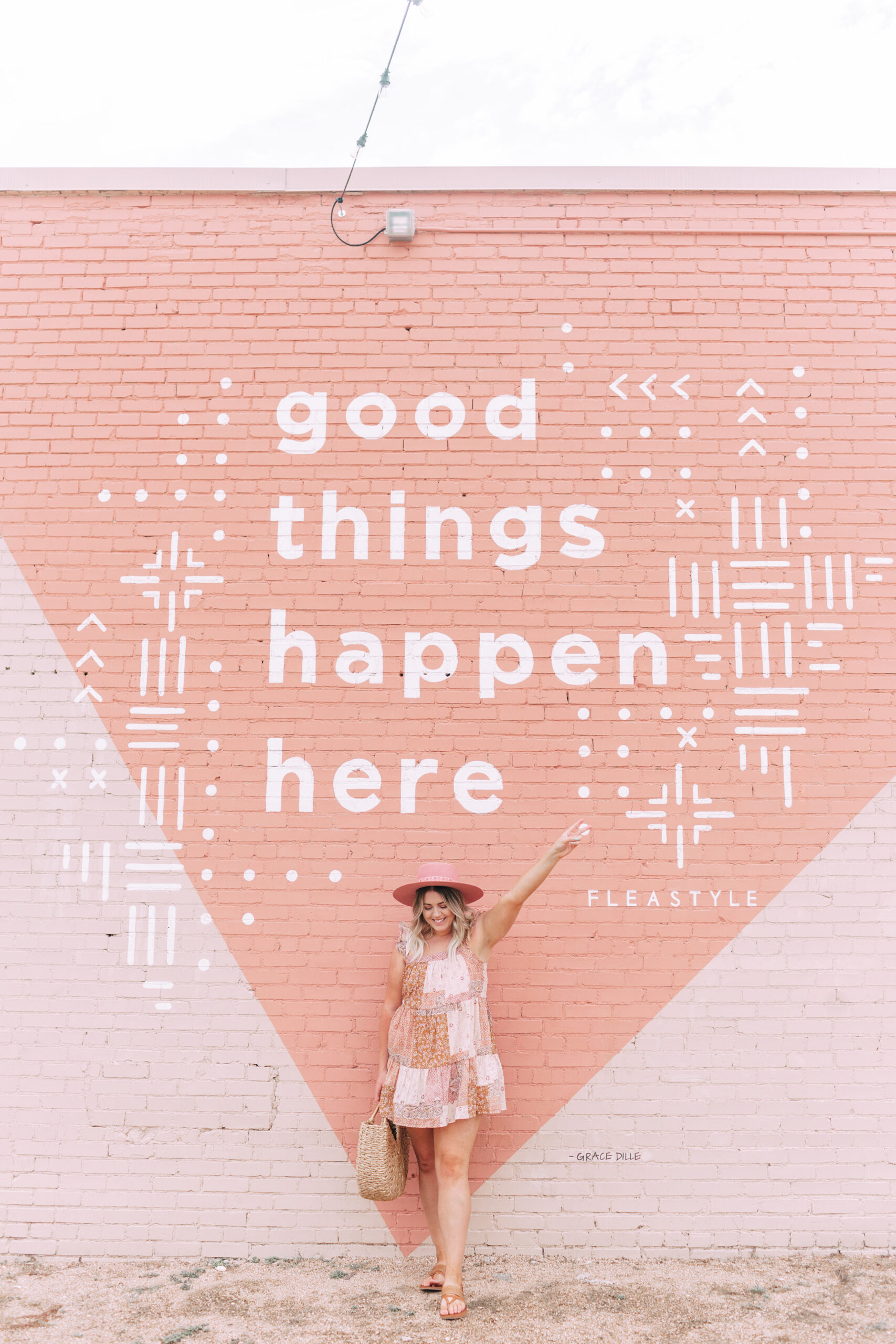 Electric Shuffle
This super fun and colorful geometric wall is on the patio of a fun bar, Electric Shuffle. It used to just be on the outside of the building, but unfortunately they built a patio and fencing around it with tables and planters, so it's a little more difficult to photograph than it used to be. Still beautiful though!
Address: 2615 Elm St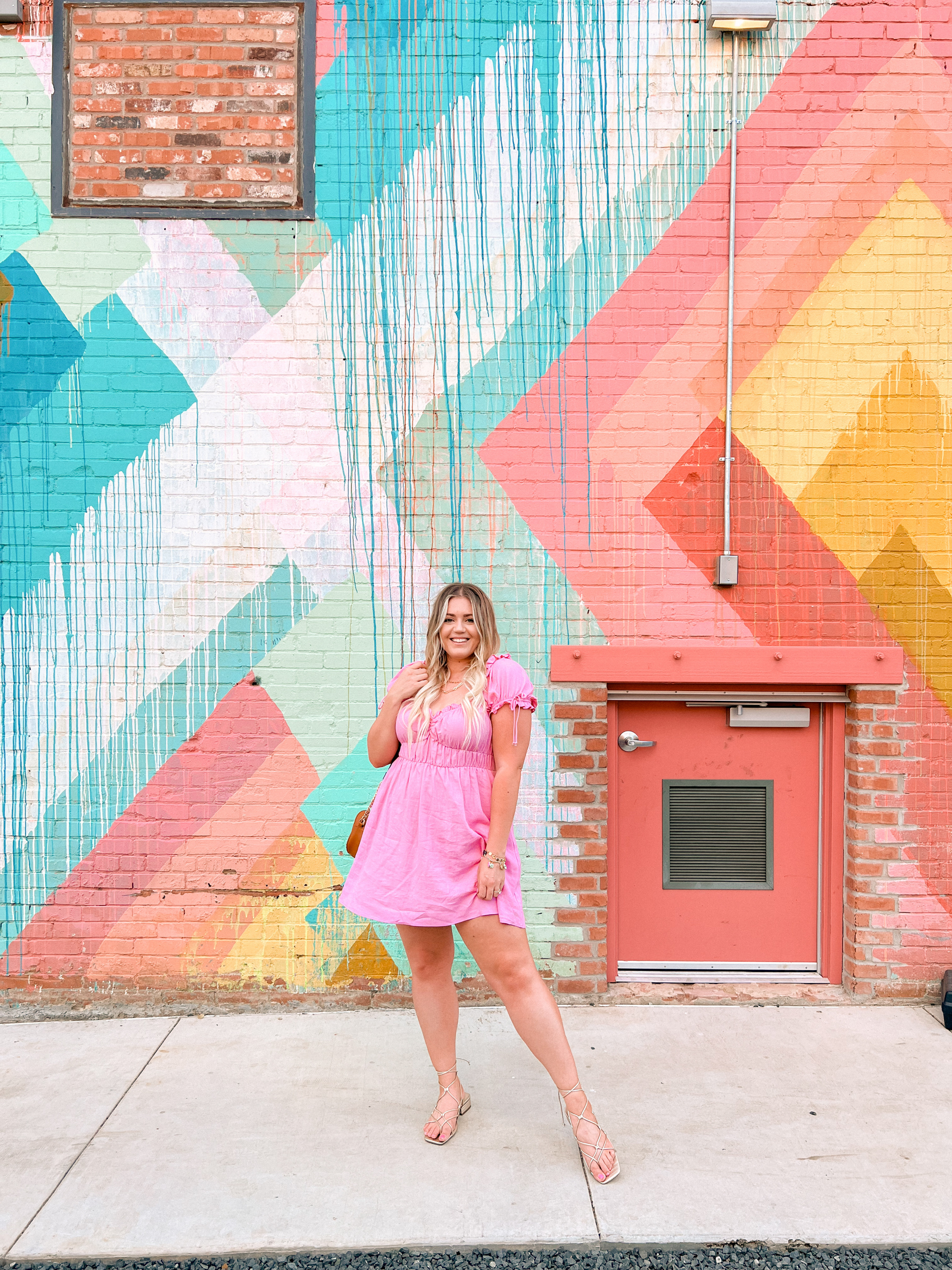 American Flag Wall
Address: 2730 Commerce St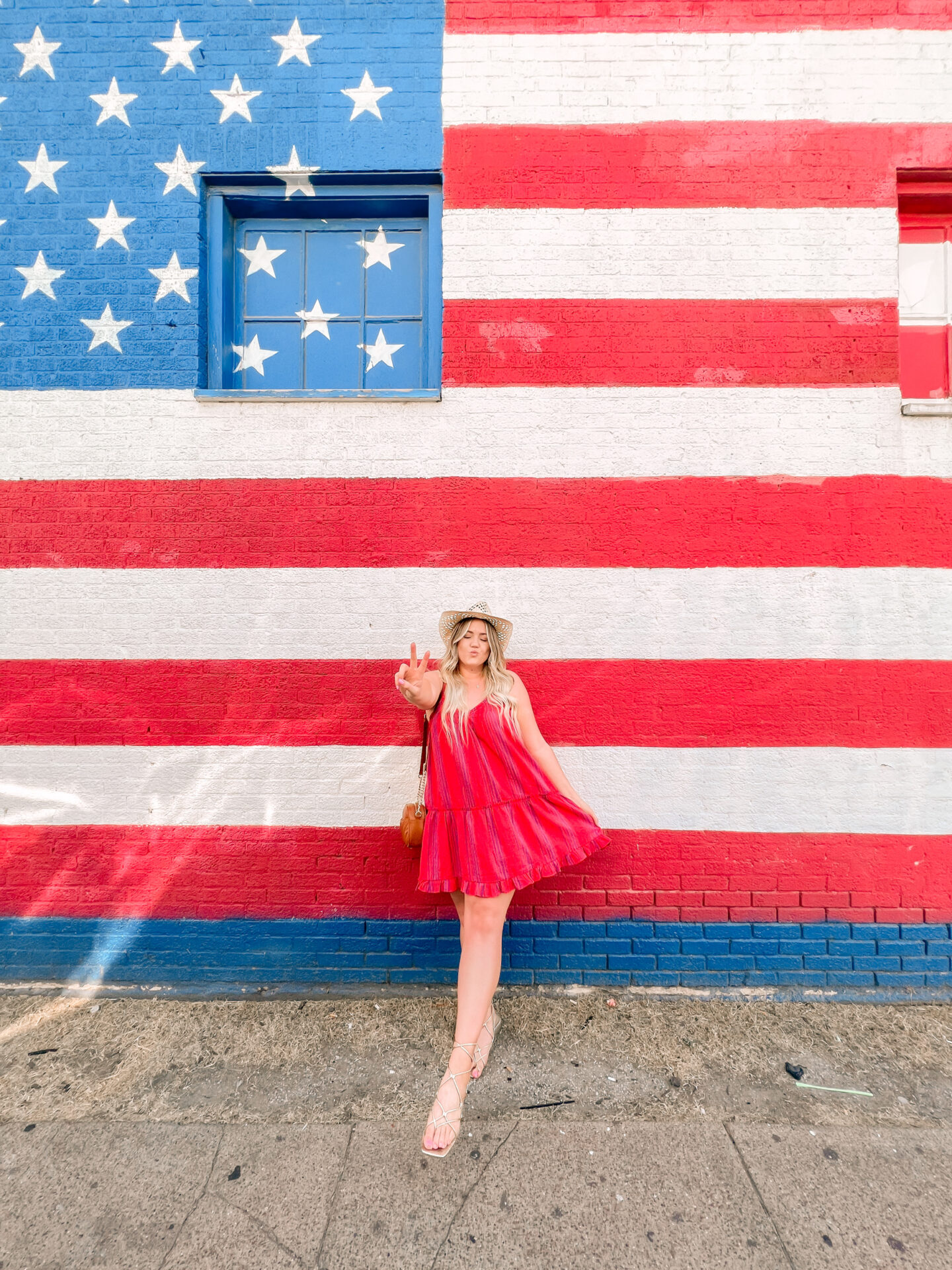 XOXO Dining Room
XOXO Dining Room is THE place to go for a fun girls' night out! It's dripping in pink, has fun cocktails, delicious food, and a cupcake ferris wheel that you can order 😱
Address: 3121 Ross Ave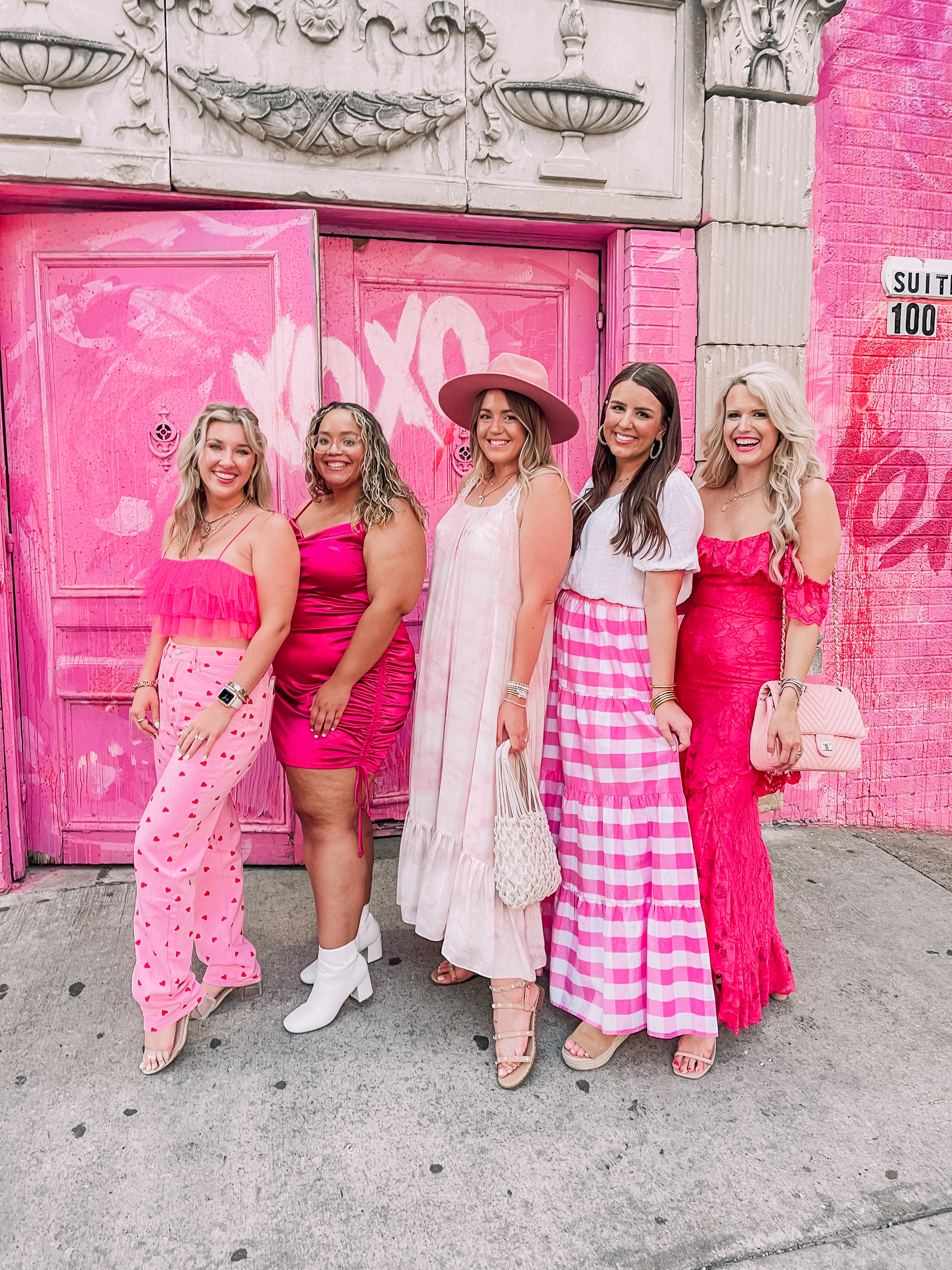 Bishop Arts District
Bishop Arts District is one of my favorite areas of Dallas! It used to be a pretty bad part of town, and the surrounding areas still aren't great, but over the last few years, it's been redeveloping a ton! Specifically the south end of Bishop Ave where all the shops and restaurants are.
There's a company called Exxir Capital that has developed & opened multiple businesses in the area: Jungle Dallas, Paradiso, Mermaid Bar, Tejas, Casablanca, Botanist, and 3 apartment complexes!
Besides, those, there are a ton of other restaurants, coffee shops, boutiques, & more that are super cute. I really need to get down there and shoot at more spots!
Paradiso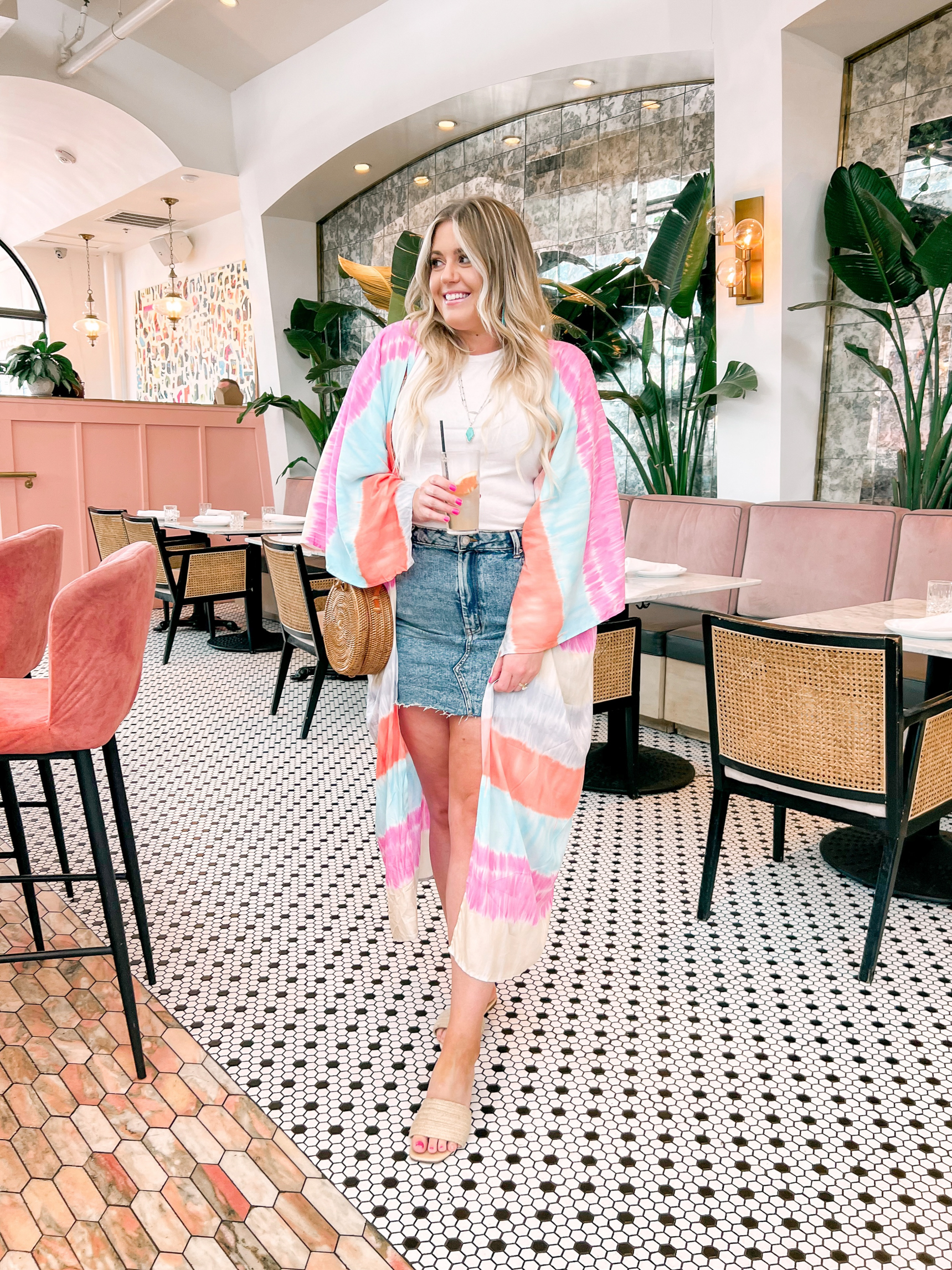 Mermaid Bar
The only picture I've gotten here was during Christmastime when they turned the bar area into a Christmas paradise called Tipsy Elf!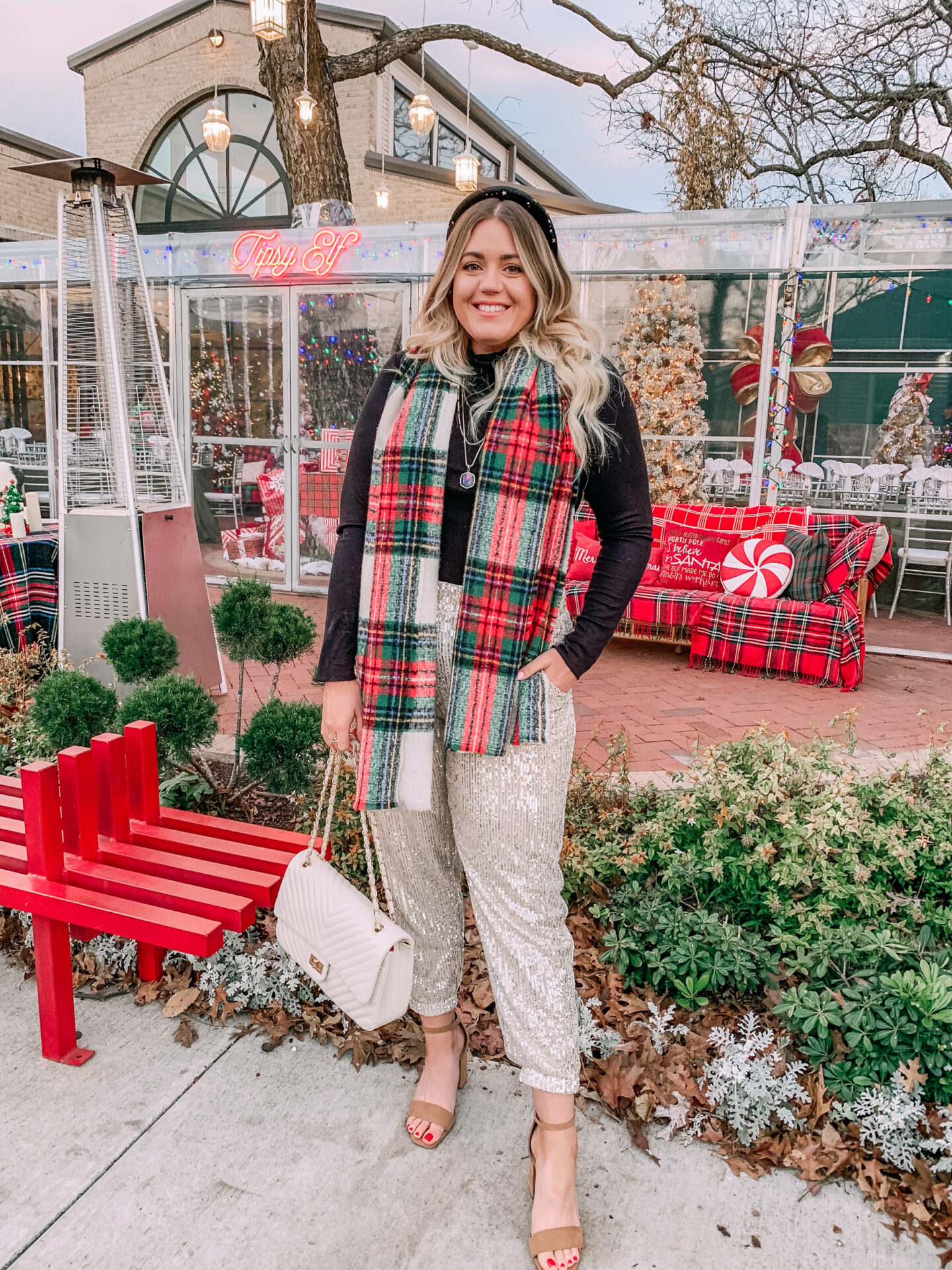 The Pink Picket Fence
This adorable pink picket fence is right outside one of the apartment complexes, around the corner from Tejas.
Address: 311 W 9th St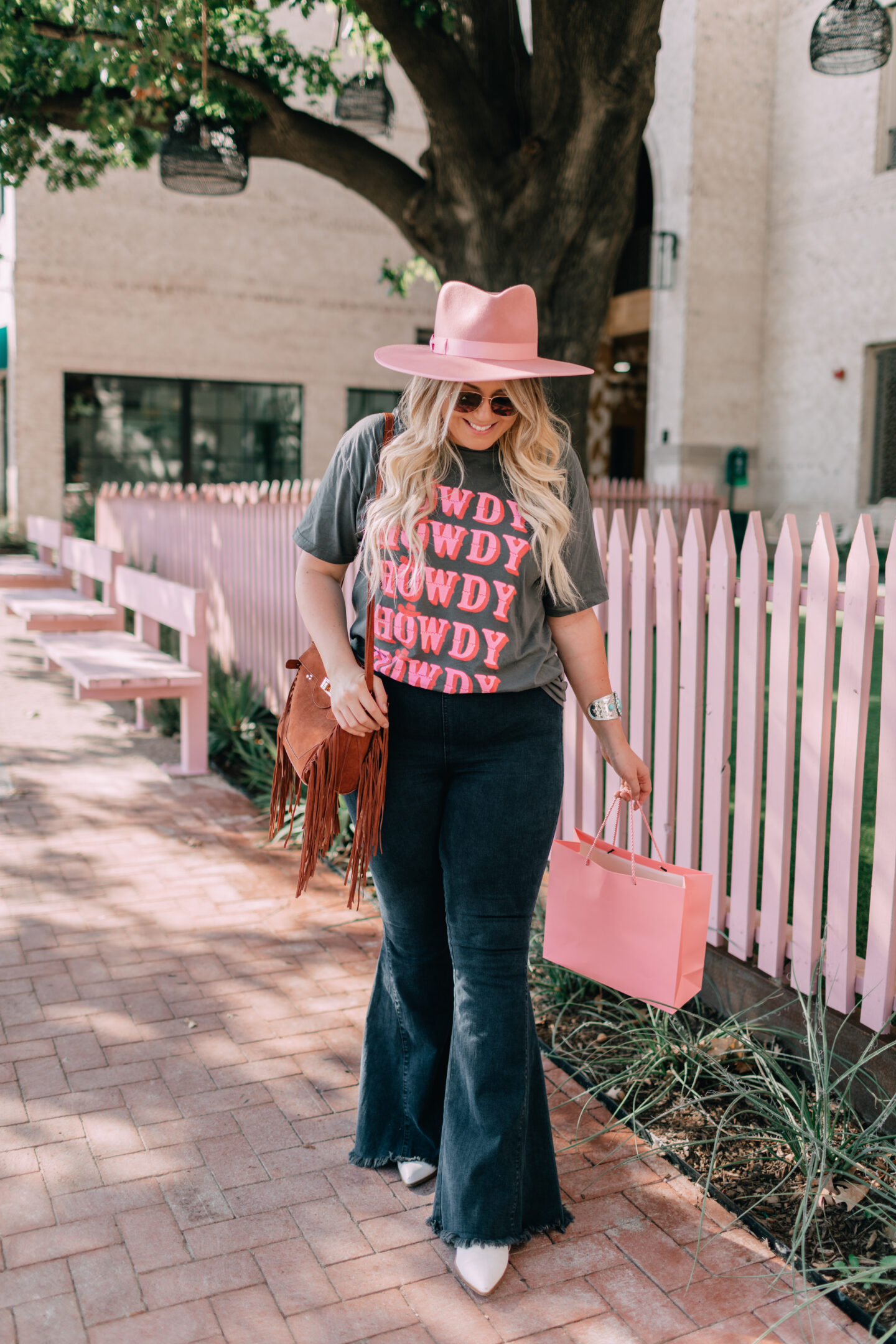 Wow Wow Lemonade
Wow Wow Lemonade started in Maui and now has several locations throughout the states, and even a couple in Japan! The Dallas location opened in early 2022 and is the perfect tropical escape in the city. Their menu includes different flavored lemonades, açai bowls, smoothies, toasts and sandwiches, & more. Especially during the summer, the lemonades are SO refreshing!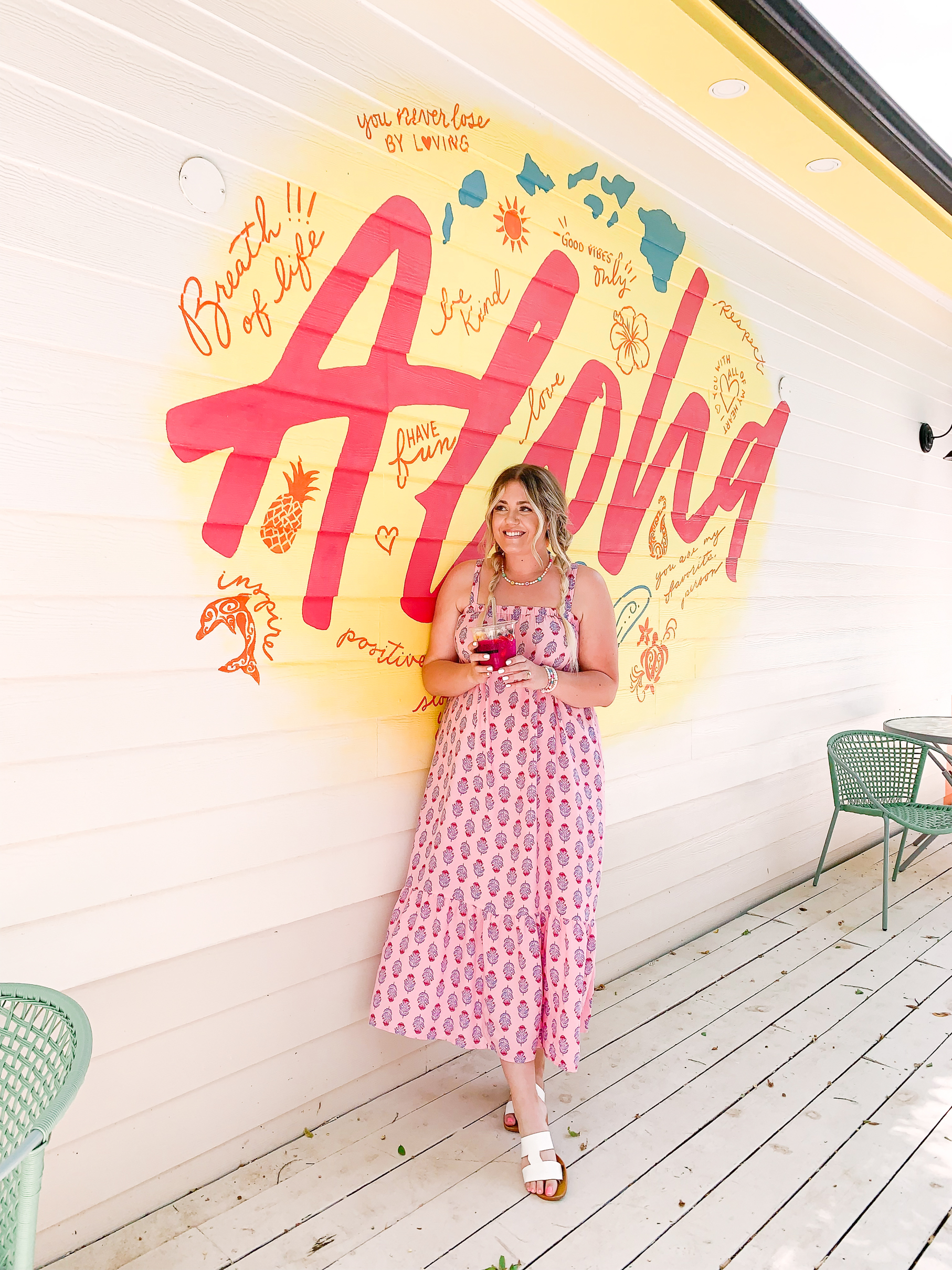 Tejas
I haven't eaten here yet, but it's on my list! They have great tacos & margaritas.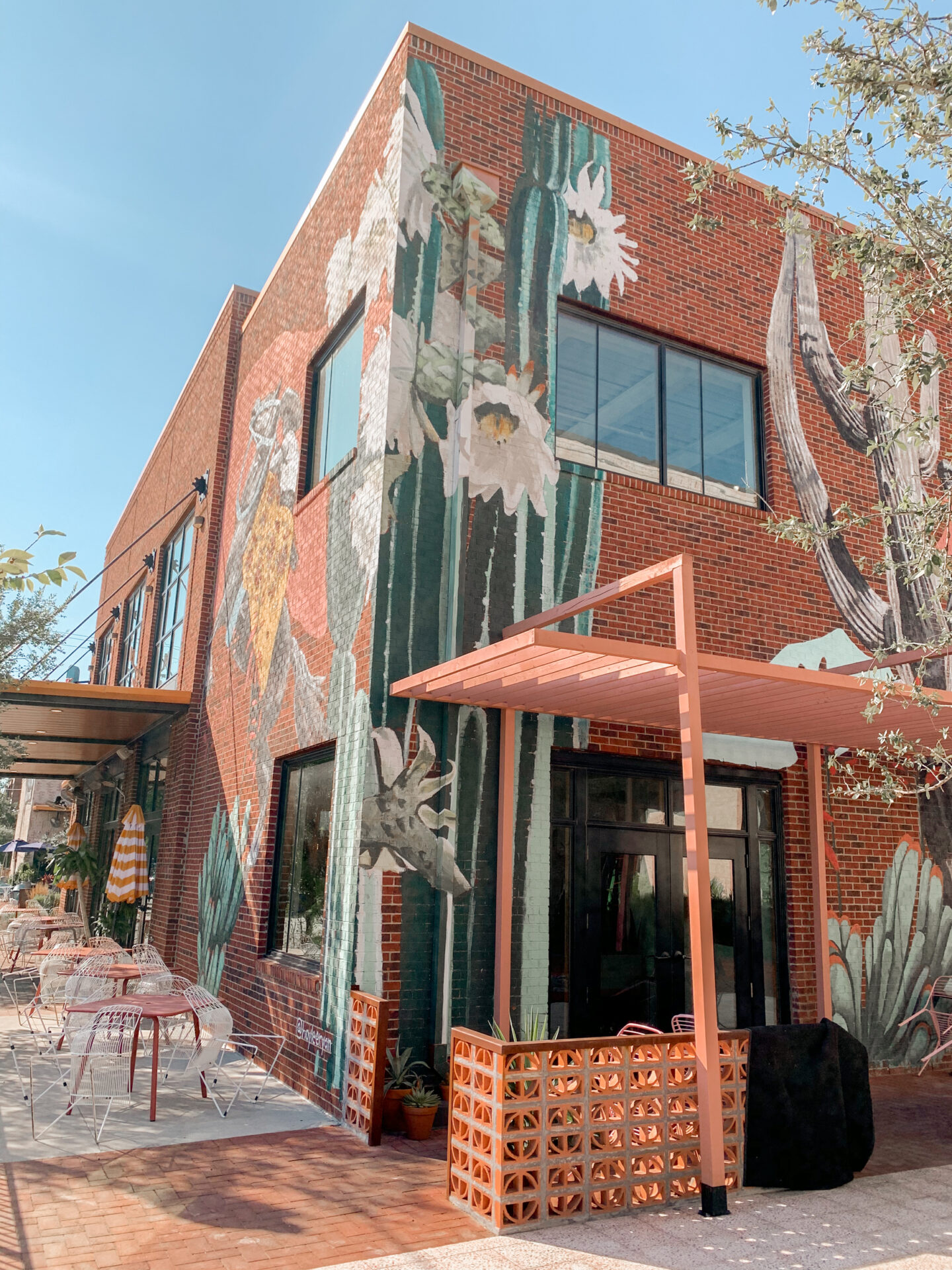 DD Playground
The DD Playground has 2 sets of murals all right next to each other, so if you're out shooting, you can get a ton of content all in one spot! My two favorite murals are the Dallas one and the one that says "Ride it like you stole it."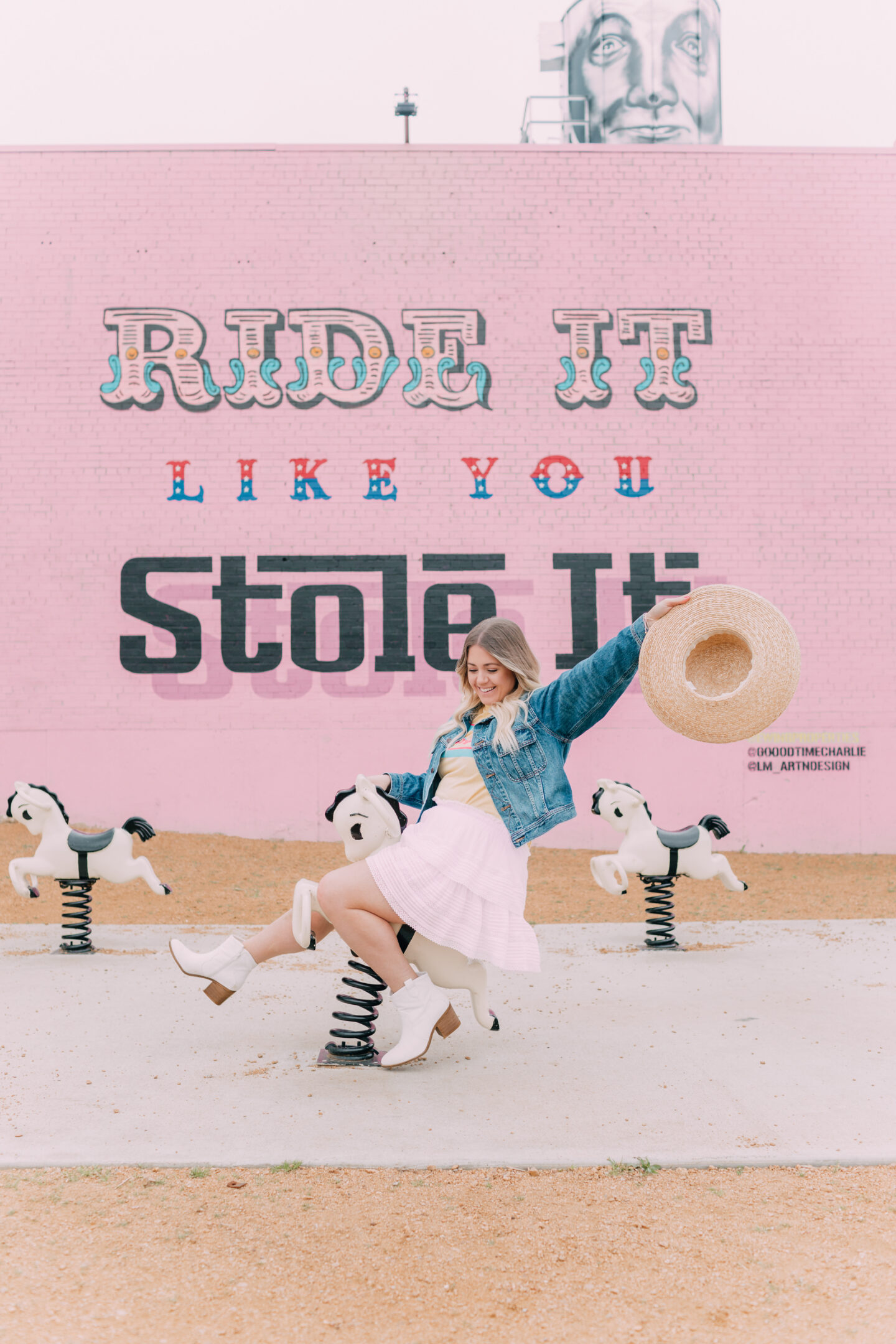 Highland Park Village
Highland Park Village is perhaps the boujee-est place in Dallas. It is a landmark open-air center with more than 50 world-class boutiques and a dozen restaurants. Constructed in 1931, it was actually America's first shopping center and the prototype for shopping centers all over the country!
LoveShackFancy
LoveShackFancy has become iconic on Instagram in the last few years, and they have locations popping up all over the country. Their known for their girly & frilly skirts and dresses, and pink floral-adorned storefronts.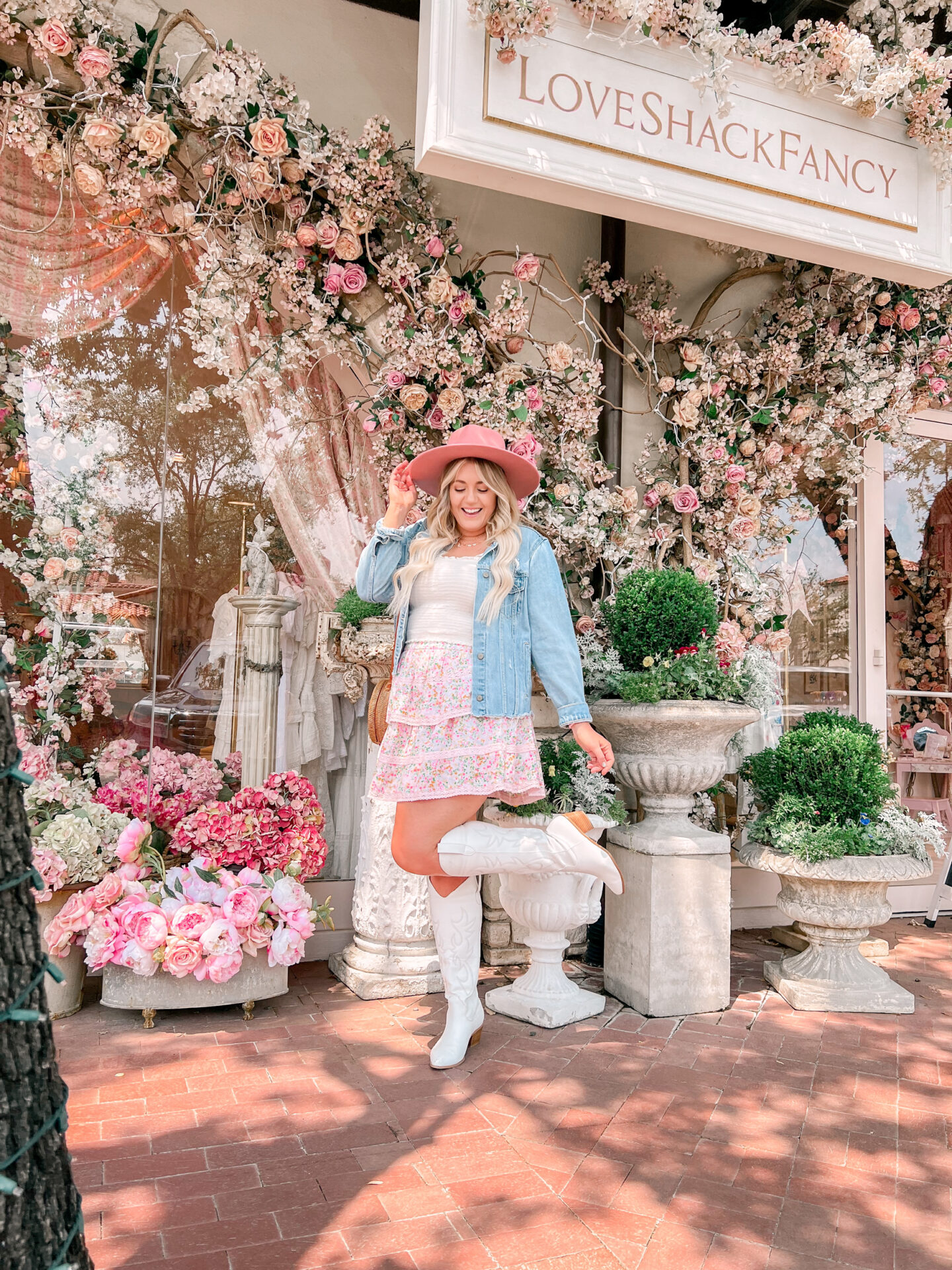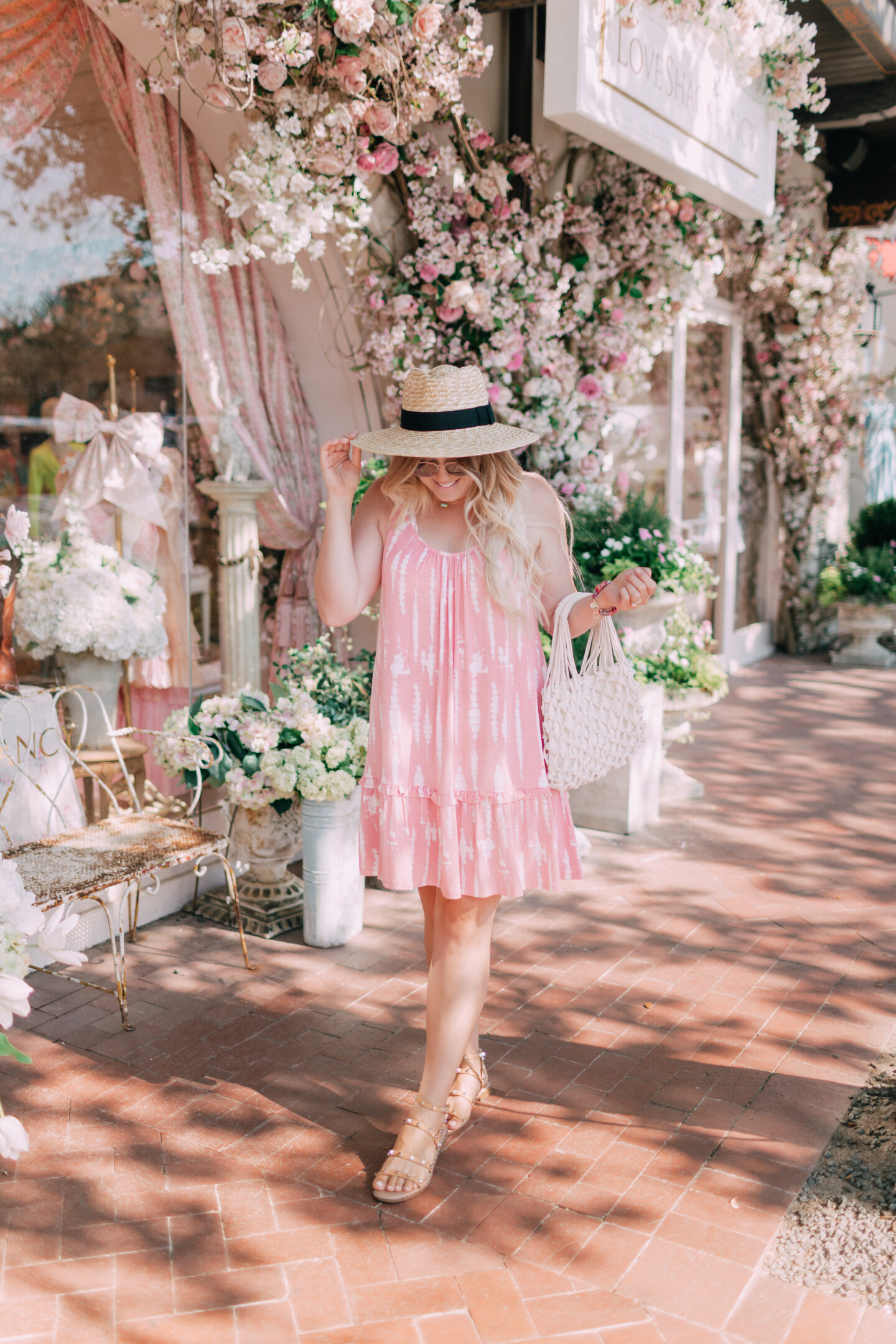 Sadelle's
Sadelle's is one of the newest spots in Dallas and another great go-to for girls' night out or brunch. They did an AMAZING job with the design and aesthetic and it feels like a cross of Paris and New York.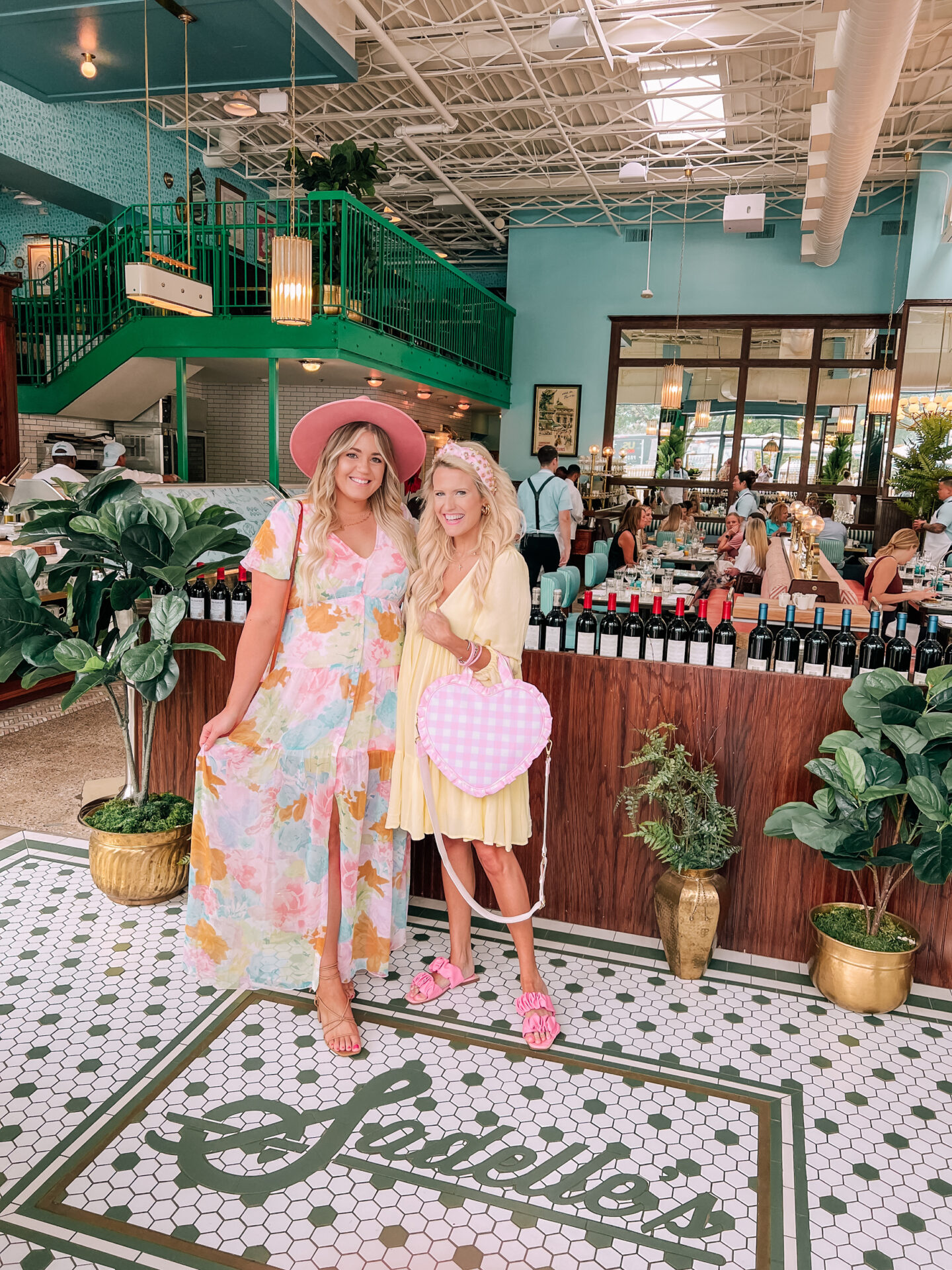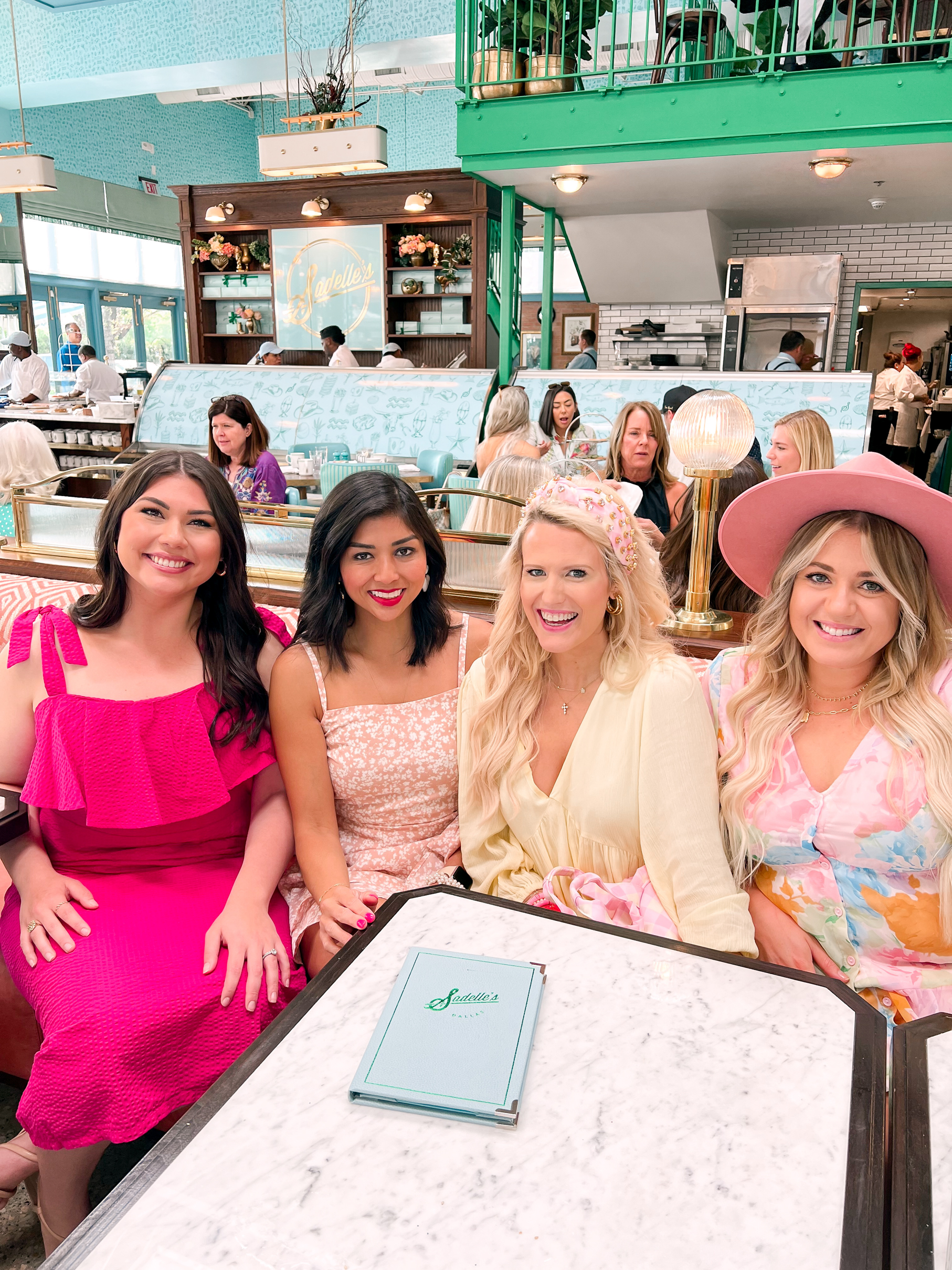 La Vie Style House
This cute boutique has a pink interior and the inside of the door is pink, so if the store is open then this makes for a super cute spot!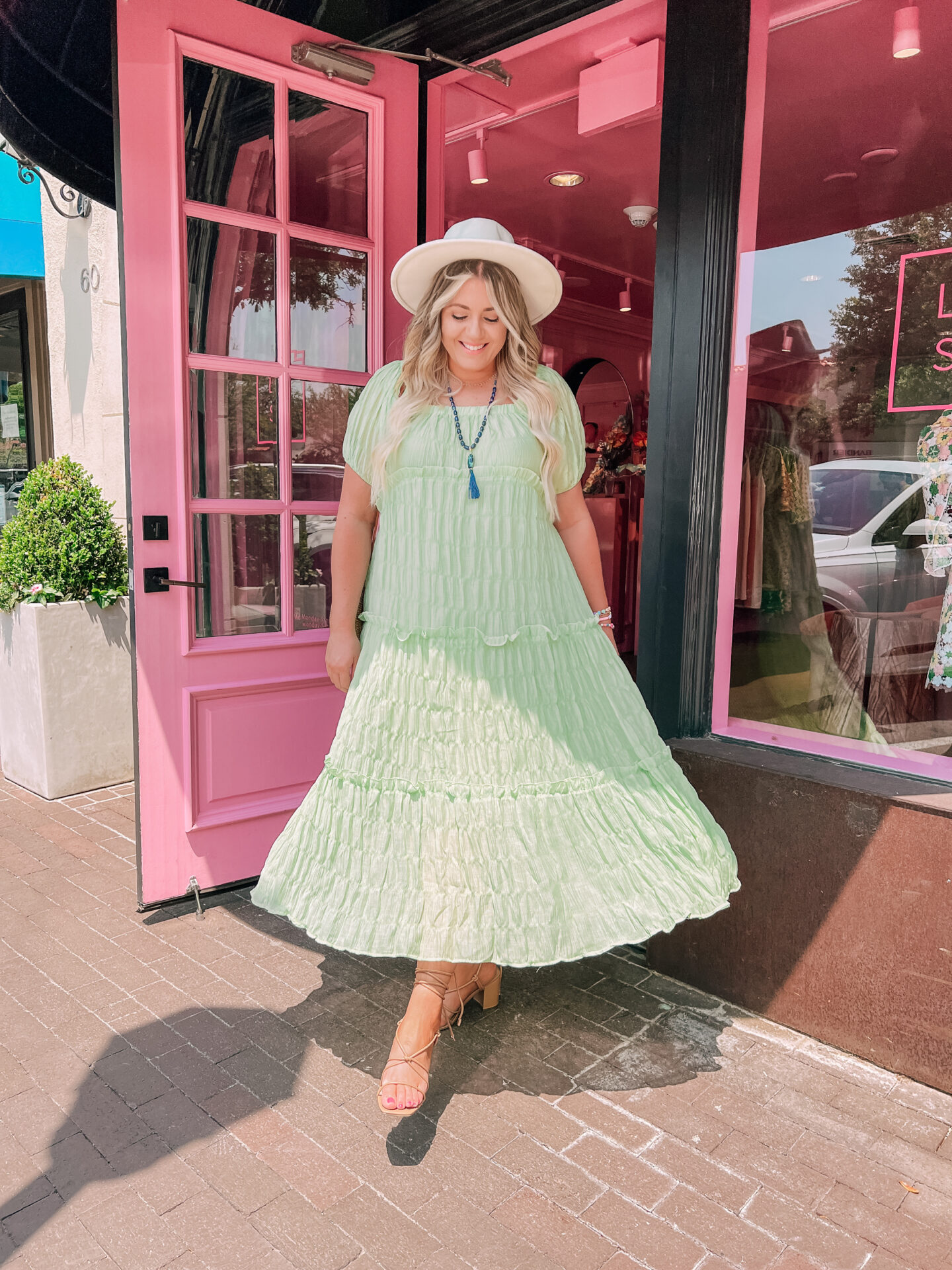 Lushra
Address: 4607 W Lovers Ln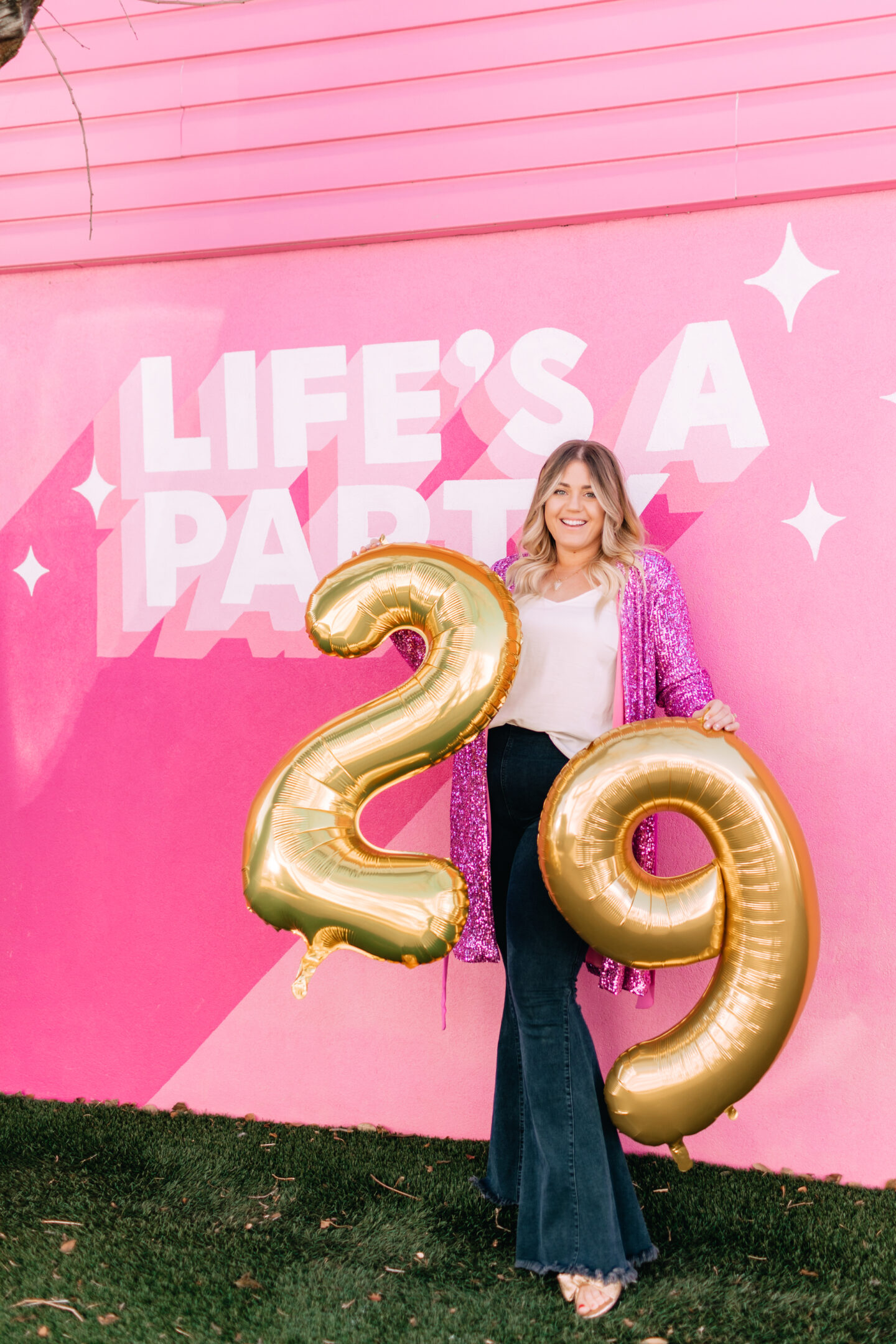 Lower Greenville
Lower Greenville is another area that is being redeveloped with bars, cafes, and restaurants.
La La Land Kind Cafe
La La Land Kind Cafe has become a Texas staple, and has even expanded to California. The original location is this one, on Greenville Ave, and is in the cutest little cottage-looking building with an old school yellow truck parked out front.
Address: 5626 Bell Ave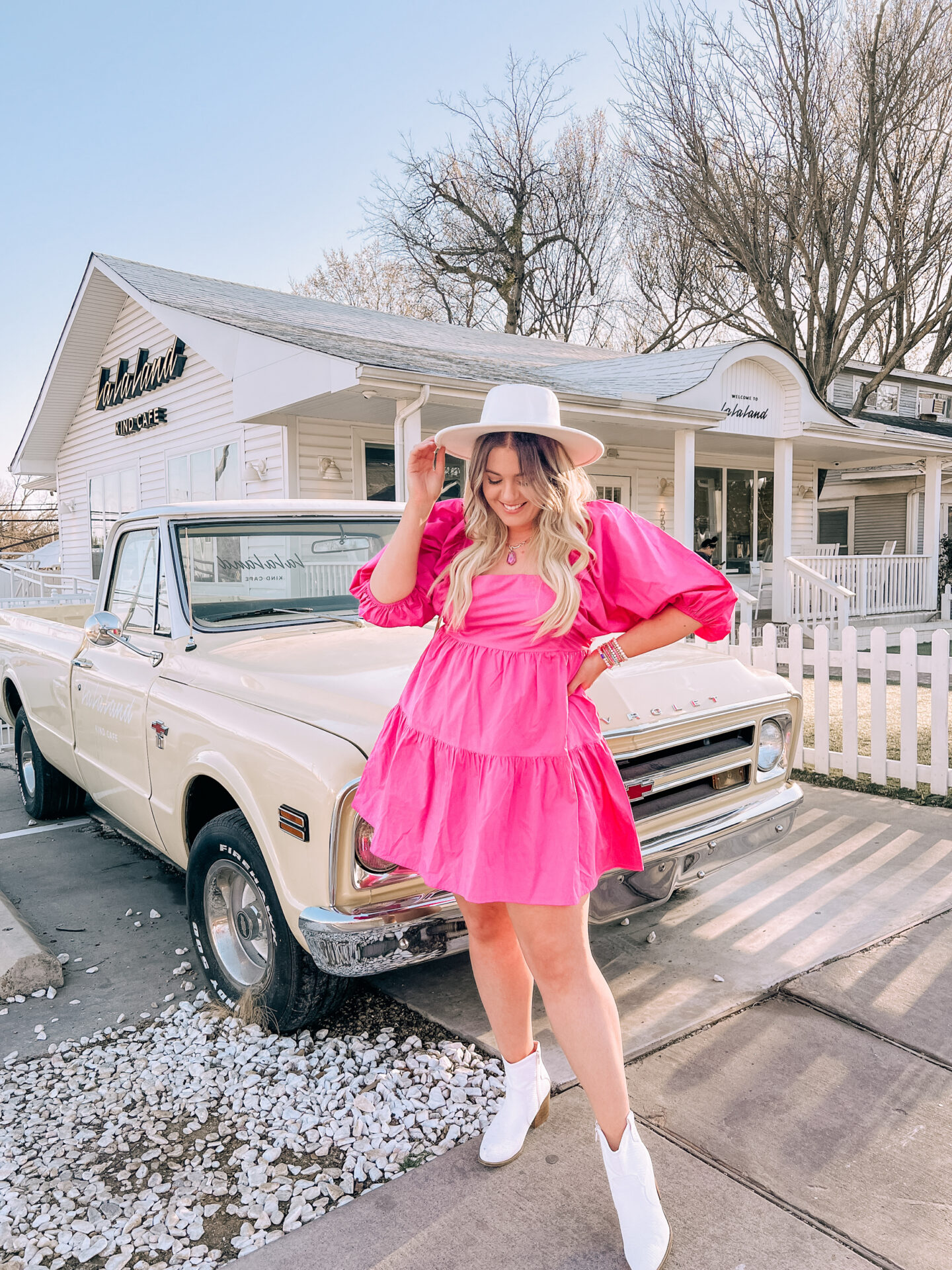 Pink Building
Address: 5602 Bell Ave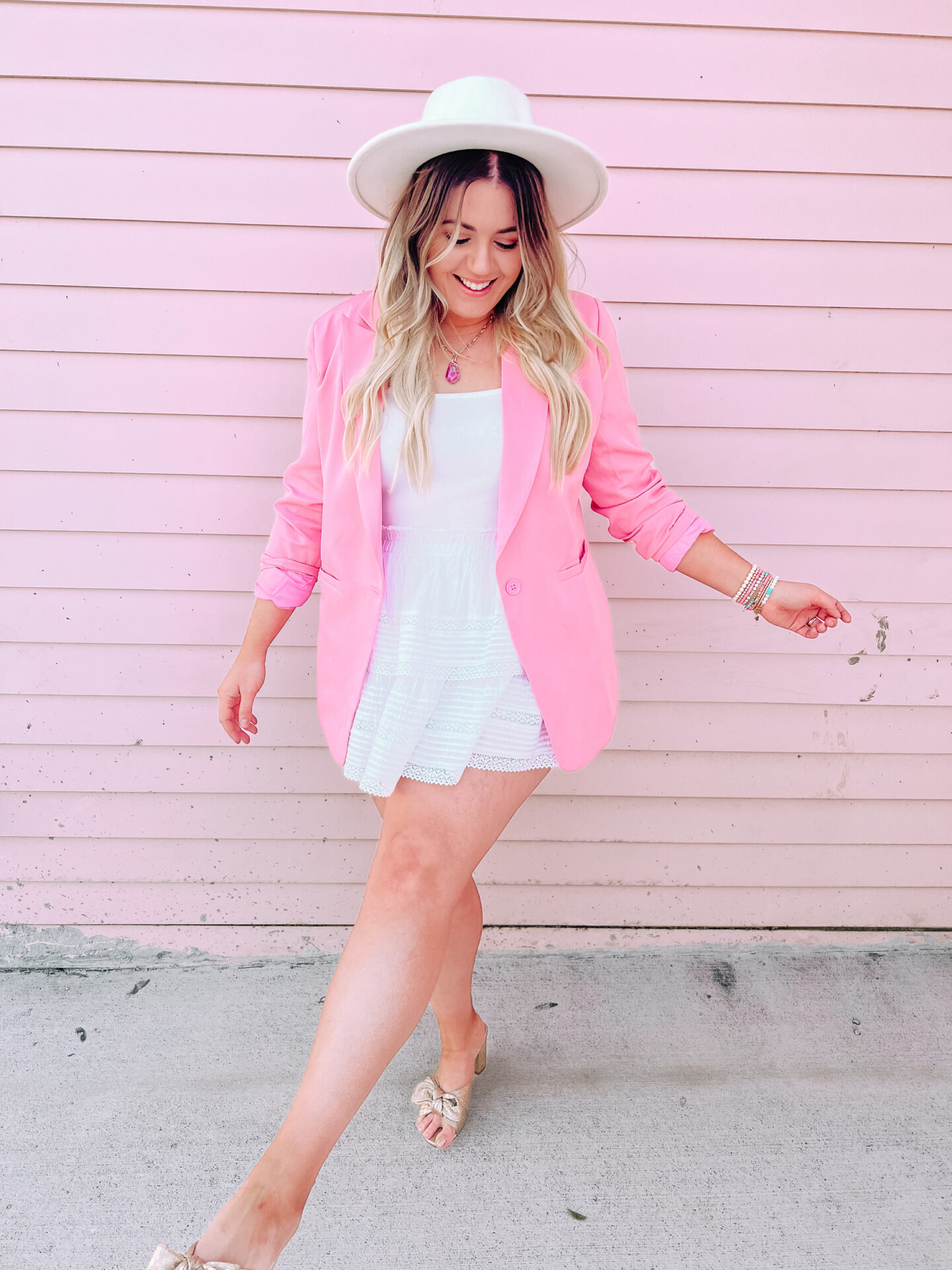 Kendra Scott in West Village
Address: 3699 McKinnney Ave Suite 105-B
White Rock Lake
White Rock Lake is one of the best spots in Dallas to find some nature, and also the best place to watch the sunset in my opinion! You can rent boats, kayaks, & paddle boards, go boating or walking around the trails, and the docks make for some cute photos too.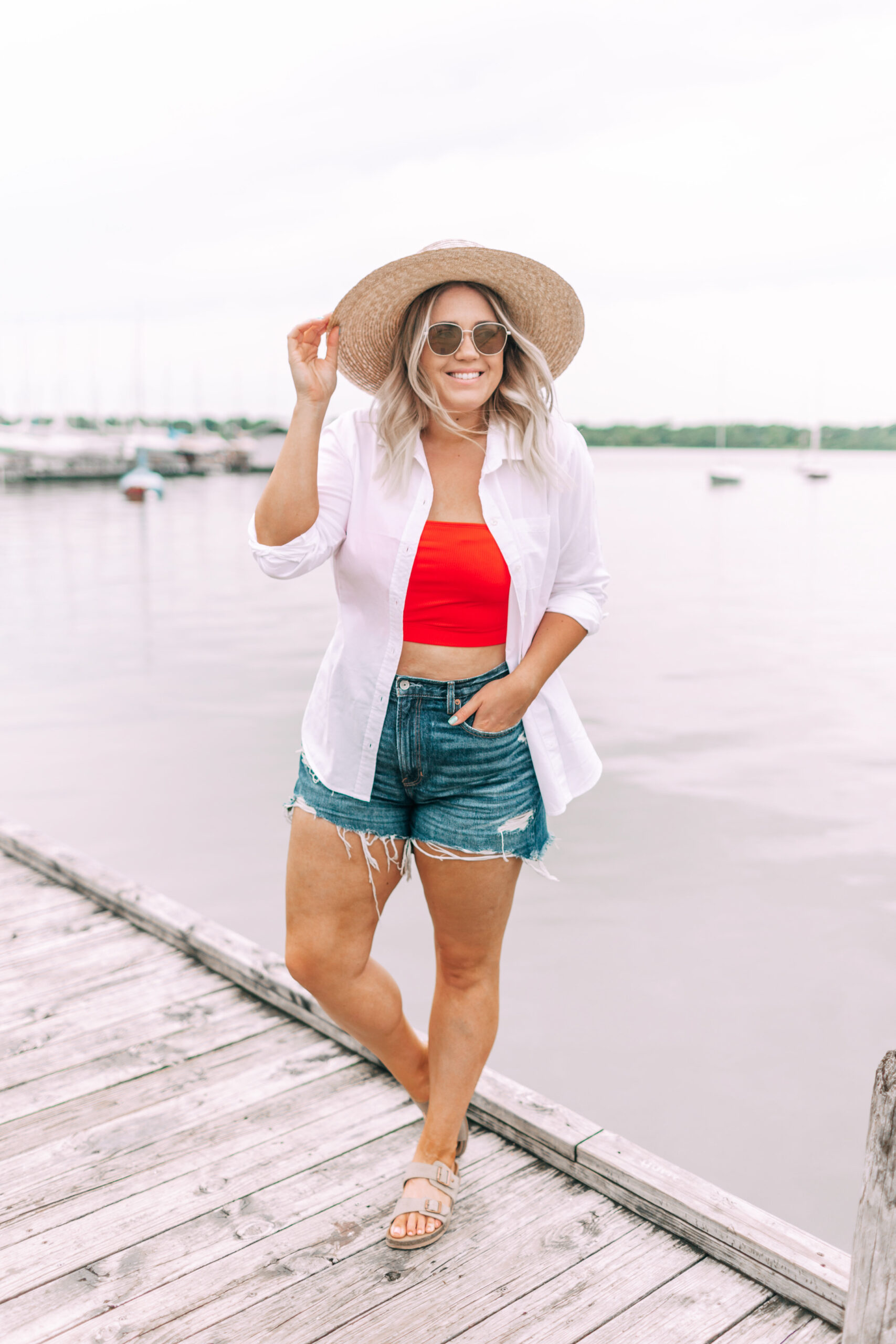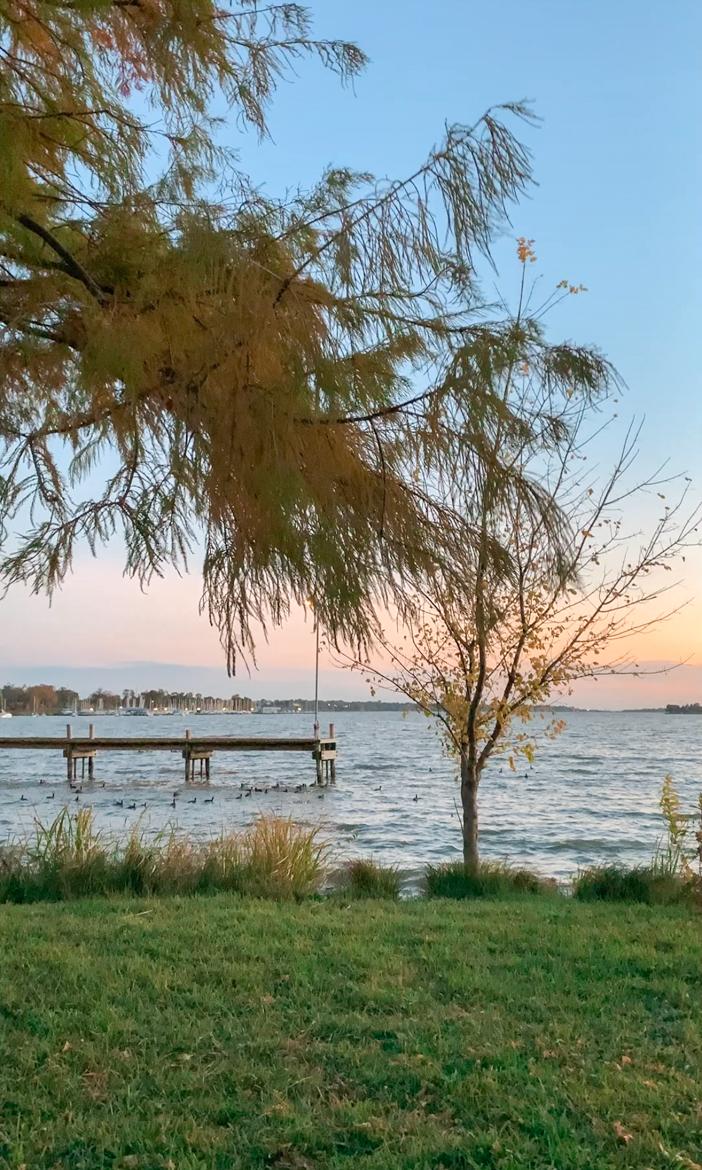 Knox HEnderson
Favor the Kind
Address: 2928 N Henderson Ave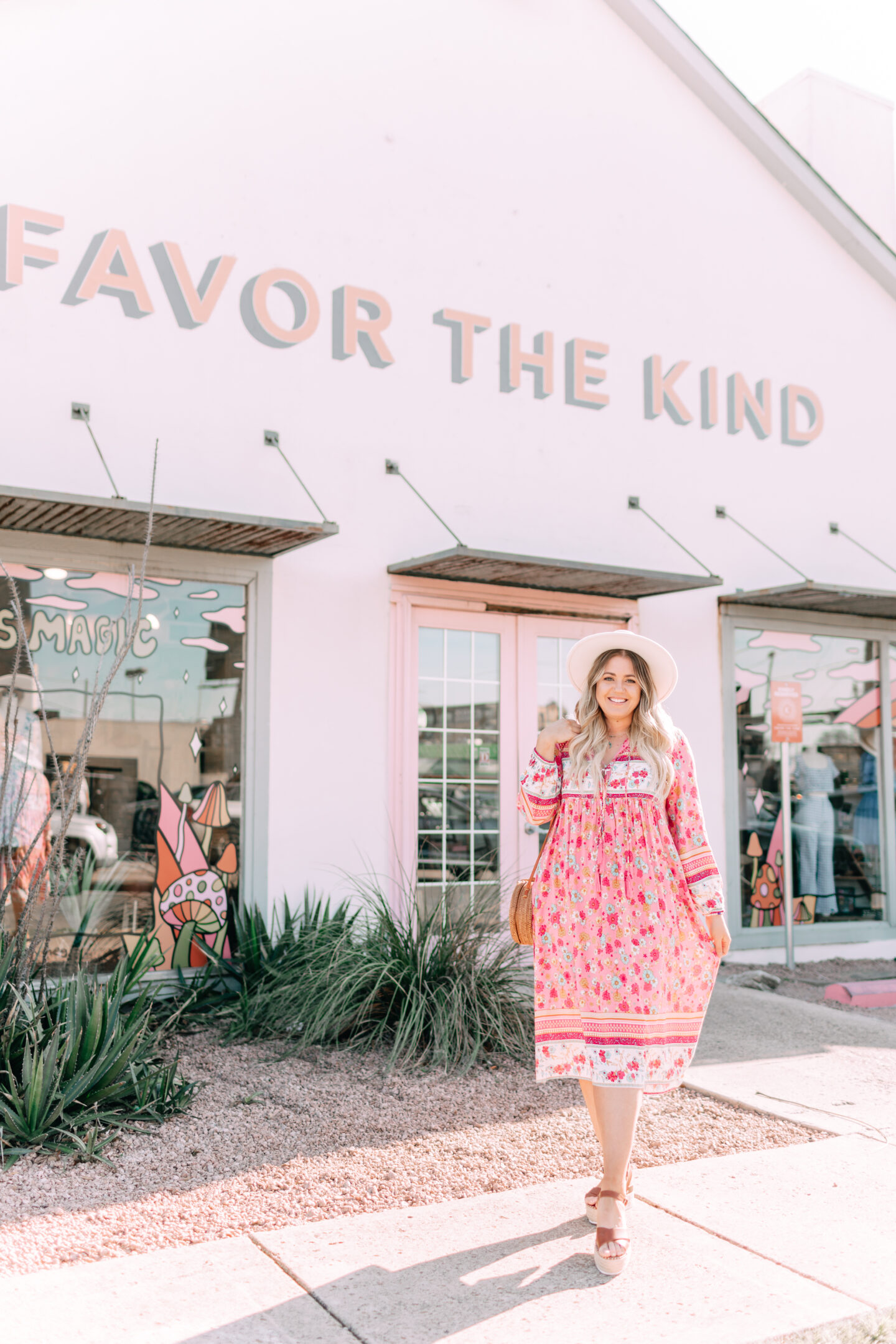 Upkeep
Address: 5207 Bonita Ave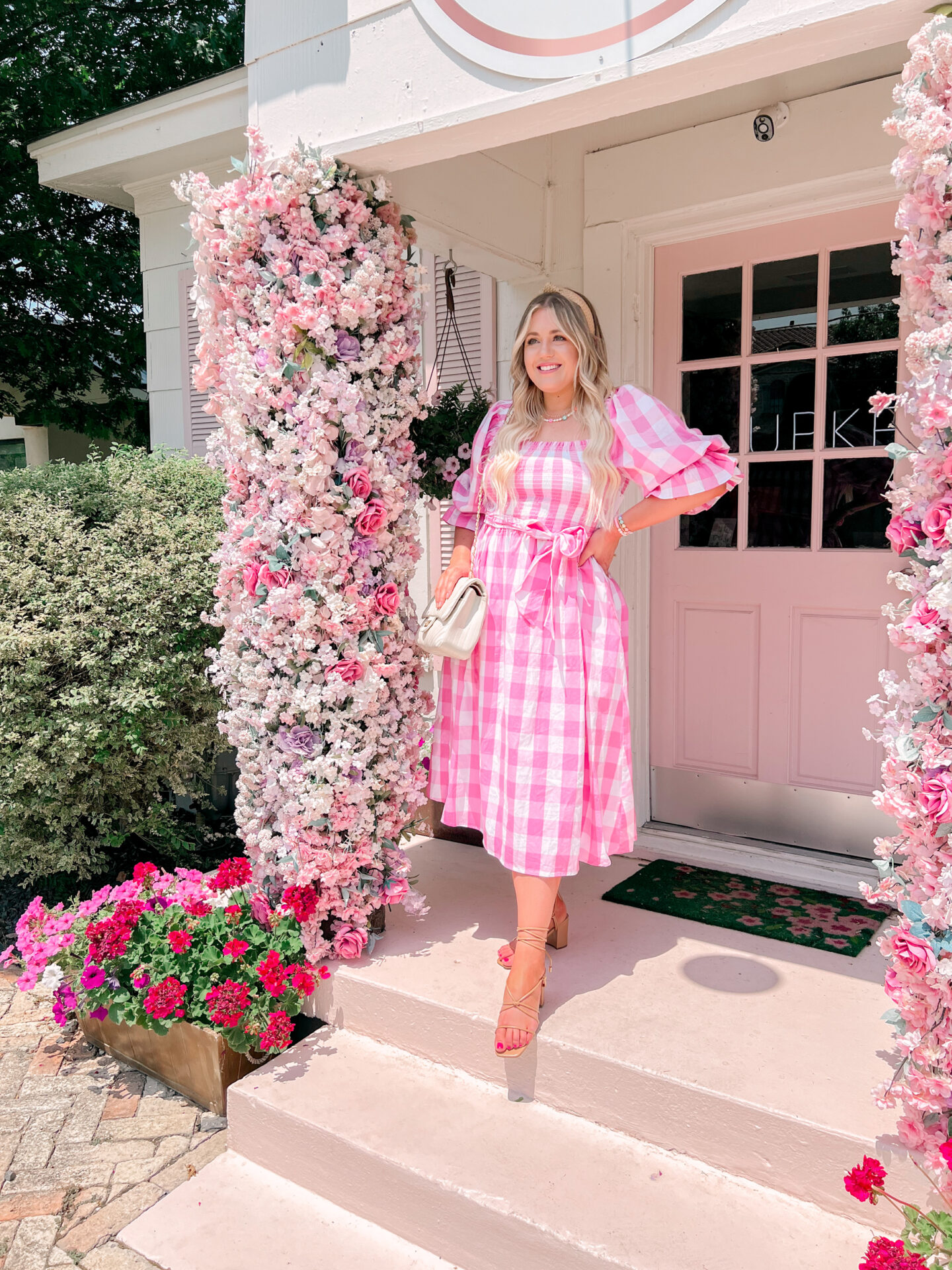 Like I mentioned at the beginning of this post, I will continue adding more places as time goes on, so keep an eye out here for more Instagrammable places in Dallas!
If you're heading to Austin, be sure to check out my post about Instagrammable Places in Austin.